The iOS 16 developer beta is already out in the world making major ripples, with the public beta hot on its heels. As soon as Apple showcased iOS 16 at WWDC this year, many people were dying to get their hands on it. And the only answer to that problem is to download the iOS 16 beta on your iPhone since iOS 16 won't be available publically until later this year.
Beta testing is always an exciting but risky venture. On one hand, you get your hands on the latest features before others. You don't just get to test all the new exciting features, but it also earns you major bragging rights in front of your peers. On the other hand, beta versions are chock full of errors. That's why the software is in beta testing.
It's also the reason why most people install beta versions on their spare iPhones. Living with so many bugs on your main phone can not only be annoying, it can be downright catastrophic. Bugs can cause major data loss, application crashes, and battery and connectivity issues on your phone. Some apps might not even work with the new beta version.
If you're still debating the decision to install the iOS 16 beta on your iPhone – your main one that is, it's something to remember. But if it's a spare iPhone, go ahead. There's no need to think twice.
Now, if you did end up installing the iOS 16 beta version on your main iPhone in fear of missing out and have now come to regret your decision, it is possible to remove the beta version and get back, i.e., downgrade, to the stable build. But it's not an easy feat. Downgrading your iOS isn't as easy as upgrading your software; there are additional steps involved. But it can be done.
Note: Before you install the beta profile, Apple recommends backing up your iPhone. And though it is a recommendation, you should treat it as a requirement. This backup also plays a crucial role when you want to downgrade your iOS version.
Remove iOS 16 Beta Profile
iOS 16 will release to the public in the fall of this year. If you can wait a while to get the stable iOS version, then removing the beta software is an easy enough task. You simply delete the beta profile to stop receiving any more beta updates and then install the iOS 16 stable version on your iPhone when it releases.
But there's a catch. If you're on the beta version, say 16.1, you won't be able to install iOS 16 as soon as it releases. You'll have to wait for iOS 16.1 to release since you can't update to a version that's not higher in number than your current version, beta or not. That's why it's paramount to delete the beta profile so you don't end up updating your beta software.
To delete the beta profile, open the Settings app. Then, go to the 'General' section.
In the General Settings, scroll down and tap on the 'VPN & Device Management' option. It'll show all configuration profiles installed on your iPhone.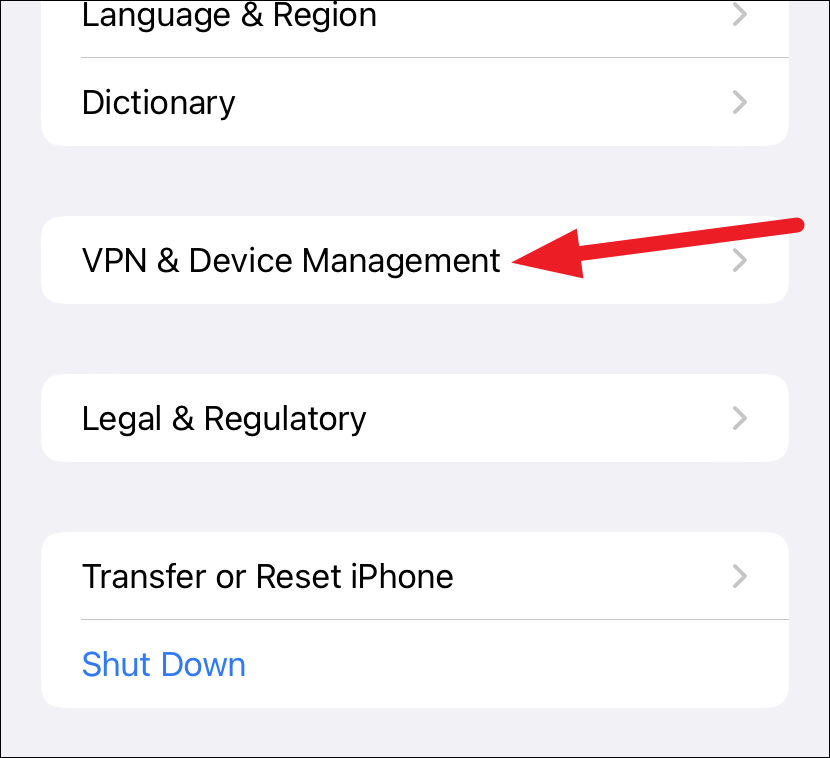 Under the 'Configuration Profiles' section, you'll see all downloaded profiles on your iPhone, if there is more than one. Tap on the 'iOS 16 Beta Software Profile' option to continue.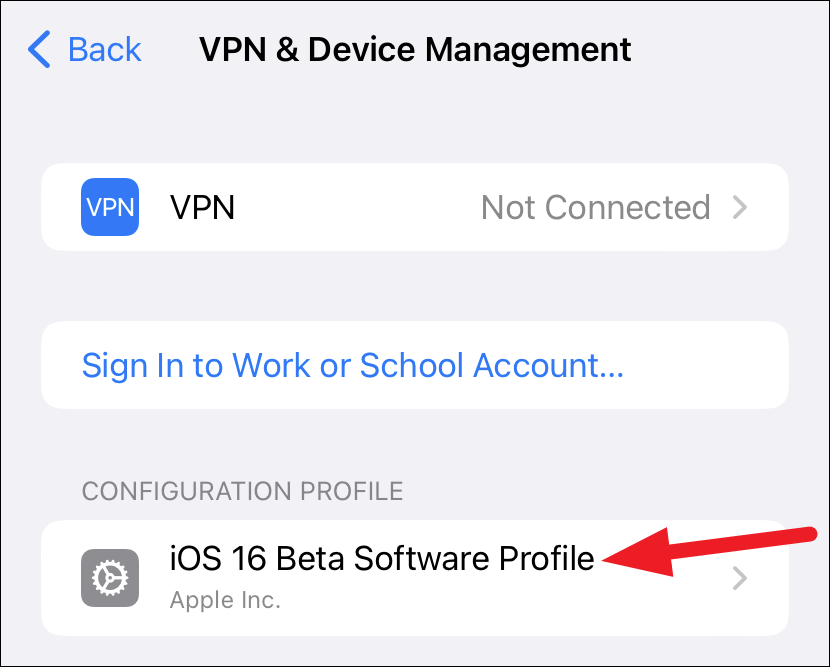 Then, tap on the 'Remove Profile' option to delete the iOS 16 beta profile from your iPhone. Restart your iPhone after deleting it.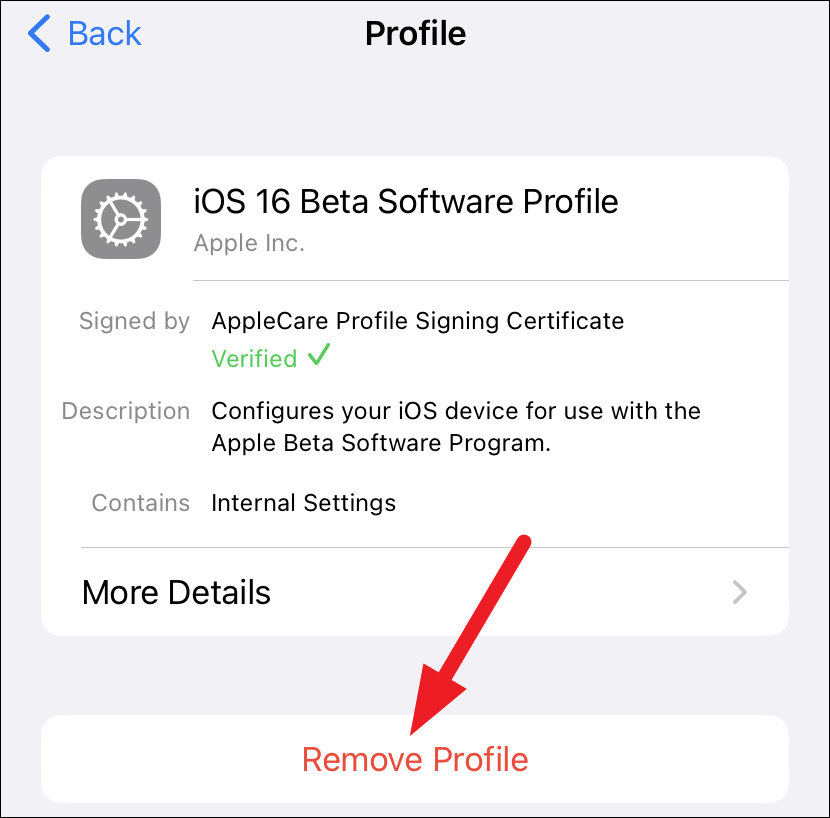 Once you've removed the beta profile, you'll receive the update for iOS 16 in the 'Software Update' section of General settings when it becomes available, just like you normally do. Download and install the software to move back to a non-beta, stable iOS version.
Downgrading to iOS 15
If you can't wait for iOS 16 to release and want to get back to a stable build right now, you'll have to restore your iPhone to go back to the latest non-beta software, i.e., iOS 15. If you have the iOS 16 developer beta installed, there's no other way than to restore your iPhone to move to a non-beta version.
Note: If you also installed watchOS 9 beta on your Apple Watch that was connected to your iPhone running iOS 16 beta, you won't be able to completely use it after you downgrade to iOS 15 since there's currently no way to downgrade from watchOS beta to a stable build.
Remember how we said how important it is to backup your iPhone before upgrading to the beta version? This is where it comes in. If you have a backup from before installing the iOS 16 beta version, you can restore your iPhone from that backup.
You might be thinking that you can create a backup right now and then restore your iPhone. That won't be very productive as backups created while using beta software won't be compatible with older iOS versions. So, your iCloud backup from the iOS 16 beta will not work with iOS 15, essentially leaving you without any of your data. Hence, you'll need an archived backup to restore your phone after downgrading. If don't mind starting from a blank slate, then go ahead and downgrade.
Start by removing the beta profile from your iPhone as explained above. Then, connect your iPhone to your Mac or Windows system and put your iPhone into recovery mode. Before that, make sure your system is running the latest version of iTunes or macOS.
To put your iPhone into recovery mode, follow these steps based on your iPhone model. Be sure to connect your iPhone to your PC or Mac before performing these steps.
For iPhone 8 or later: Press and release the Volume Up button quickly. Then quickly press and release the Volume Down button. Now, press and hold the Wake/ Sleep button until the phone goes into recovery mode. Even if the phone starts to restart, keep holding the button until you see the recovery-mode screen. You'll know you're in recovery mode because your iPhone screen will show a USB to computer connection on it.
For iPhone 7 and 7 Plus: Press and hold the Wake/ Sleep and Volume Down buttons at the same time. The phone will restart. Don't let go of the buttons until it goes into recovery mode.
For iPhone 6S and earlier: Press and hold the Wake/ Sleep and Home buttons. Keep holding them till you see the recovery-mode screen.
A message will appear on iTunes saying that there is a problem with your iPhone. You'll see the options for 'Cancel', 'Restore', or 'Update' on your computer screen. Click the 'Restore' button to wipe the iOS 16 beta and downgrade to the latest version of iOS 15.
Let the download of the latest iOS 15 complete. If the download takes more than 15 minutes, your device might exit the recovery mode screen. There's no need to panic. Let the download finish, then enter the recovery mode again using the steps explained above.
Once the restoration process completes, you might need to enter your Apple ID and password. Enter them to finish downgrading to iOS 15. Your iPhone will exit the recovery mode screen once it's restored to iOS 15. Now, use the archived backup to set up your iPhone with all your data.
---
There's might not be a better rush for a tech geek right now than to try out all the new features in iOS 16 that Apple showcased at WWDC this year. But if you find that beta testing is no longer your cup of tea, it's easy to downgrade to iOS 15.