How to Use Google Meet Plus Chrome Extension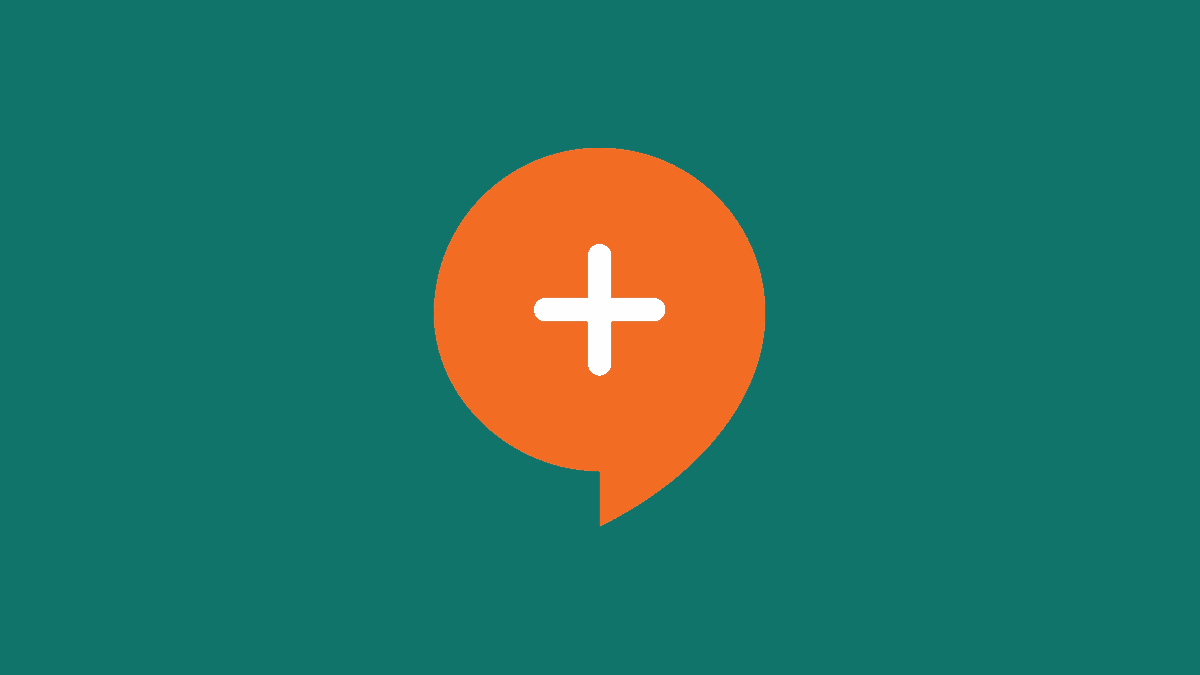 Google Meet is a great place to hold video meetings. All you need to start a meeting is a Google account – which most people already have, and if not, it only takes a moment to get one – and you're good to go. You don't even need to download a desktop app to enjoy all its features.
But the thing is, it also lacks a lot of features than its competitors. Now, the fact that it works on a browser instead of a dedicated desktop app gives it another advantage. Third-party developers can make browser extensions to add support for the features that are not present inherently. One such extension that is a must-have for Google Meet users is the 'Google Meet Plus' extension.
Google Meet Plus is essentially a bundle of features all packed into a single extension. It will completely transform your meetings into fun, interactive sessions.
How to Install Google Meet Plus Extension
To install Google Meet Plus, go to the Chrome Web Store. Search for it, or you can click here to mosey there. Once there, click on the 'Add to Chrome' button.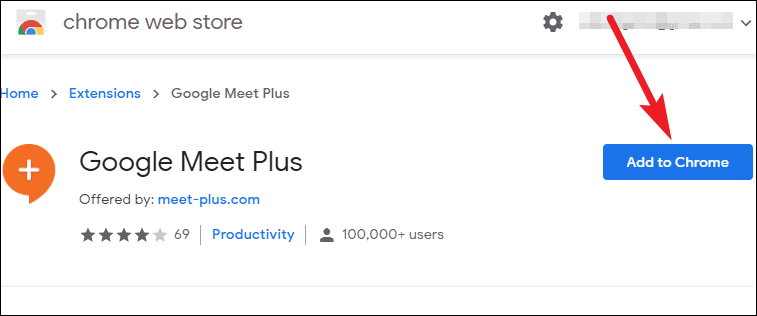 A confirmation dialog box from Chrome will appear. Click on 'Add Extension' to confirm the installation.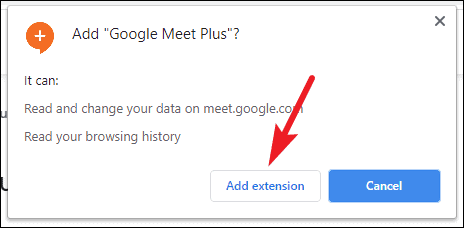 The extension icon will appear on your browser's address bar, ready for use in your next Google Meet meeting. If you installed the extension during an ongoing meeting, you will have to reload the page and rejoin the meeting to be able to use it.
---
Using Google Meet Plus Chrome Extension
The Google Meet Plus extension has a bountiful of features, a lot of them free, and the rest, you can buy for a monthly subscription. But to use the extension to the fullest, other participants in the meeting should also have it installed as most of the features of the extension involve interacting with other participants of the meeting and making those interactions fun.
But they cannot see any of those interactions without the extension installed on their browser. Now, you can ask other participants to install it, and whether they would or not, will be up to them.
Now, if you are the organization's admin, you have an option to make sure everyone uses the extension rather than asking them politely. G Suite admins can force install any extension on other organization member's accounts. And since only G Suite admins can do it, it means if you're using Google Meet with a free account, this option isn't available to you.
---
Google Meet Plus Basic features
Once you install the Google Meet Plus extension, the extension toolbar will appear in the meeting. Let's start with the basics. You can drag and park it anywhere in the meeting – even in the middle of the screen. Click on the icon for the 'move pointer' at the right end of the toolbar to drag the toolbar.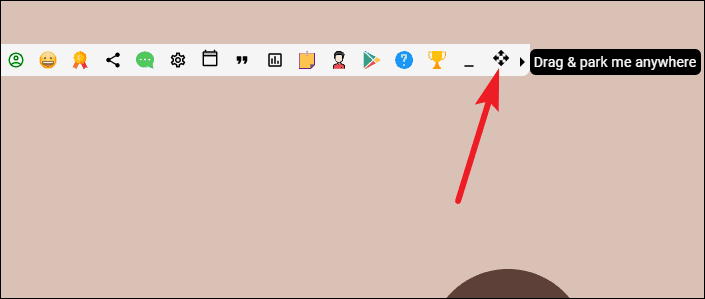 You can even minimize it to the meeting toolbar to get it completely out of the way. The 'minimize' button is next to the move pointer – the penultimate icon on the right.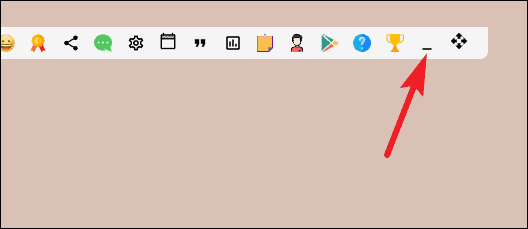 Click on it to minimize, and an additional icon for GMP would appear on the meeting toolbar. Click on it to materialize the extension toolbar again.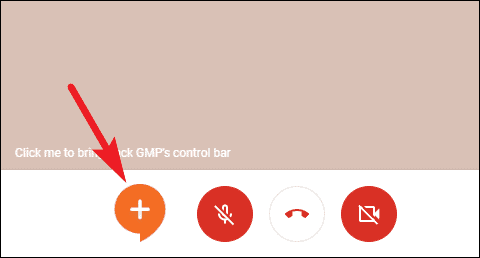 You can use all the basic features of the extension for free and there are so many!
Google Meet Plus Settings
This is one of the functional features that GMP offers, i.e., it's not present only to make your meetings more fun, so it deserves its own place on the list. And this feature works on your end, so even if no one else in the meeting has the GMP extension, you can still enjoy it. Click on the 'Setting' icon on the toolbar to expand the settings option for GMP.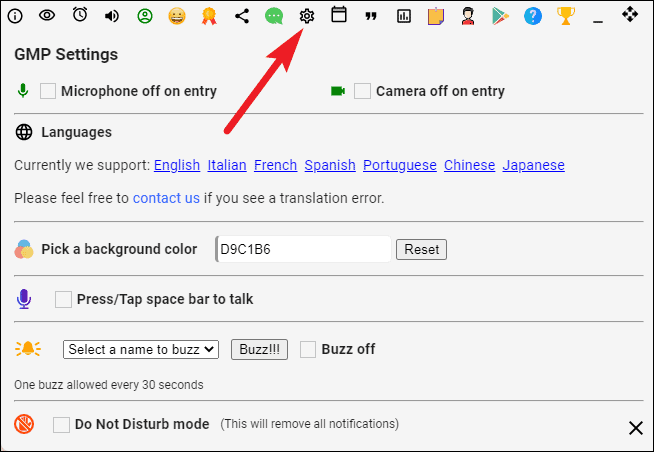 Default Camera and Microphone settings: Using these, you can configure your microphone and camera to be off when you enter the meeting. Click on the checkbox against the 'Microphone off on entry' and 'Camera off on entry' options to enable it.
Language Settings: You can change the language of the extension from here. Click on one of the available languages to change to that language. Currently, GMP supports English, Italian, French, Spanish, Portuguese, Chinese, and Japanese.
Background Color: Change the default background of Google Meet by selecting a color from the 'Pick a Background Color' option.
Push to Talk: Click on the checkbox next to 'Press/ Tap Space Bar to Talk' and you can then press the space bar button to mute/ unmute yourself in Google Meet. Also, press and hold it to unmute yourself and talk, and releasing the button returns you to mute.
Buzz a GMP user: If you want to get another meeting participant's attention who too has GMP installed, select their name and click the 'Buzz' button and their whole screen will vibrate intensely. There's no way that doesn't catch their attention!
DND mode: Enable 'Do not Disturb' and you will not receive any notifications during the meeting.
Other Basic Features
Apart from the configurable settings option, GMP offers a lot of other basic features that mostly exist to make your interactions more fun.
Emoji Reactions: GMP offers a lot of emojis that you can send during a meeting to express your emotions and other GMP users will be able to see them. It also offers an additional mode – Vanilla Mode – where you can send emojis without the accompanying text.
Messenger: GMP has an in-built messenger that you can use to send private messages to individuals or a small group of participants, or you can broadcast the message to everyone. But, only other GMP users in the meeting can see your messages.
Mute/ Unmute Meeting: You can mute/ unmute the audio of the entire meeting using the GMP mute button. And if someone else has muted the meeting, it also allows you to request them to unmute it.
Meeting Timer: As the name suggests, you can start a timer in meetings and all other GMP users will be able to see it. Perfect for when you're conducting a time-sensitive quiz or debate.
User Status: You can define your status from the extension toolbar. It offers two preset statuses, Active and Away, and users can also set a custom status. Other GMP users in the meeting get a notification when someone changes their status. So, you can tell others whether you're going to be away from the system without disturbing the meeting. You can also see other users' status from the 'Eye' icon.
Link Sharing: You can share any links, or images with other GMP users using the link-sharing feature during an ongoing meeting.
Trivia/ Quiz: This feature enables you to engage in a fun quiz with other GMP users in the meeting. It features two modes – Vanilla mode (plain quiz where you earn a point for the correct answer), and the Bamboozling Trivia mode (where you have to fool others with wrong answers and the more people that fall for your fake answer, the more points you get).
Additionally, GMP free users can also see all the actions initiated by a GMP Pro user, and that includes the Pro features too. So, if a GMP Pro user starts a Whiteboard session using GMP Pro in a meeting, all GMP free users can see it.
---
Google Meet Plus Pro Features
GMP also offers a subscription-based service for it's Pro features that costs $4.39/month for a single license and has different plans for up to 10 licenses. It also offers a 3-day free trial when you buy a subscription so you can try out all the features before deciding if it's for you. There are a plethora of features that make the cost for the subscription worthwhile.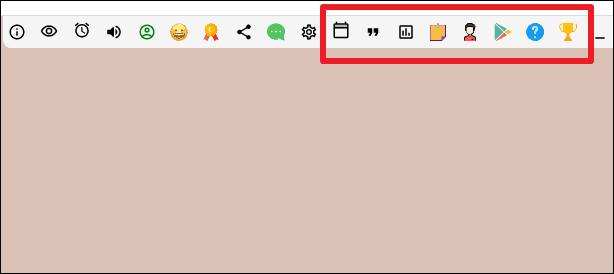 Collaborative Whiteboard: You can start a whiteboard in a meeting and collaborate with other GMP Pro users in the meeting in real-time. While GMP free users can see the whiteboard in real-time, they cannot draw or collaborate on it. You can also save the drawings as images if you want.
Instant Polls: You can create and conduct instant polls with other meeting participants. The poll can even be anonymous, and you can save, download, import, or just view the results.
Customized Quizzes: If you're a GMP Pro user, along with the free quizzes that you can conduct with GMP free, you can create and conduct your own quizzes in real-time with other GMP users. The results can be private or visible to everyone in the meeting, anonymous, or with names, and they can be saved to your computer so they are available even after the meeting. It's a perfect tool for teachers.
Sticky Notes: During a meeting, you can note any important points on sticky notes. The notes are automatically saved to your computer, and you can even share them with other meeting participants.
Personalized Avatar: Google Meet shows the same photo from your Google account, and there's no way to change it just for Google Meet – except if you're a GMP Pro user. You can change your Google Meet avatar with any image you want. You can even have animated images. How cool is that!
Inspirational Quotes: An inspirational quote is auto-delivered to you whenever you join the meeting which you can share with other people in the meeting. You can even share more than one quote in a meeting. So go on, keep everyone motivated!
Share YouTube Videos and React: You can share a YouTube video in real-time by just copying the link, i.e., no need to share your screen either. Watch the video at the same time with your mates, and also use a bunch of videos and audios to react to what you're watching.
Bravo Badges & Fireworks: Someone in the meeting just did a really good job? Tell them using the Bravo badges and fireworks and boost their morale so they can keep it up!
---
There are a lot of extensions for Google Meet, but none that offers such a gamut of features. If you frequently hold meetings on Google Meet and are looking for something to enhance the experience, you should definitely try it out.