How to Use Content & Privacy Restrictions in iOS 12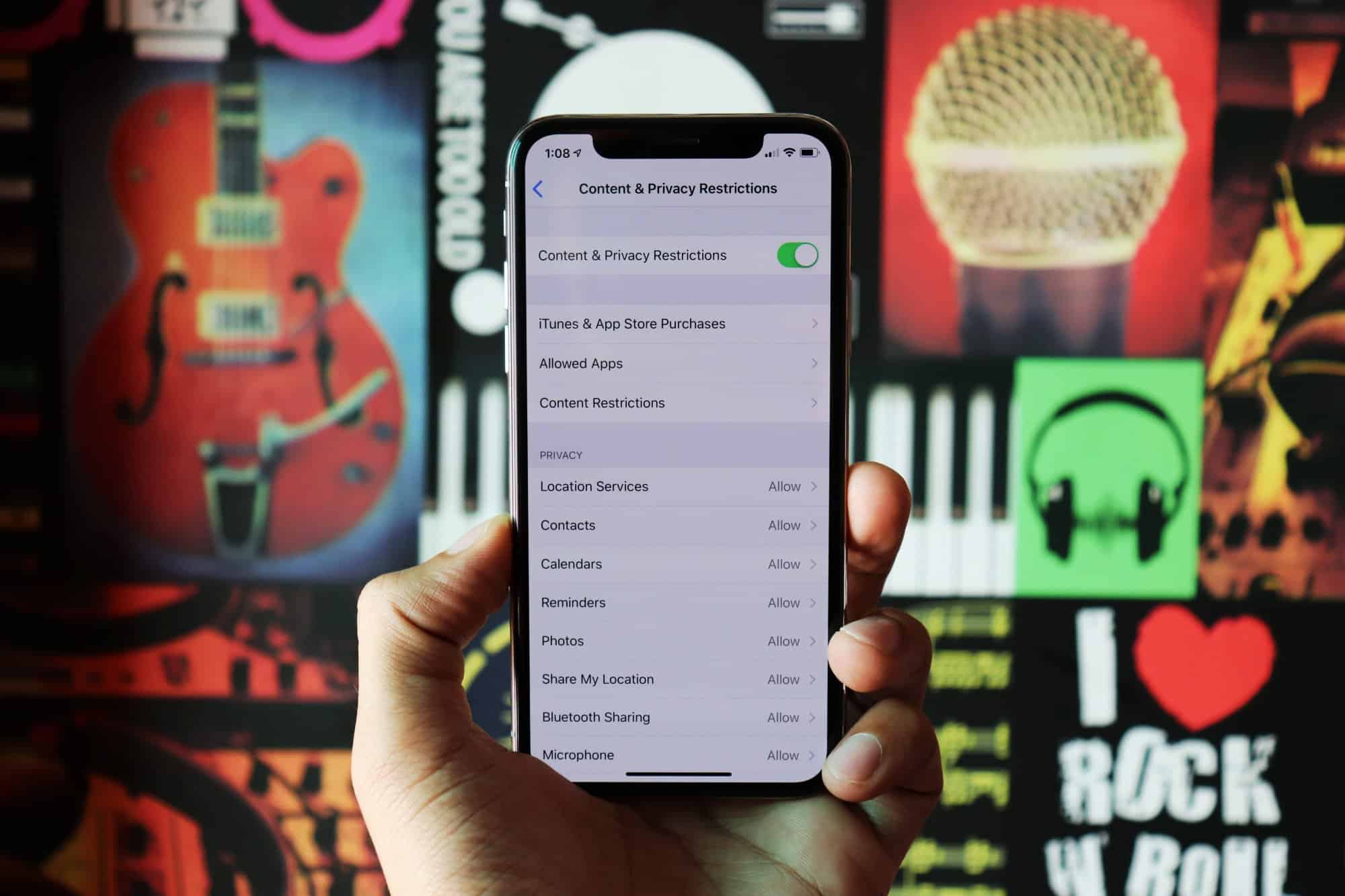 The Restrictions setting in iOS lets you limit the functionalities of iPhone and iPad devices in many meaningful ways. The feature particularly useful if you want to control the things your kids could do on their iPhone.
Apple has moved the Restrictions setting in iOS 12 into Screen Time. It's now labeled as "Content & Privacy Restrictions," and you can access it from Settings » Screen Time on iOS 12.
With Content & Privacy Restrictions you could limit functionalities of your iPhone or your kid's iOS device by disallowing in-app purchases, FaceTime, Camera, and restricting changes to Volume limit, Location Sharing and more.
How to enable Content & Privacy Restrictions in iOS 12
Go to Settings » Screen Time.
Tap Content & Privacy Restrictions.
Enter your Screen Time Passcode. If you haven't set up Screen Time Passcode on the device before, you'll be asked to Set a Screen Time Passcode now. Do it.
On the next screen, Turn On the toggle for Content & Privacy.
Once you've enabled Content & Privacy Restrictions, go ahead and set up the Restrictions you need to apply on the device. Below is a quick list of the things you can do using this setting.
Using Content & Privacy Restrictions in iOS 12
Apple has changed the layout of options in Restrictions on iOS 12. Rather than displaying all options on a single page, various settings are now categorized into groups on iOS 12. Let's take a look at these groups.
iTunes & App Store Purchases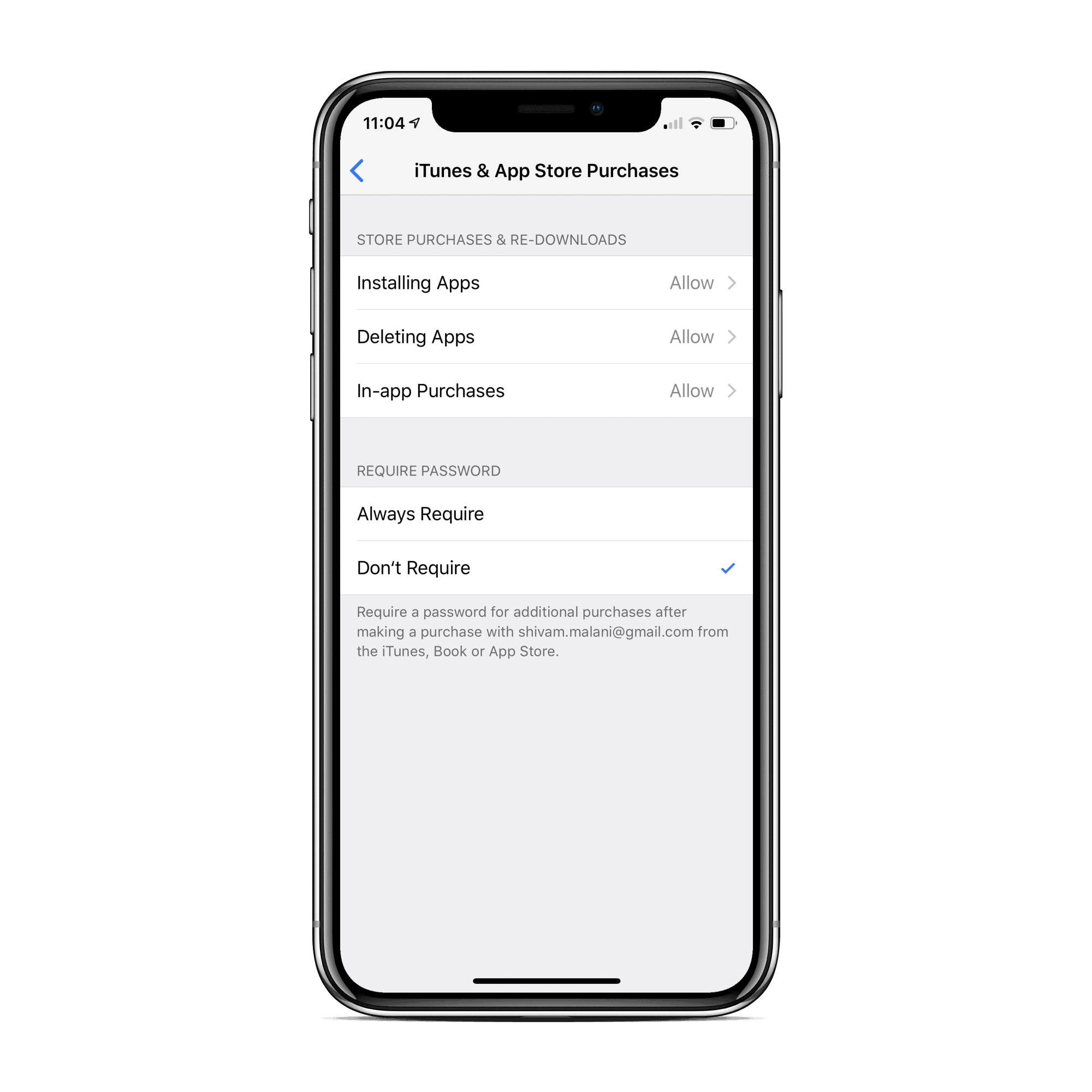 Using this setting, you can disallow in-app purchases, Installing or Deleting Apps, and enable requirement of password for downloading anything from the iTunes, Book or App Store.
Allowed Apps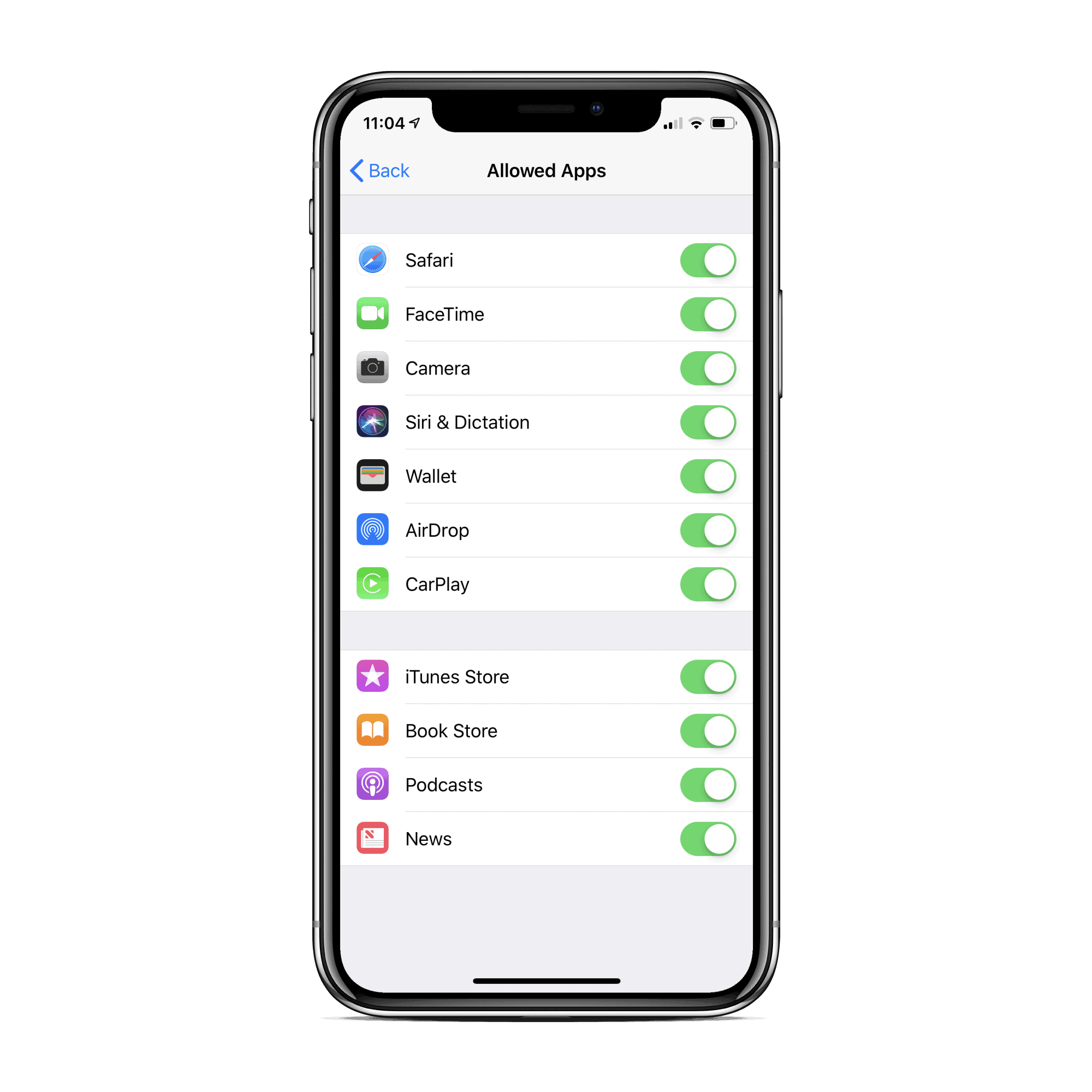 Want to remove FaceTime, Camera, Siri or other bundled apps which aren't critical for the iPhone's functionality? You can do so from the Allowed Apps section in iOS 12 Restrictions setting.
Toggle off the Apps you want to disable on your kids' phone from here, and the apps will disappear from the home screen.
Content Restrictions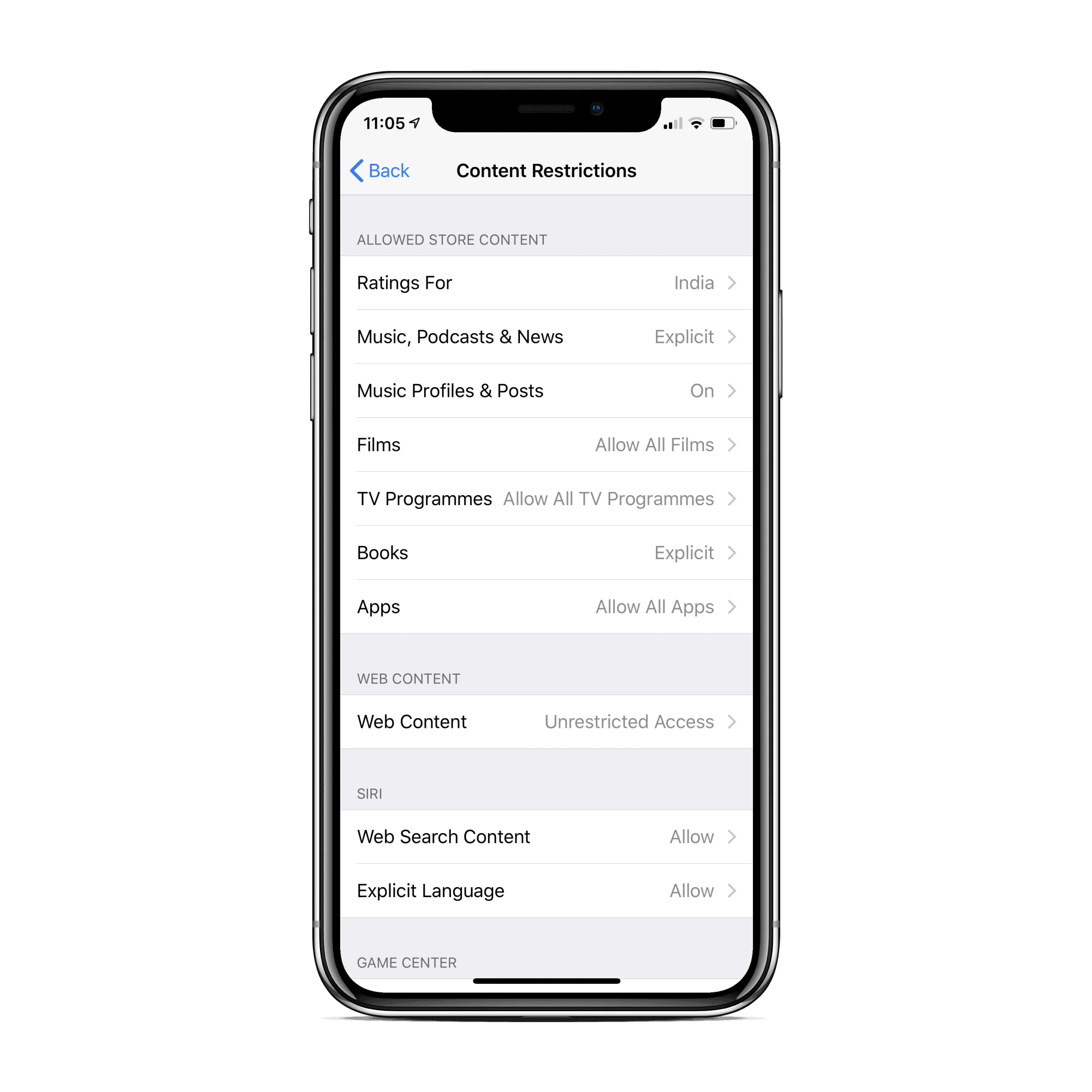 This is where you define what kind of content can be consumed on the device. You can disallow explicit music, movies, TV shows, and books on the device. You can set restrictions to allow app downloads for a particular age group only on the device.
There's also a setting to limit Web Content on the device like blocking Adult Websites OR allow only a list of pre-defined websites on the device.
Through Content Restrictions on iOS 12, you can set restrictions for the Game Center as well. You can disallow multiplayer games, screen recording, and adding friends in the Game Center.
Location Services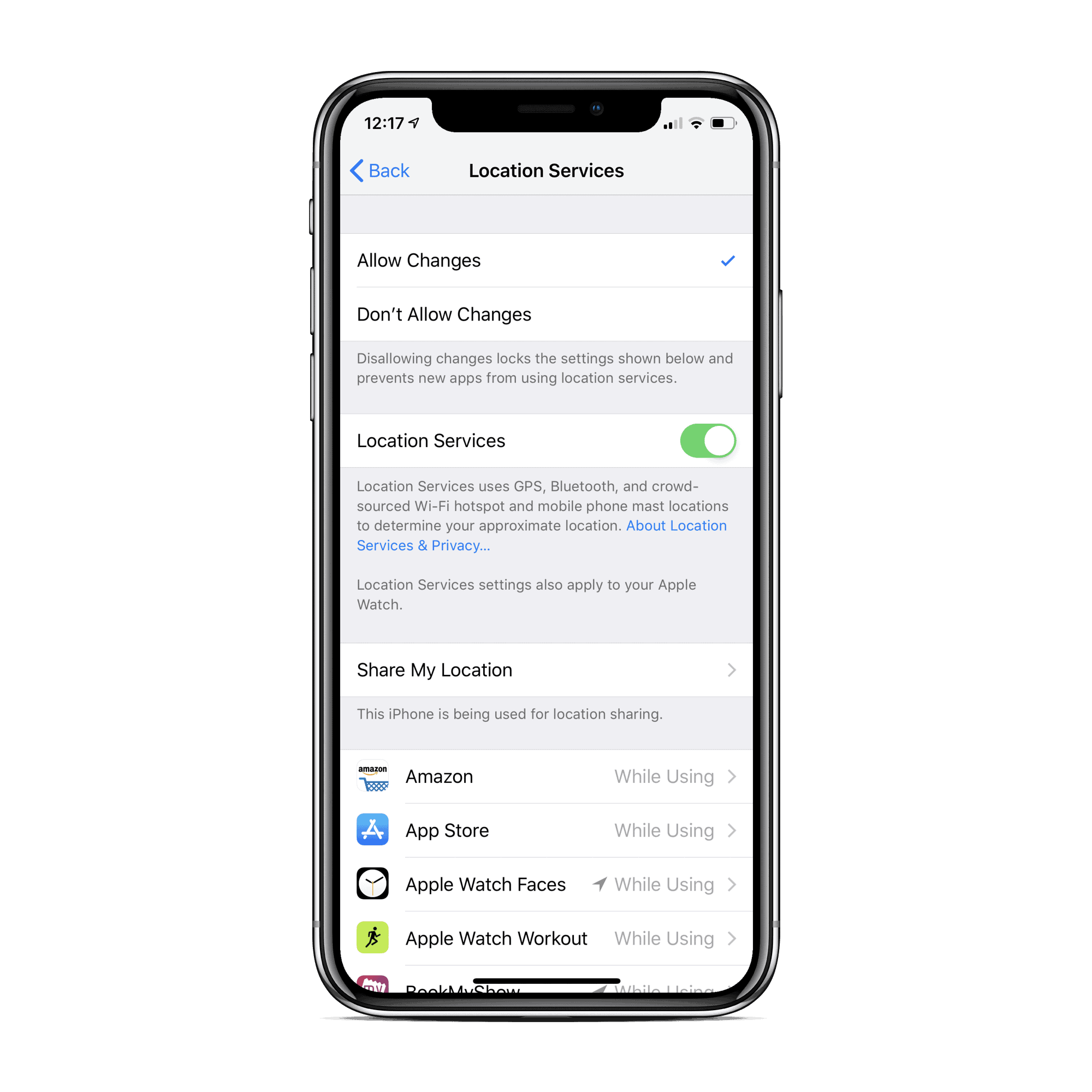 Here you can set restrictions on allowing or disallowing changes in location services on the device. If you set the setting to "Don't Allow Changes," it'll lock the settings to the current state and prevent new apps from using location services.
Location Sharing with family and friends in Messages and Find My Friends can also be enabled or disabled through Location Services settings under Restrictions. If you own multiple devices, you can specify the device to be used to share your location.
Lastly, you can also control which apps are allowed location access on your device.
Privacy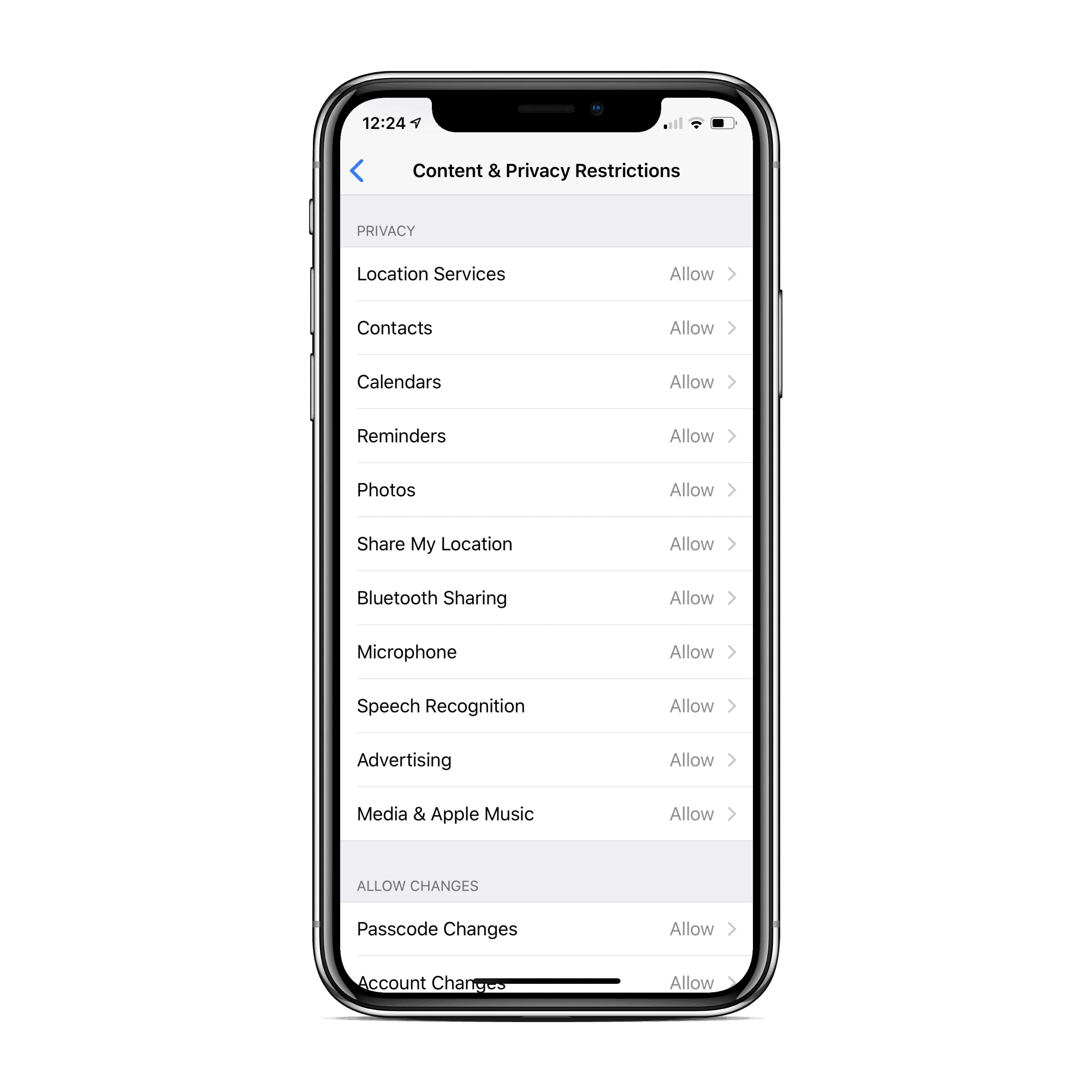 Under Privacy settings, you can define which apps can use the various functionalities of your iPhone or iPad. However, these permissions can be accessed and changed from the respective App's settings as well. If you define WhatsApp cannot have access to Microphone under Restrictions, the setting can still be modified without requiring Screen Time Passcode from WhatsApps settings directly.
Allow/Disallow a few more things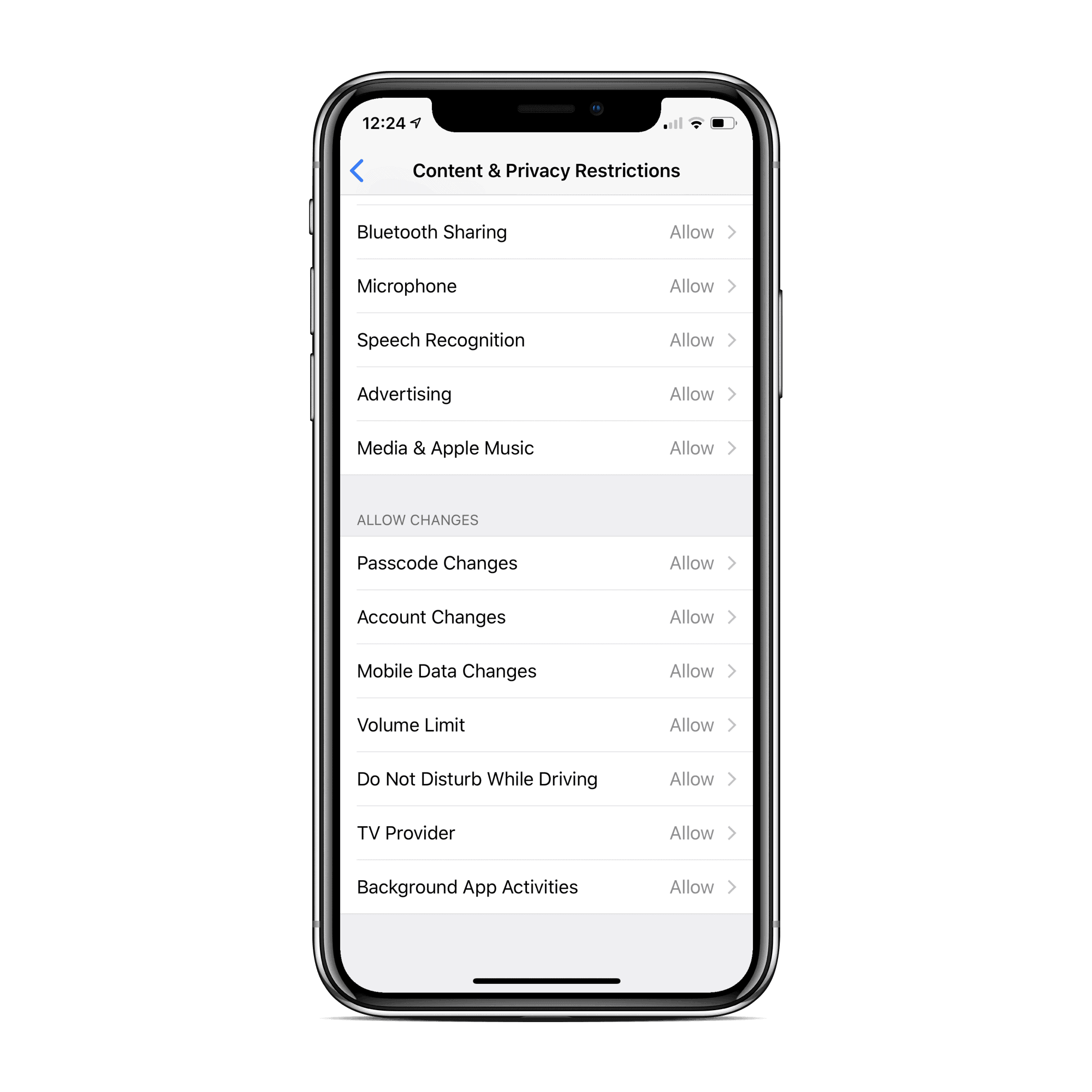 Content & Privacy Restrictions setting also lets you set a rule for a few more options to disallow like:
Passcode Changes.
Account Changes.
Mobile Data Changes.
Volume Limit Changes.
Do Not Disturb While Driving.
TV Provider.
Background App Activities.
---
That's it. If you need any help using Restrictions on iOS 12, write to us in the comments section below. We'll be happy to help.