Apps have taken over most aspects of our lives to the point where we are now saying, "there's an app for that" for even the most mundane tasks of our lives. With iOS 14, Apple is introducing something just as revolutionary, shaking up a domain that has been stale for some years now – App Clips.
App Clips are like apps but quicker. Let's consider a scenario: you go to a coffee shop, and they tell you that there's an app for that. You can browse, order, and pay all with the app. Convenient, but you're in a hurry and don't want to be at the mercy of your internet speed to download the app. So you say, "no, thanks."
But with App Clips, it'll only take a few seconds as you won't have to download the complete app, just the part that is required. Intriguing, isn't it?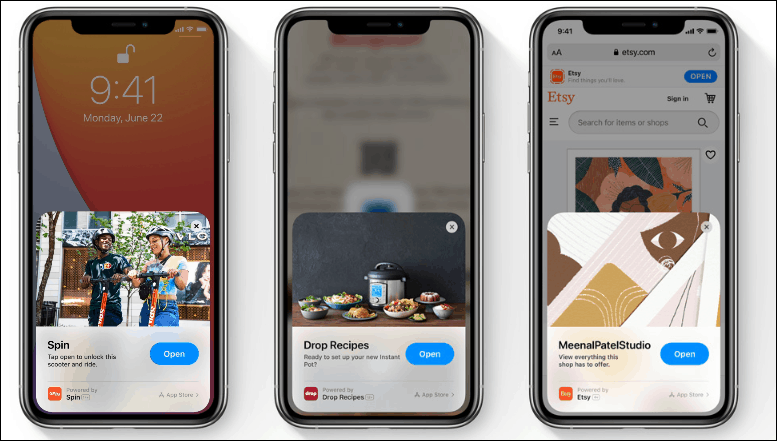 App Clips will have to be less than 10 MB, hence quick as lightning. They'll also disappear when you no longer need them and will play no part in the cluttering of your Home screen. But if you do need to access them again, you can always find them under the 'Recently Added' section of the App Library.
How do App Clips work?
App clips are small parts of an app dedicated to a task and discoverable just at the right moment. Discoverable how you ask? With just about everything! Whether it's an NFC code, or a bar code, or the specially minted App clip code by Apple that includes both NFC and bar code – that means you can tap it or scan using your camera to read it. So whether you need to pay for your parking or coffee, it's got you covered. There can be an app clip for just about everything.
But that's not all. App Clips are also discoverable using links so you can open them on Safari, or send/ receive them in messages and open them directly there. Apple Maps too will have a place for App Clips on their place card for places you discover through them. Everywhere you go, there's an App Clip!
They'll pop on your screen from the bottom and disappear after you've used them.
Now onto the part about the inner workings of the App Clip. The workings will be similar to apps only, and the app clips compatible with Apple ID and Apple Pay will allow you to use both. Hence, furthering their agenda of being quick. And the speed will in no way be a compromise for safety or privacy; they will adhere to all safety protocols.
And you can download the app if you want with a single click.
---
We can't wait to try out App Clips and be free from the commitment of downloading the complete app, especially when we only need to use it once or rarely.