Apple's annual event WWDC is always full of announcements worth getting excited over. This year's no different. Apple announced the iOS 15, iPadOS 15, macOS Monterey, and watchOS 8. But a new OS for these devices is something we know to expect. There was also a very unexpected announcement in the WWDC keynote: iCloud+
iCloud+ is bringing new features focused on protecting the users' privacy across devices. Apple's been pretty big on privacy enhancements for the past few years. So it's really no surprise that Apple was whipping a big privacy improvement.
iCloud+, an evolution of iCloud's paid subscription, is coming to the Apple ecosystem in the fall. Why is it an evolution? Because users get access to all the added features of iCloud+ with the same subscription rates as iCloud.
In fact, if you're already a subscriber, the new services will be added to your account automatically. So what are these new services iCloud+ is bringing? Users will be getting access to four new features with a subscription to iCloud+: Hide my Email, HomeKit Secure Video, Private Relay, and Personalized Email Domain Names. Let's see exactly what these features entail.
Hide My Email
While filling out various forms on the internet, like when signing up for newsletters or subscriptions, many of us dread giving out our email addresses. Our email boxes are full of spam mails because spammers get access to our email addresses from the internet.
Hide my Email will make the process a lot less dreadful. Expanding on the capabilities of 'Sign in with Apple', Hide my Email will give users an option to keep their email addresses private. If you've ever used 'Sign in with Apple', you would have noticed that it gives the option to hide your email.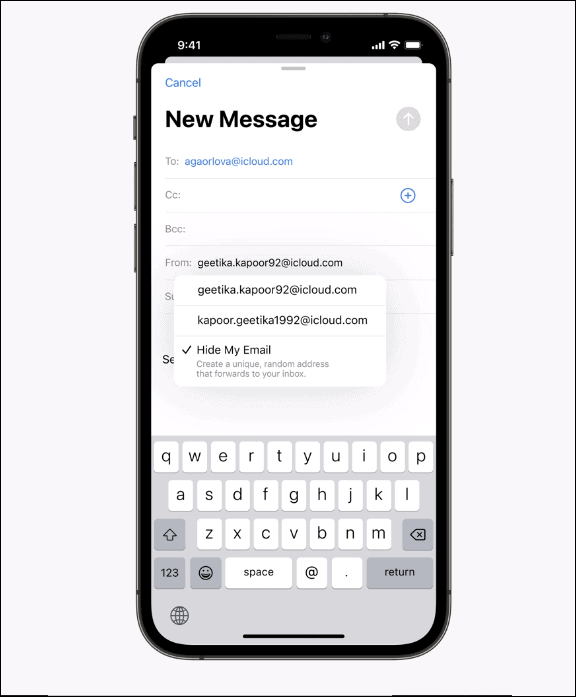 Following the same principle, Hide My Email will expand the areas where you can use a temporary email address. Using Hide My Email, you will be able to give out unique, random email addresses that'll forward the mail to your inbox while keeping your real email address private and secret.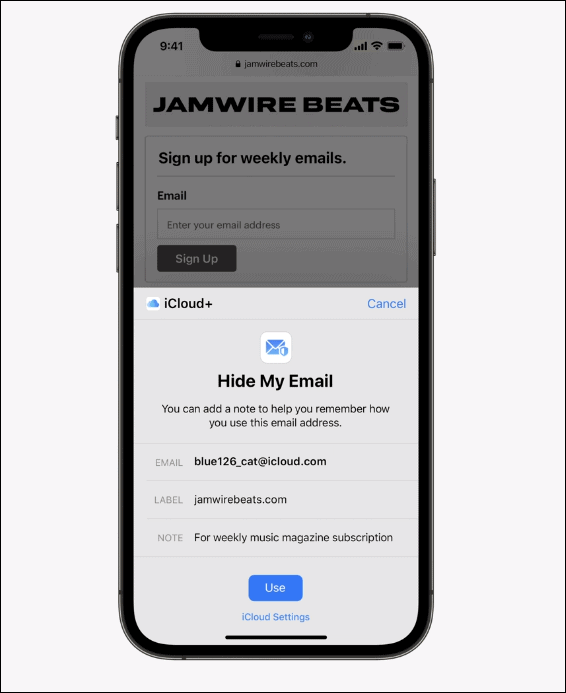 Users will have complete control over these fake addresses, and you can create new addresses and delete existing ones at any time. The service will be built directly into Safari, Mail, and iCloud settings, making it easy to use at any time.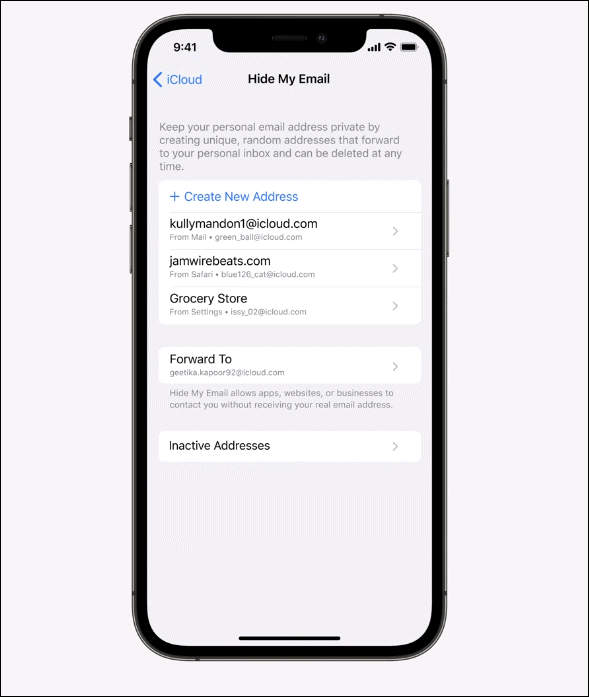 Hide my Email will be a part of all 3 subscription plans.
HomeKit Secure Video
iCloud+ will also expand built-in support for HomeKit Secure Video so users can install more cameras in their Homes. More and more of us are installing cameras in our houses to keep an eye on them.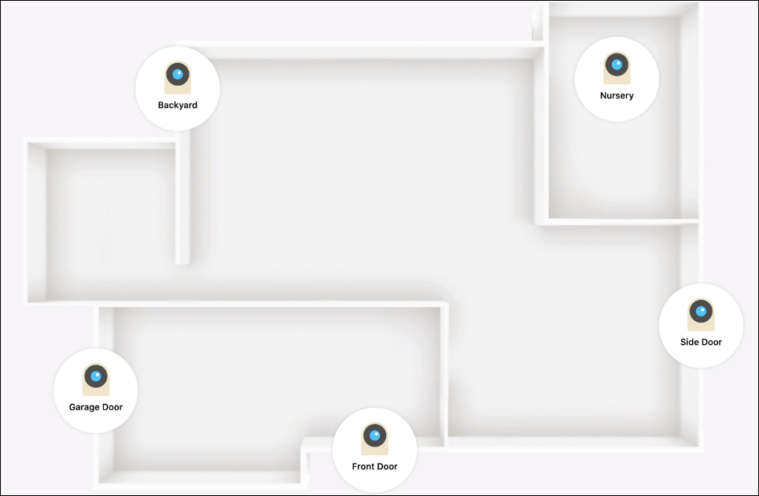 With iCloud+, users will be able to install more cameras than before with the Home app. Previously, the maximum number of cameras available with the HomeKit Secure Video setup on a single account was 5, that too, with the highest tier plan (2 TB storage plan). While only 1 camera was available with the 200 GB plan and the option wasn't available at all with the lowest tier plan that includes 50 GB storage.
Now with iCloud+, users will be able to install 1 camera, 5 cameras, and unlimited cameras with the 50 GB, 200 GB, and 2 TB tier plans respectively. The home security footage will also be end-to-end encrypted and won't count towards your storage plan.
Private Relay
Another wonderful feature users will have access to all 3 subscription plans of iCloud is Private Relay. Private Relay is honestly going to be a game-changer when it comes to private browsing.
Leaving traditional VPNs behind, Apple's Private Relay will not only keep your IP address and websites you're visiting private from the website host and your ISP. But it will also keep this information hidden from Apple itself. Unlike traditional situations, where the intermediary, i.e., the VPN, has complete access to both your IP address and the websites you're requesting, Apple is removing itself from the equation, at least partially.
By using a dual-hop architecture, where Apple and its third-party partner are the two nodes of this architecture, Apple will keep your information separate. So, where Apple will know your IP address, the third-party relay will have access to the websites you're visiting. But at no point in this exchange will a single entity have access to both.
To learn more about how Private Relay will work, make a single hop over to this link.
Personalized Email Domain Name
While not part of the WWDC keynote announcement, iCloud+ will also be granting its users to personalize their iCloud mail address with a custom domain name. You'll also be able to invite family members to use the same domain with their iCloud mail accounts.
---
iCloud+ subscription will be available for the same price model: $0.99/ month for 50 GB storage, $2.99/ month for 200 GB storage, and $9.99/ month for 2 TB storage. All the newly announced features will be part of all three plans. The free storage plan that offers 5 GB storage will continue the same way and won't have access to any of these features.