Microsoft has been hinting at building AI features in Windows 11 for quite some time. And finally, the culmination of those hints is here. And it's better than we could have imagined.
Dubbed "Windows Copilot," it is an AI-powered virtual assistant integrated right into Windows 11. This move makes Windows 11 the first-ever PC platform to offer centralized AI assistance. This could very well be a Cortana you wouldn't hate. Let's dive in.
What is Windows Copilot
Much like Bing Chat, Windows Copilot is powered by AI technology from OpenAI, specifically GPT-4. However, Windows Copilot will integrate AI deeply into the Operating System instead of the superficial integration Bing Chat brought with its Taskbar entry point.
The main focus of Copilot is to help users bolster productivity and streamline workflows by leveraging AI capabilities in their daily tasks and even in their PC usage.
Windows Copilot will be available in a sidebar on the right of your screen, similar to how the Bing Chat sidebar is available in Microsoft Edge or Office 365 apps or the GitHub Copilot in GitHub.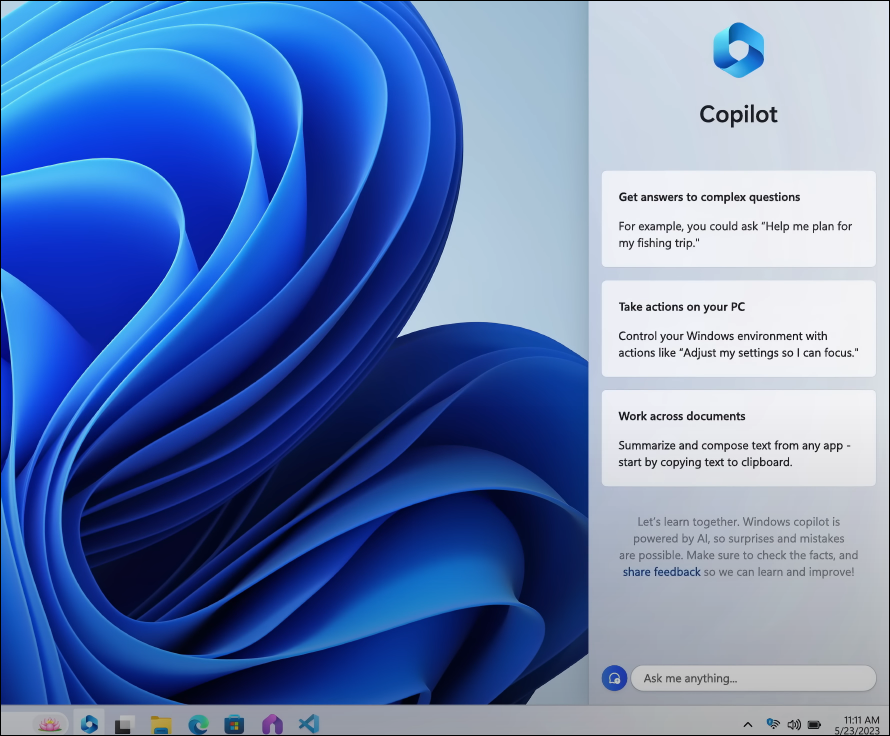 You'll be able to access Copilot from its dedicated button on the Taskbar, separate from the Search Bar. And once you open it, the sidebar will stay consistent throughout all your apps, windows, and programs. So, you can leverage its capabilities no matter where you are.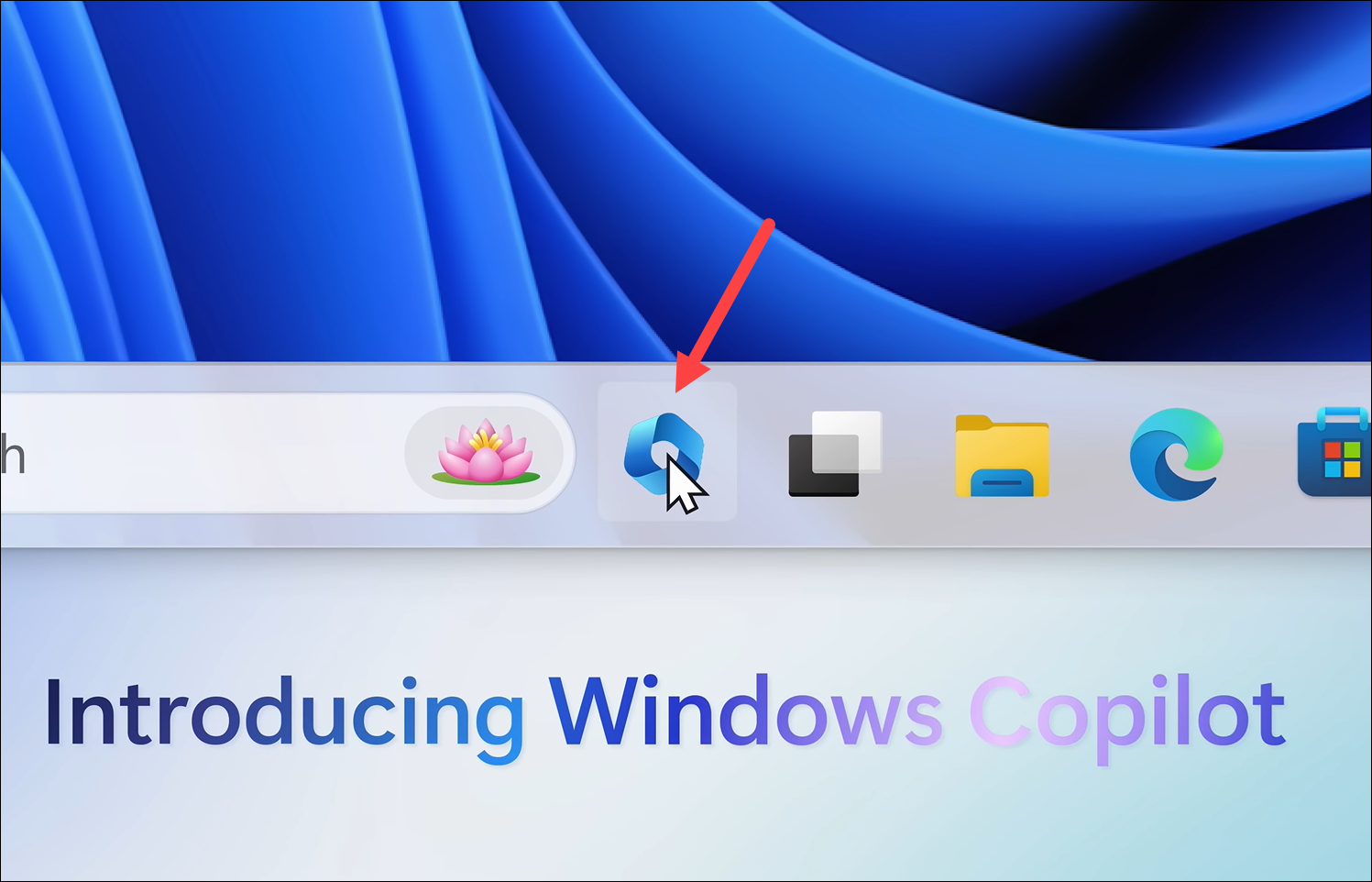 Windows Copilot will start to become available in Preview in June 2023.
How Does Windows Copilot Work?
Windows Copilot uses a Large Language Model (LLM) like GPT-4 and natural language processing to work. Copilot will accept natural language prompts from users, like Bing Chat and ChatGPT, and provide answers in the same language. This brings the most universal interface – natural language – to the front and center of using your PC, the most significant change in terms of interface since the advent of GUI (Graphical User Interface).
What Can Windows Copilot Do?
Windows Copilot can help you with a variety of tasks. While you can ask it any complex questions, just like with Bing Chat, it is capable of doing so much more.
It can especially reduce the time you spend on mundane, repetitive tasks. It can help automate various tasks, such as copying and pasting text or media for you, organizing your apps with Snap Assist, using Snipping Tool to take screenshots, and personalizing your desktop, among others. It'll work with apps and documents across Windows 11. And all you have to do is ask it to perform the task on your behalf in natural language.
As illustrated by Microsoft, some examples of its capabilities include:
Take Actions on your PC
Windows Copilot can take actions on your PC, like adjusting the settings. Based on how you ask it to adjust the settings, it will recommend actions and even take them on your behalf after your consent.
For example:
When asked for recommendations to adjust the system to get more work done, Copilot came up with options such as using the Focus Timer and Dark Mode for improved focus and reduced distractions.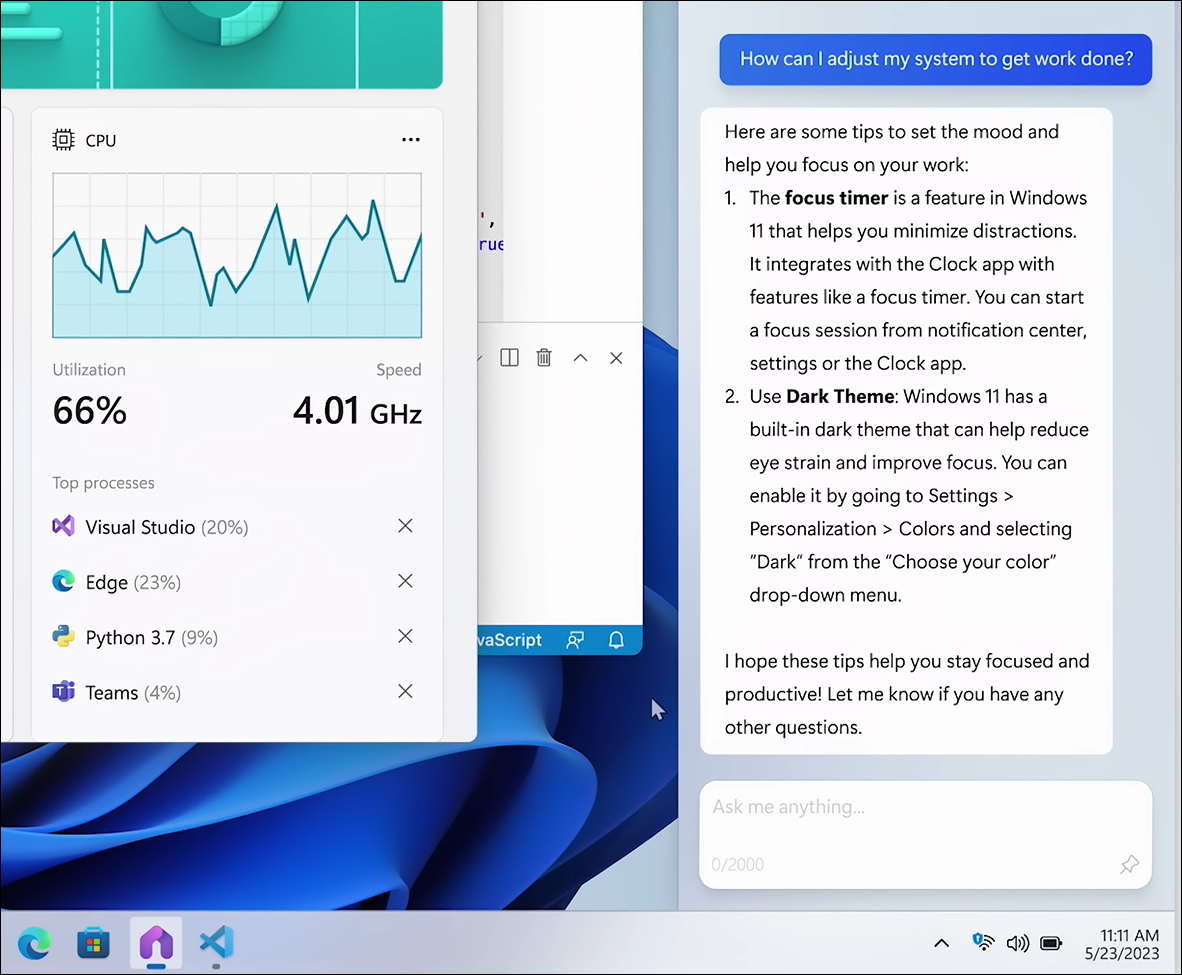 Not only that, it then offered to take care of these things for the user and automatically started the Focus Timer, and changed the theme to Dark Mode.
It even reorganized the user's desktop by snapping the open apps using one of the snap layouts!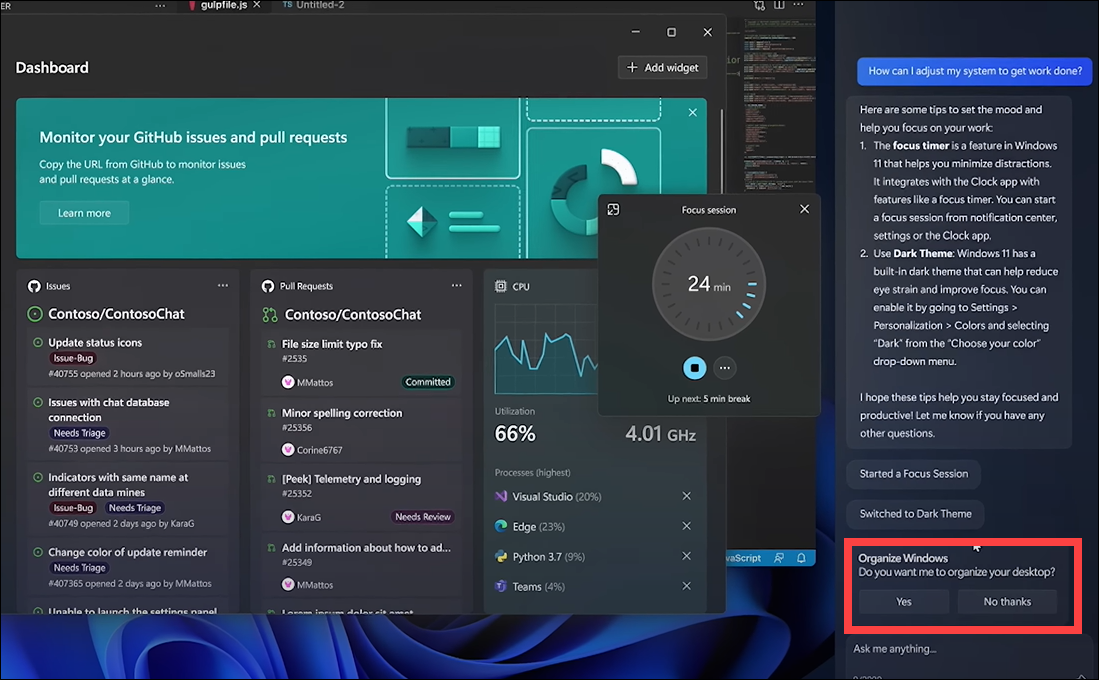 Work with Documents
Copilot works directly with your documents, so you can drag and drop them into the sidebar and ask for summaries, explanations, and rewrites; it will deliver them in a jiffy.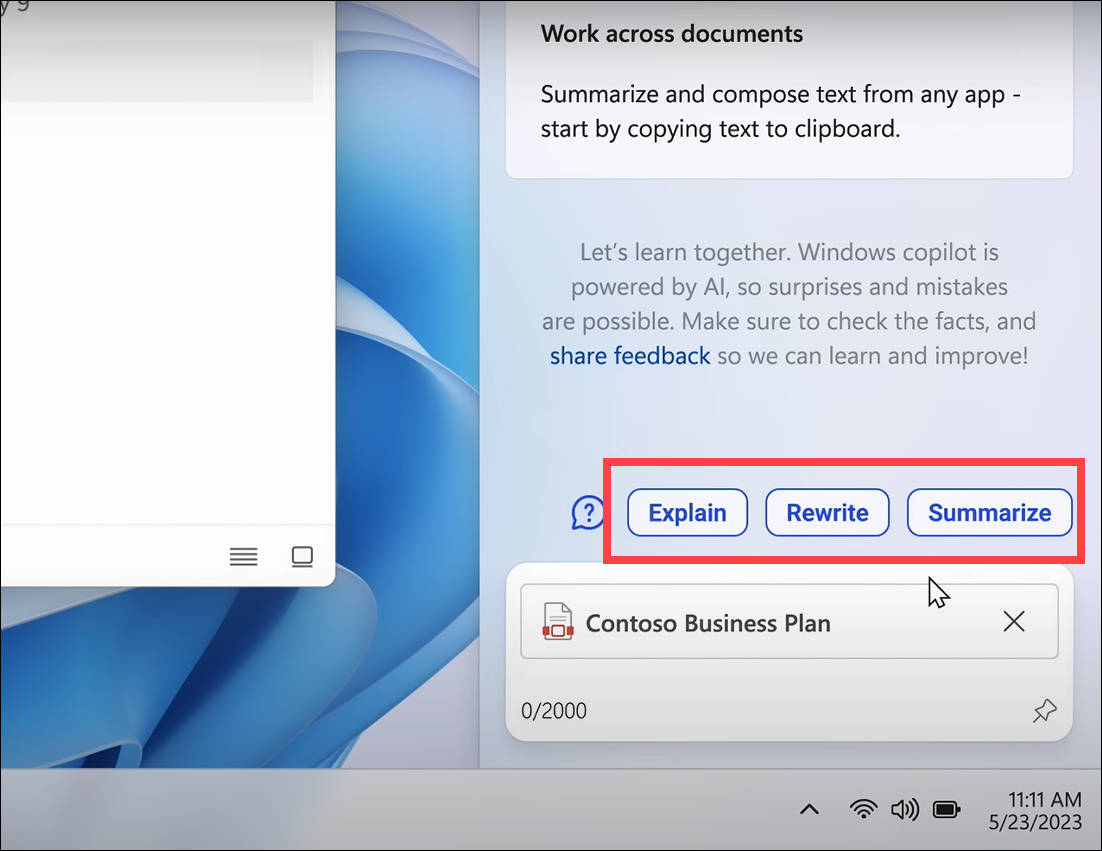 You can also directly copy/paste the content into Pilot, but the fact that you can work directly with documents blows!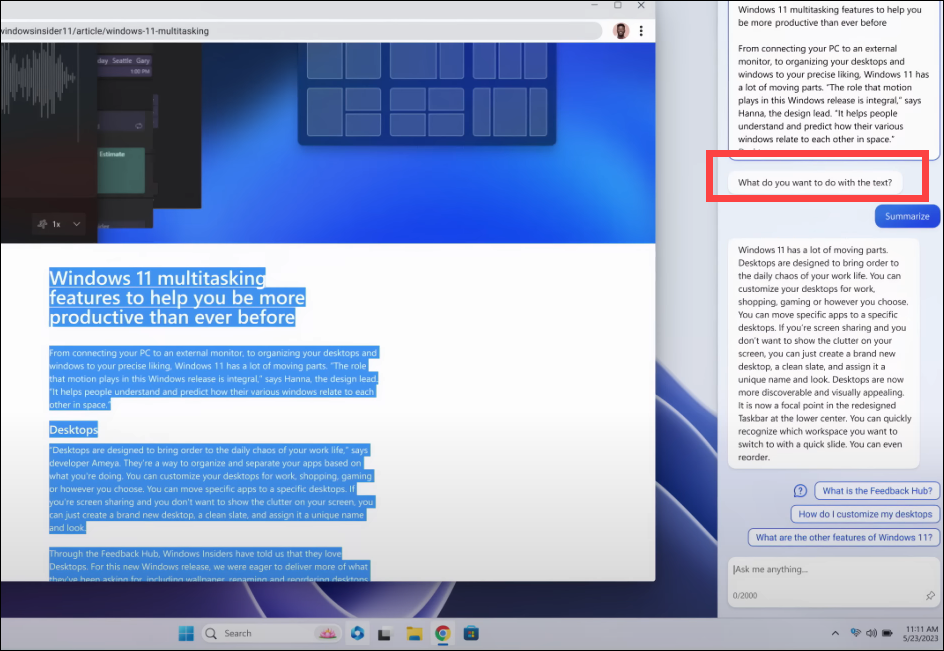 You can even get meeting summaries from Copilot.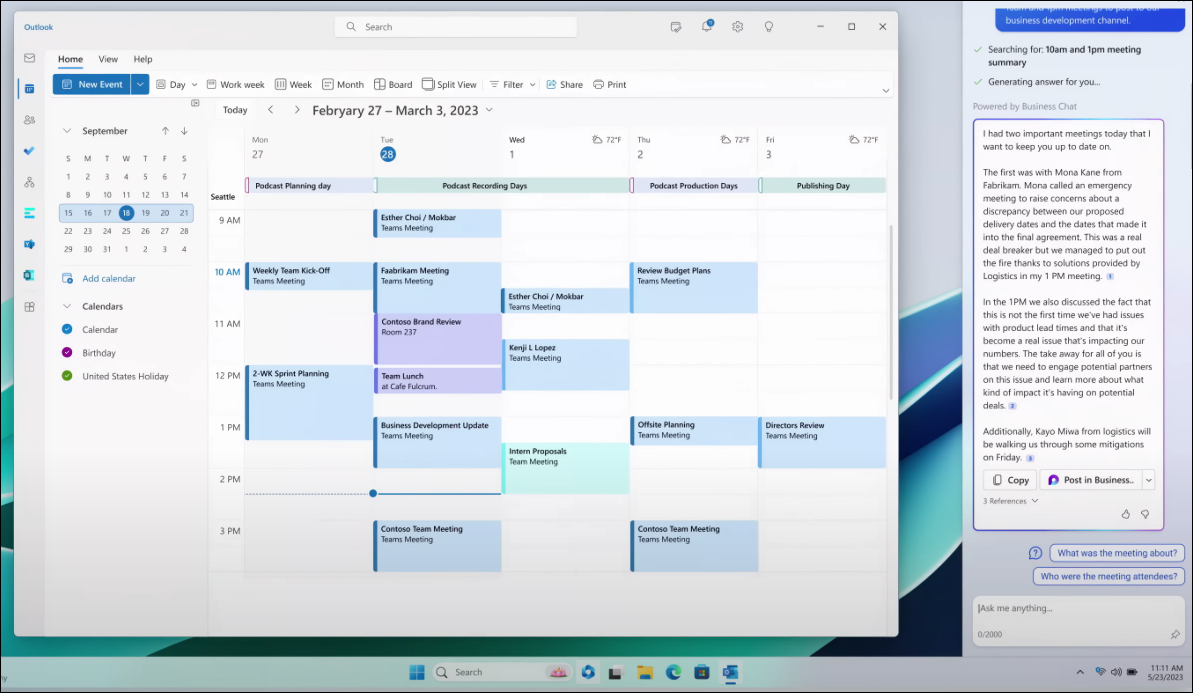 Work with Apps
It also works with all the apps on your PC. For example, you can ask it for music recommendations to listen to while working. Not only can it recommend some playlists that cater to your needs from apps like Spotify, and it can also play your selected playlist from the app.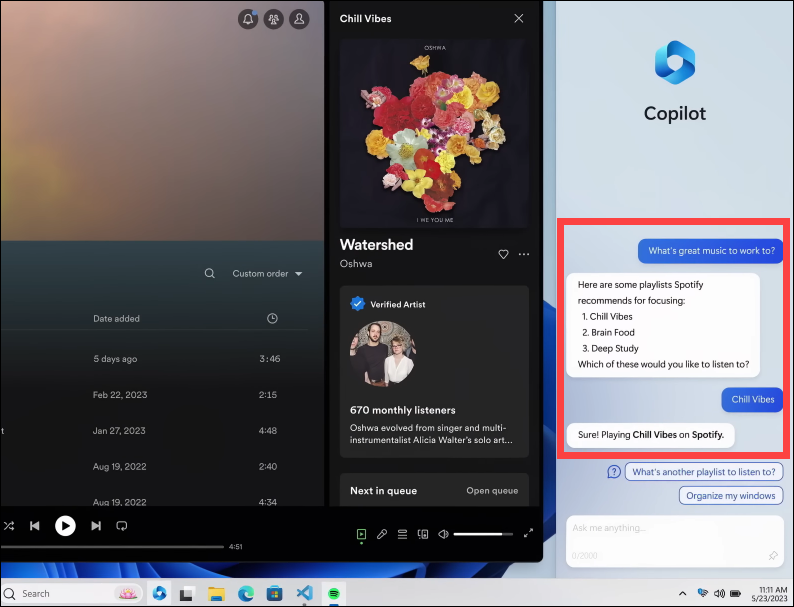 Plugins
Copilot will also work with Plugins – first-party and third-party – to enrich the user experience. Windows Copilot will use the same plugins being built for ChatGPT and Bing Chat. In fact, Microsoft 365 Copilot and Dynamic 365 Copilot will also use the same plugins. This move ensures that more plugins can be used across these services without the need to make them separately compatible.
Plugins allow developers to integrate their apps and services with the AI model; for end-users, this means that the AI can access a lot more apps and services for them. The integration of Plugins enables personalized answers, relevant suggestions, and swift actions that Windows Copilot can take, cementing its role as an ever-present assistant.
Microsoft is already working with companies like Atlassian, Adobe, ServiceNow, Thomson Reuters, Moveworks, and Mural, to name a few, whose plugins will be available in Microsoft 365 right now for customers in the Microsoft 365 Copilot Early Access Program. Apart from these, Microsoft is also planning to bring thousands of additional line-of-business and third-party plugins in the coming months to its Copilot ecosystem.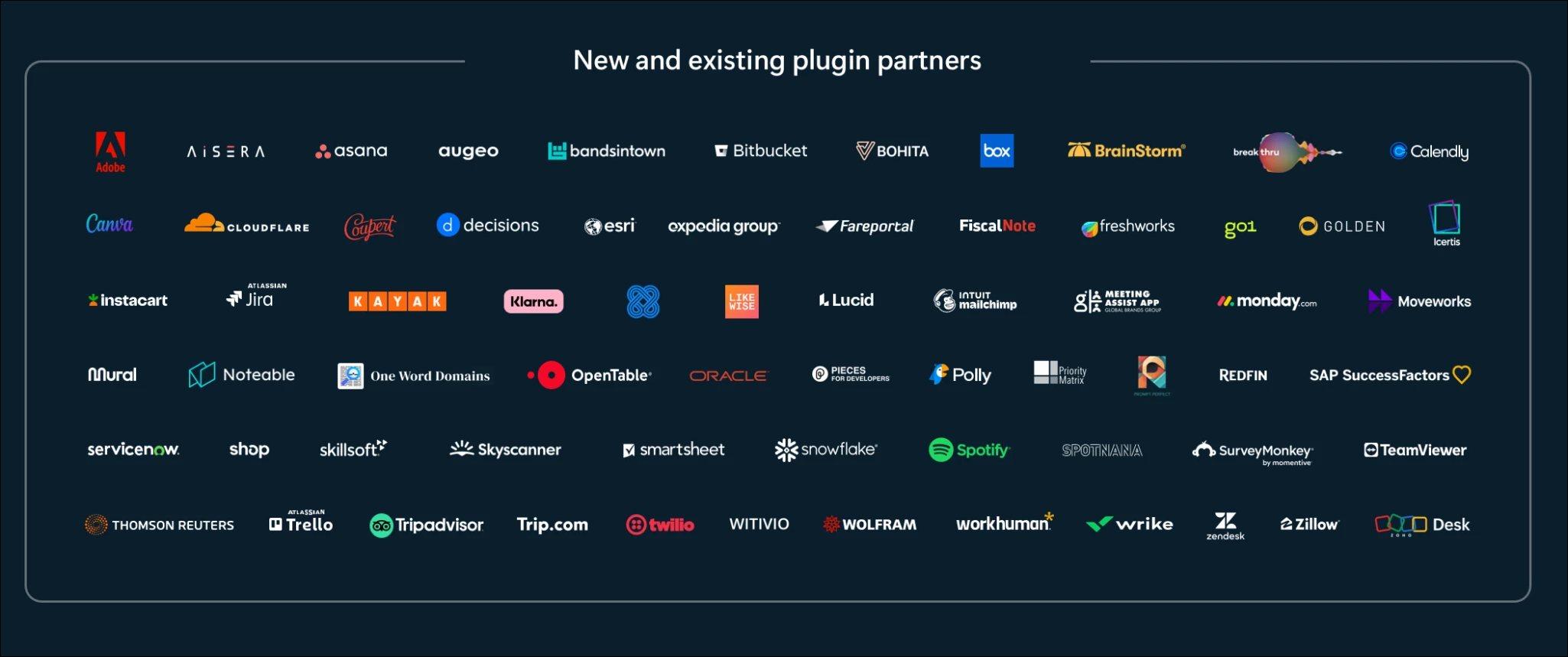 It stands to reason that these plugins will also work with Windows Copilot when it arrives.  
An example from Microsoft showed that when a user asked how they could create a logo for their business, Copilot explained how they could achieve it using an app recommendation (Adobe Express) and offered to open templates for logos in the recommended app.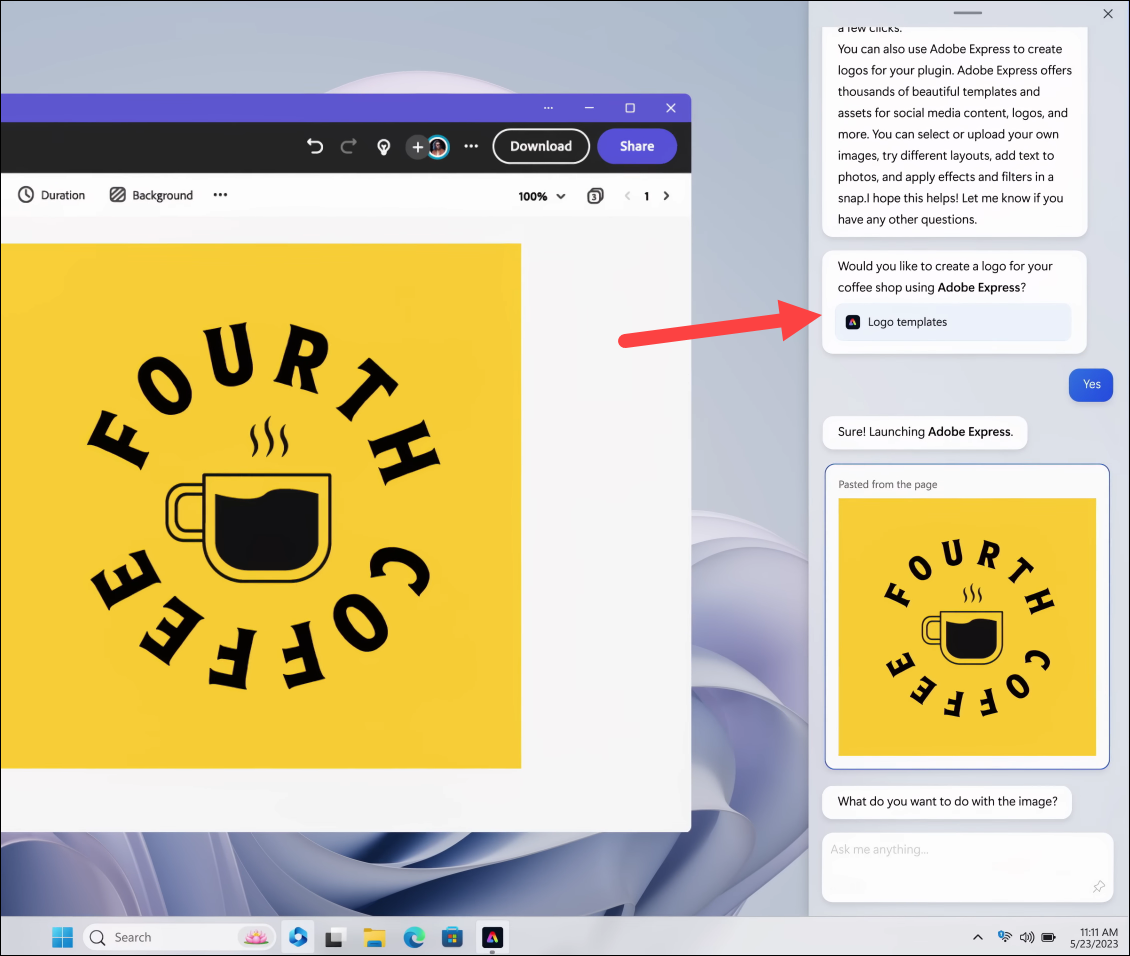 Once the user created the logo, the logo was pasted into Copilot and sent directly to a group chat in Microsoft Teams upon the user's request.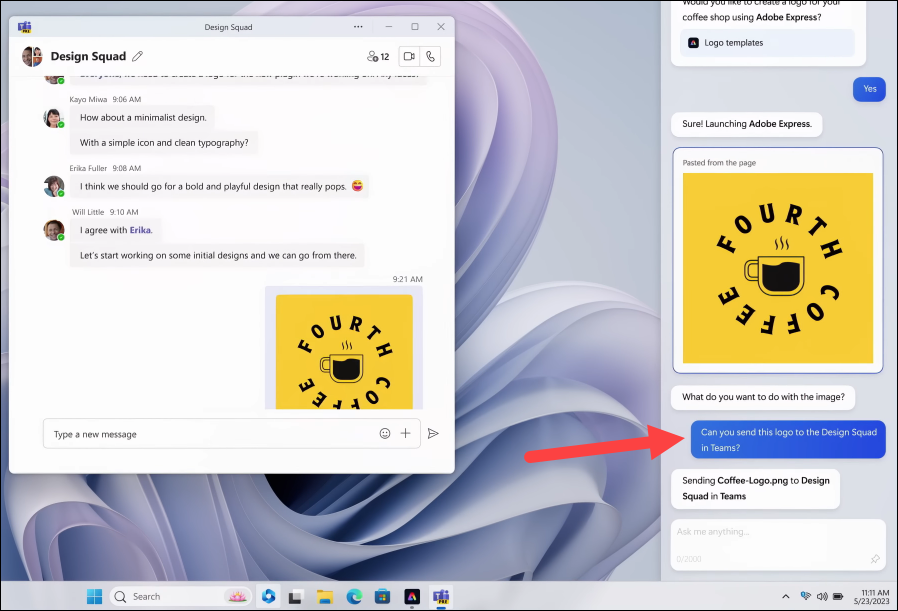 Seeing that Adobe is one of the early players for Plugin adoption across Microsoft's Copilot programs, one can see this as a glance into what users can achieve with Plugins.  
---
With the power of Windows Copilot at your fingertips, users should be able to spend more time doing things that matter to them as AI takes care of the rest of the mundane stuff. Windows Copilot is a mere prelude to how increasingly prevalent AI will become in every aspect of our lives in the coming future.