iOS 12 Beta 3 changelog: Resolved, New and Known Issues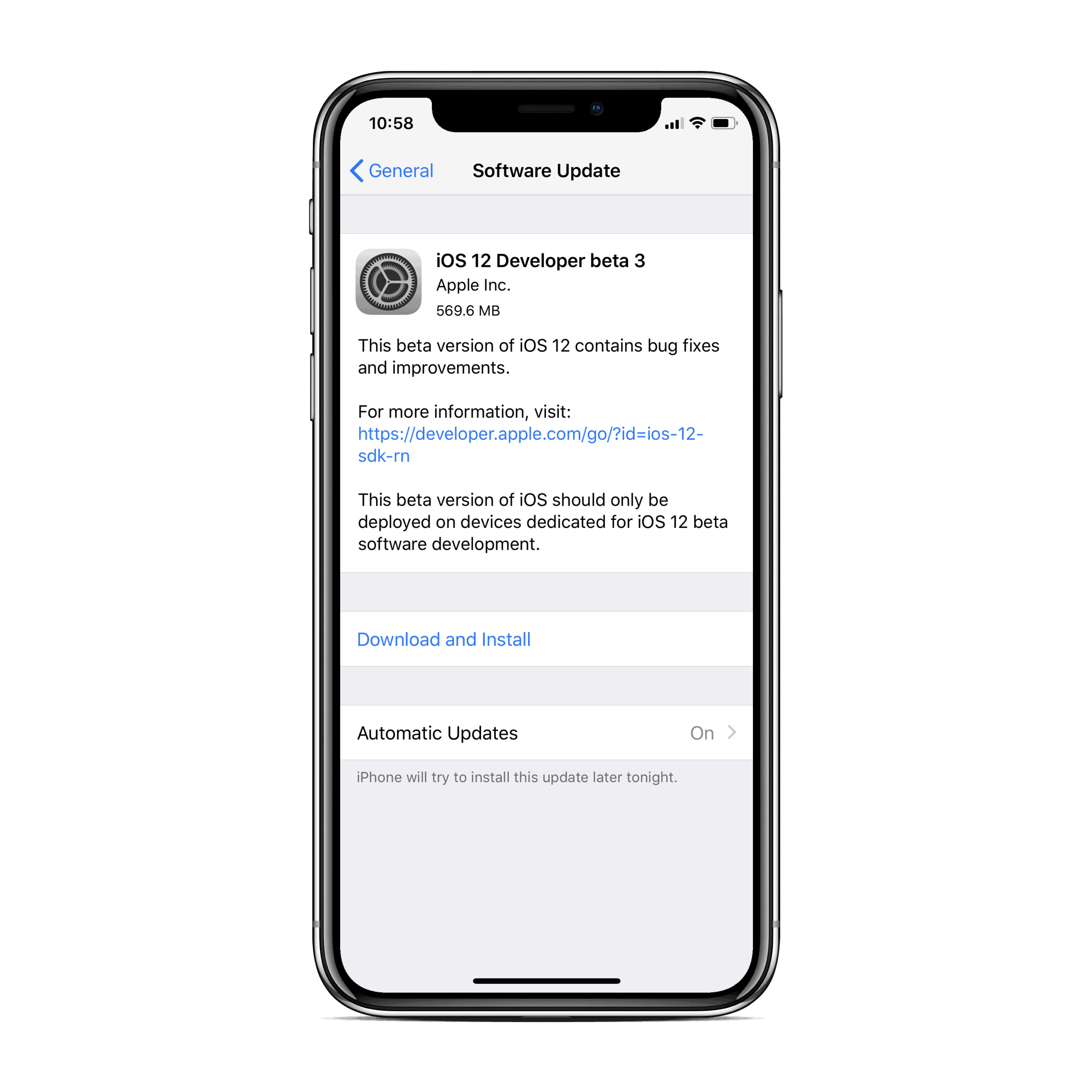 Apple has now released the iOS 12 Beta 3 for developers. The update comes a week after the first Public Beta for iOS 12 released on June 24th. The iOS 12 Beta 3 resolves a number of issues from the developer beta 2 and introduces some new issues as well.
We dug through the iOS 12 Beta 3 release notes by Apple. Below is a list of everything that's new in the Beta 3.
What's new in iOS 12 Beta 3
Resolved issues:
You can now update from iOS 10.2 and earlier to iOS 12 beta via iTunes using the iOS 12 Beta 3 IPSW firmware files.
The Weather widget now works in iOS 12 Beta.
Taobao, Twitter, and Skype issues are now resolved.
Notification action buttons are now clearly visible when Increase Contrast settings are enabled.
AirPods will now pause music when one of the plugs is removed from ears.
All CallKit issues resolved.
If a previous iOS 12 Beta broke CarPlay connectivity in your car, iOS 12 Beta 3 comes with a fix for the issue.
Fixes for Phone and FaceTime:

Stability improvements for FaceTime.
FaceTime calls will no longer give 'poor connection' error.
Voicemail notifications will now appear as usual.

Improvements to Screen Time family sharing features.
Siri:

You can now set 'Hey Siri' when Siri's language is set to Chinese, Japanese, or Korean.
When a user connects a playback device such as headphones, the Media Player UI now displays artwork.
Setting a custom shortcut now works flawlessly.
New Issues:
Fortnite might unexpectedly quit during use.
While in Day view, an event might appear on an unexpected date.
Workaround: Switch to Week or Month view then back to Day view. Alternatively, quit and relaunch Calendar.
Phone and FaceTime issues:

A "No SIM" notification might be displayed when restarting iPad if an Apple SIM is
inserted with no active data plan.
Your device might not register for iMessage and FaceTime using your phone number.
Workaround: Restart your device.
Your device's phone number might not be displayed in Phone > Contacts.
The Cellular Data section in Settings » Cellular might refresh continuously.

Screen Time data might not synchronize across iOS devices.
Wallet might unexpectedly quit on launch.
Workaround: Use the application switcher to quit Wallet then try launching it again.
Known Issues:
Netflix may still throw tantrums on iOS 12.
The route map for a workout might be unavailable.
Phone and FaceTime:

Group FaceTime calls cannot be initiated between iOS 12 beta 3 and the first iOS 12 beta release.
Workaround: Users should update to iOS 12 beta 3.
iPod touch (6th generation), iPhone 5s, iPhone 6, iPhone 6 Plus, iPad mini 2, iPad mini 3, and iPad Air support only audio (no video) during Group FaceTime calls in iOS 12 beta.
In iOS 12 beta, Camera Effects in Messages is available only on iPhone SE and iPhone 6s or later and is unavailable on iPad. Camera Effects in FaceTime is available only on iPhone 7 or later and is unavailable on iPad.
Wi-Fi calls might end unexpectedly when transitioning from Wi-Fi to cellular while on the T-Mobile network.

Screen Time:

"Picked Up Phone" statistics might be inflated due to data syncing from other devices signed into the same iCloud account.
Screen Time website usage for a child won't be displayed on the parent's device, but can be read on the child's device.
The default Always Allowed apps won't be allowed in Downtime until after tapping
Settings > Screen Time > Always Allowed to refresh the list of apps.
Use only numbers when creating a Screen Time passcode or it might become impossible to enter the passcode.

Siri:

Adding shortcuts to Siri might fail for shortcuts with images in PDF format.
Workaround: Use another image format.
Siri Suggestions for Shortcuts are enabled on iPhone 6s or later, iPad Pro, iPad (5th
generation or later), iPad Air 2, and iPad mini 4.

Voice Memos don't sync to iTunes.