Video conferencing systems existed long before the pandemic. But to work as a fully-functioning replacement of the real-world model, a lot needed to be improved. Many features have become the standard requirement, and all apps are scrambling to bring it to their platform.
Breakout Rooms is one such feature that has become especially indispensable in a virtual teaching environment. Breakout Rooms are used to divide the meeting participants into smaller sub-meetings. These are particularly useful when teachers need students to work on a group assignment while being in class.
Google Meet has become of the apps that finally has inherent support for Breakout Rooms. So, now you don't need any extensions or an elaborate workaround to create Breakout Rooms on Google Meet if you have an account that is eligible.
Who can Use Breakout Rooms in Google Meet?
Breakout Rooms in Google Meet are only available to users with a G Suite Business, Workspace Essentials, Business Standard, Business Plus, Enterprise Essentials, Enterprise Standard, and Enterprise Plus account.
It'll also be available with G Suite Enterprise for Education license, but only for users with permission to create a meeting. So, essentially, this ensures that students in your classes won't be able to create Breakout Rooms as they generally don't have permission to create meetings. But if they do, organization admins can easily modify it. There's no word on whether it'll be available for users with a free Google account.
Note that this eligibility criterion is for creating a breakout room and not joining one. For joining a breakout room, you only need to be signed in to your Google account.
---
How to Use Breakout Rooms in Google Meet
Only moderators can create Breakout Rooms in a meeting. Anyone who schedules or starts a meeting is the meeting moderator in Google Meet. If you transfer a meeting to someone else's calendar or schedule it that way, that person can become the moderator for the meeting.
There can be only one moderator in a Google Meet meeting, i.e., unlike some other apps, there is no concept of a co-moderator or a co-host who can share these privileges.
Creating Breakout Rooms
To create Breakout Rooms, go to meet.google.com from your computer and start a meeting. Breakout Room creation feature is currently available on the mobile app. Go to the toolbar on the top-right corner of the screen, and click the 'Activities' icon.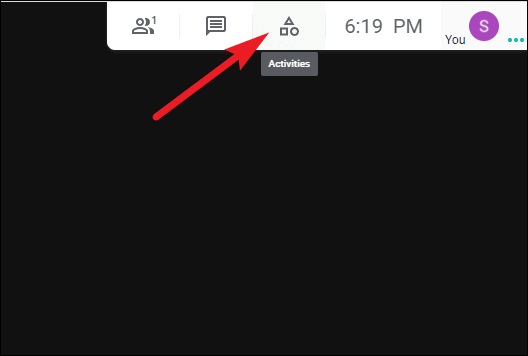 The meeting details panel will open on the right. Click on the 'Breakout Rooms' option.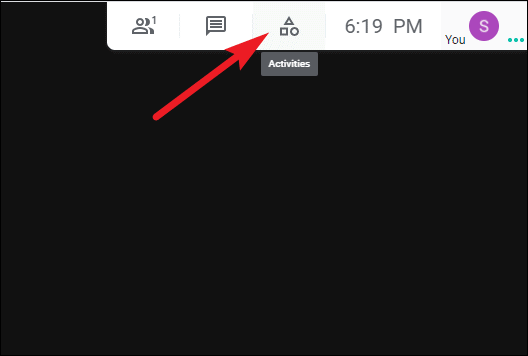 The Breakout Room panel will open. You'll see all the participants available in the call that you can add to the breakout room. There might also be a section of participants that'll come under the "Can't be assigned" section. These are the participants who are attending the meeting as a guest, i.e., they are not using their Google accounts. Until they sign in to their accounts, you cannot add them to a Breakout Room.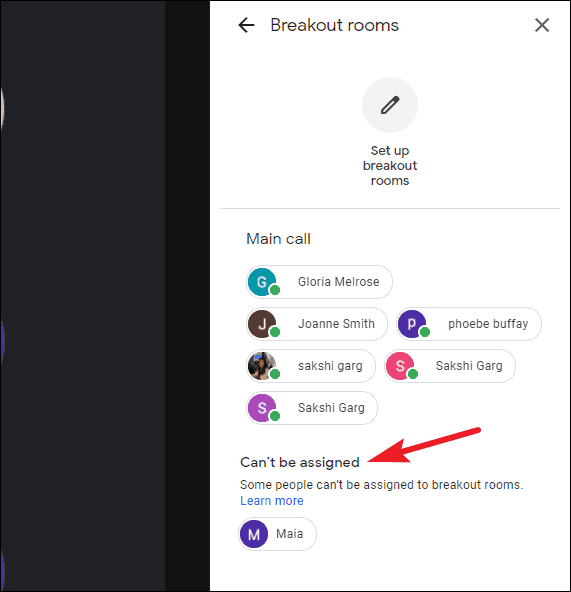 Click the 'Set up breakout rooms' option to create breakout rooms.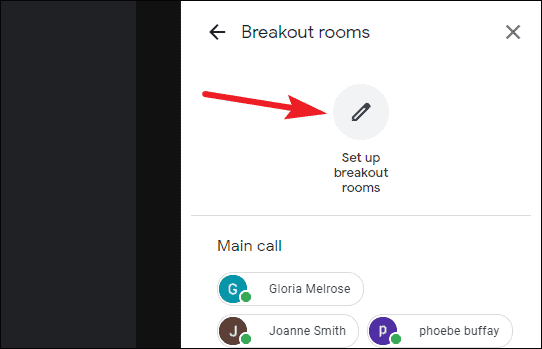 By default, Google Meet creates 2 breakout rooms and randomly assigns participants to each room. The moderator won't be a part of any breakout room by default, considering they are moderators. But you can add yourself, i.e., the moderator, to a breakout room manually.
To change the number of rooms, enter the number manually or click the top or down arrow towards the top of the breakout room panel. You can create a maximum of 100 breakout rooms in a meeting. Google Meet will randomly assign participants to new rooms too.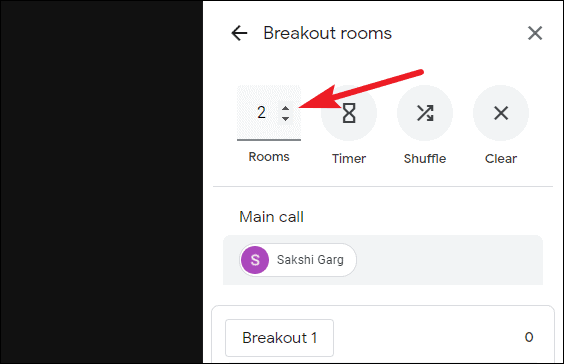 Now, you can use the randomly generated order or you can assign each participant specifically. Either go to the breakout room and enter the participant's name directly, or drag and drop the participants to the breakout room you want to assign them to.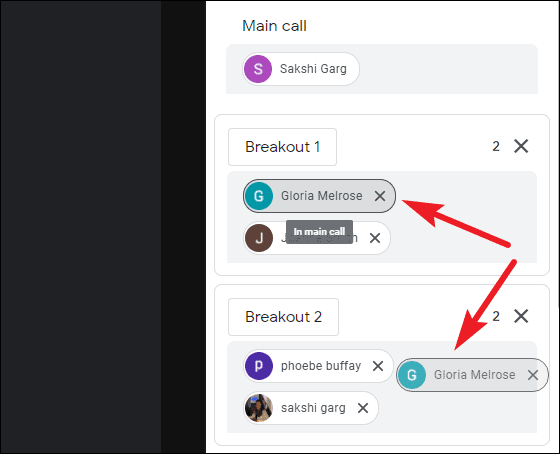 You can also change the name of the breakout rooms or use the generic names Breakout 1, 2, and so on. Go to the name textbox to edit it.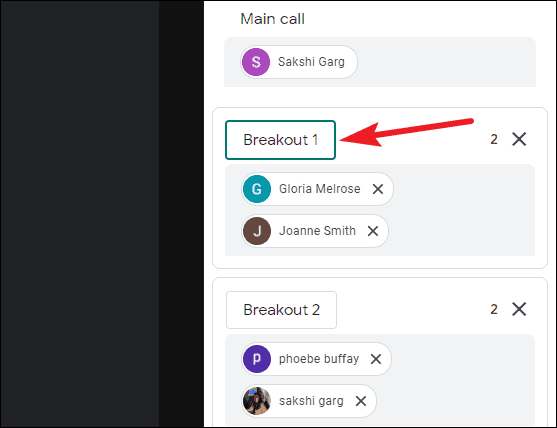 You can also set a timer for the breakout rooms. Click the 'Timer' button on the breakout room panel.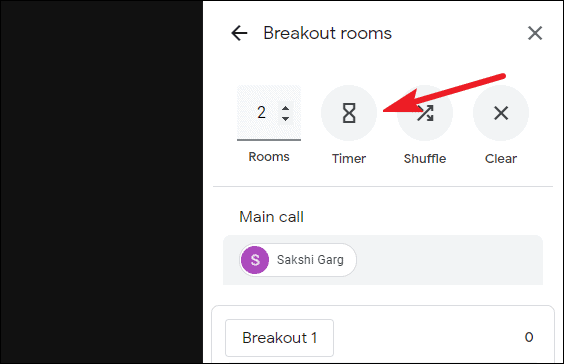 A small dialog box will open. Click the checkbox next to 'End Breakout rooms after a set amount of time' to select it. Until you select this option, breakout rooms will have no timer and will only end when you end them manually.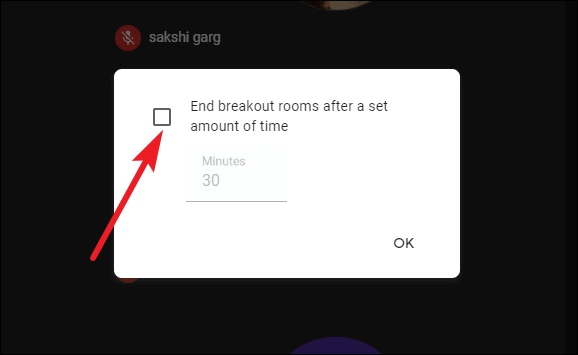 Then, enter the time and click 'OK'.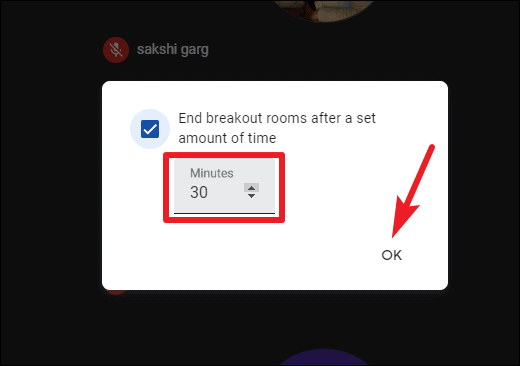 After specifying all the details for the breakout rooms, click the 'Open Rooms' button at the bottom of the panel to launch the rooms.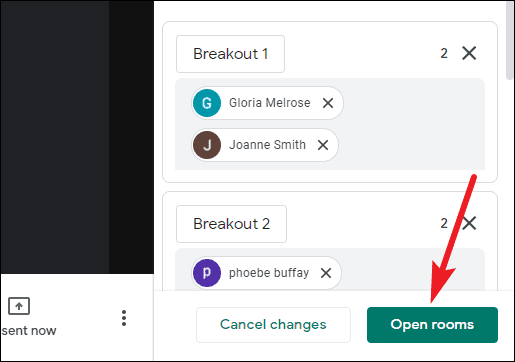 Managing Breakout Rooms
Once you create breakout rooms, you can manage them from the panel on the right. Joining a breakout room whenever you need to and returning to the main call is a piece of cake.
Click the 'Join' button next to the room on the breakout room panel to go to that room.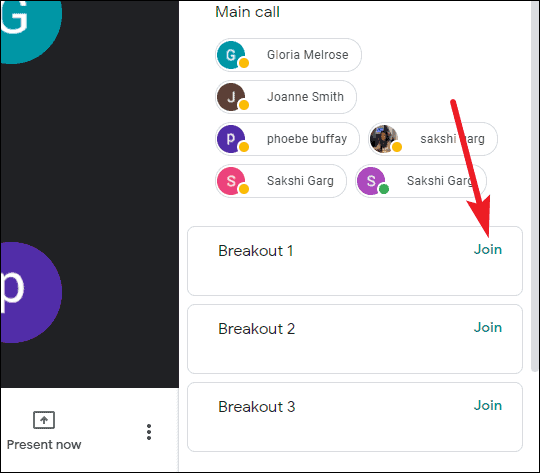 Participants can also ask for your help in a session. When a participant asks for your help, you'll receive a notification on your screen. You can 'Join' the room directly from the notification, or click 'Later'.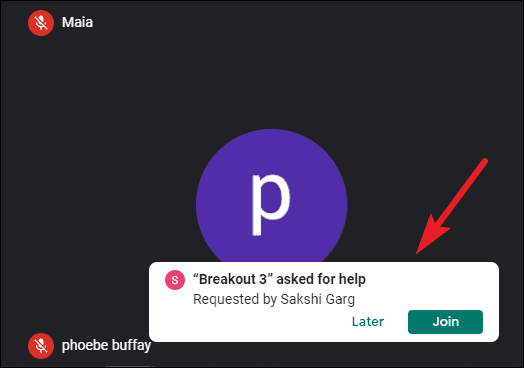 The breakout room panel will show all the pending help requests for all rooms.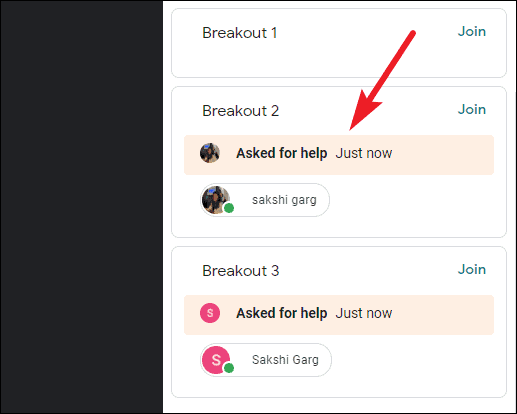 To end breakout rooms, you can either wait for the timer to run out (if you have one) or manually close it any time. Manually closing the rooms is also the only option when you don't have a timer. Click the 'Close rooms' button to end the session.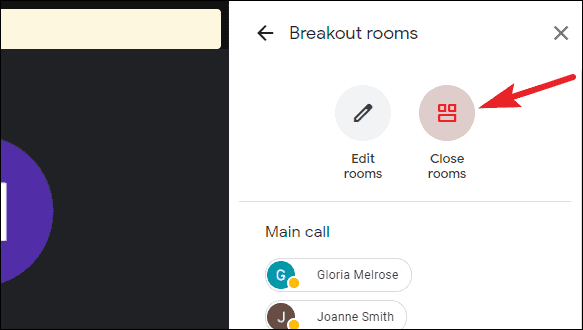 A confirmation dialog box will appear on your screen. Click the 'Close all rooms' option to confirm.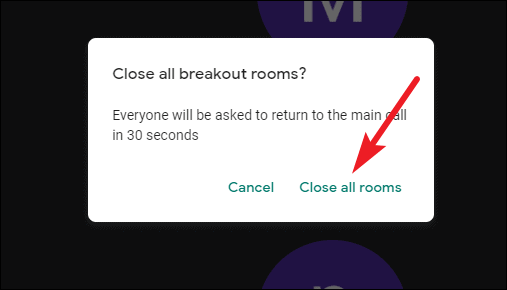 Participants will get a window of 30 seconds to quickly wind up their discussions and return to the main call. If you want to bypass this 30 second window too, click the 'Close rooms now' button on the panel.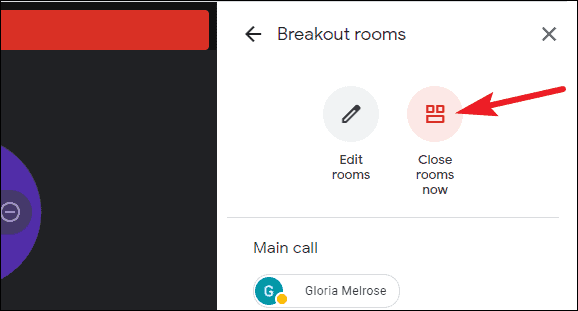 ---
Joining Breakout Rooms as a Participant
Anyone in the meeting can be invited to join a breakout room by the moderator as long as they are using their Google account. Participants don't need an eligible G Suite or Google Workspace account. But you do need to be using a Google account. If you are attending the meeting as a guest, you cannot join a breakout room.
Also, you can join a breakout room from both the computer or using the mobile app.
When the moderator invites you to a breakout room, you'll get a notification on your meeting window. Click the 'Join' button to enter the breakout room. You won't enter the breakout room unless you join it; it isn't an automatic process.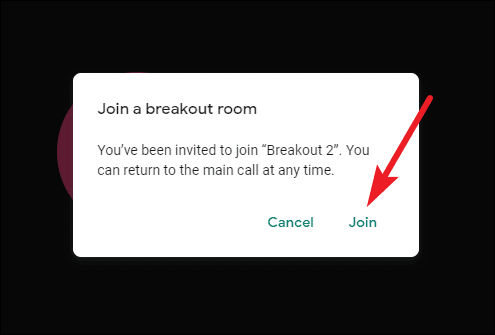 To ask the moderator for help or return to the main call at any time, click the 'Ask for Help' or 'Return to main call' buttons on the breakout room toolbar at the top of the screen.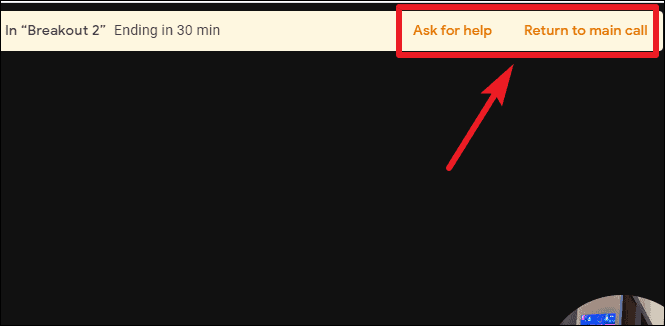 ---
Google Meet users were in desperate need of breakout room functionality, especially educators. But it won't just be educators who'll benefit from the ability to have smaller meetings in an ongoing meeting.