After more than half a decade, Microsoft finally released the next iteration in its Operating System lineup in the fall of last year. Even though Windows 11 was officially released last year, it has yet to become the household operating system for Windows PCs.
While a gradual rollout is one of the reasons, it isn't the only one. The most important reason is the reluctance to upgrade. Upgrading your Windows OS is always a big decision. If you, too, are riddled with the most important questions about Windows 11, specifically, "How is it," "How is it different from Windows 10," and "Will it be worth it to upgrade", you're not alone. Your hesitancy is completely warranted. But fret not. We're here to answer these questions for you. So, buckle up, it's going to be a slightly longer journey.
Windows 11 Short Review
Windows 11 review at a glance:
Pros
Cons
Cleaner and aesthetically pleasing look.
Stricter hardware requirements.
More options and layouts for managing your screen space.
Needs a recent CPU.
Great updates for gamers.
Takes time to adapt to some interface changes.
Support for Android apps.
Some important Windows 10 features are missing
Potential for improved performance.
No standalone update – the only way to update is from Windows 10.
So, Windows 7 users have to take a long route.
Now, it's time for an in-depth review of Windows 11, looking at the major changes and where they stand – in favor or against upgrading to the new OS.
Windows 11 Design Review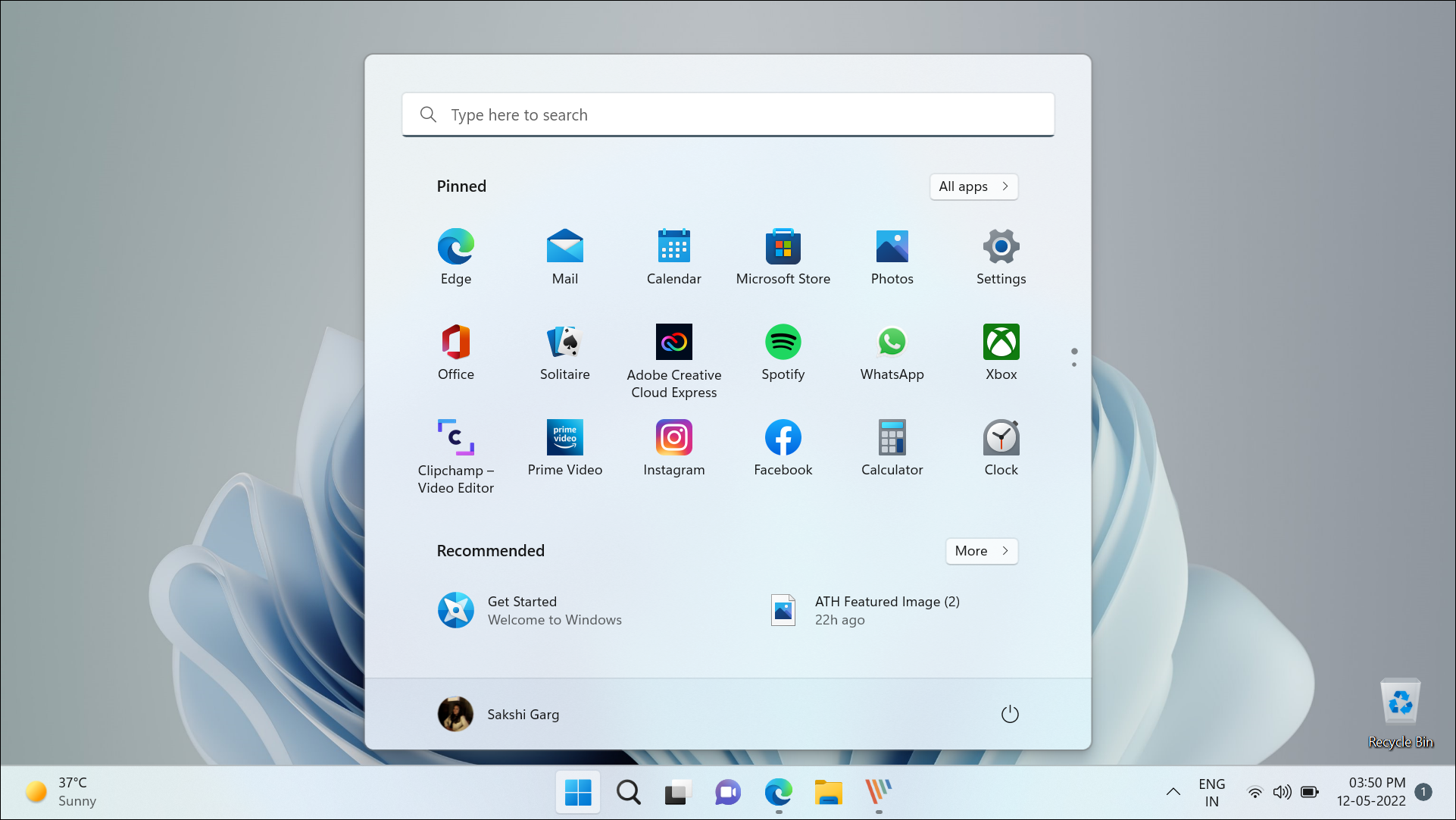 The most prominent and obvious change in Windows 11 has to be from the design viewpoint. Windows 11 touts some beautiful changes to the interface with its translucent, frosted-glasslike windows and rounded corners. The aesthetics are definitely a welcome change, giving a fresh overhaul to the whole experience – yes, they do make that much of a difference. The freshness they bring to the OS feels long overdue, at least for me. I had been long waiting for the sophistication they bring to the OS that has somehow become a signature of this era.
You'll notice the new accents and softer edges almost immediately, as soon as you go into the Start menu. The Start menu has perhaps got the most updates, although the jury's still out on whether they're to be considered improvements.
Centered Start Button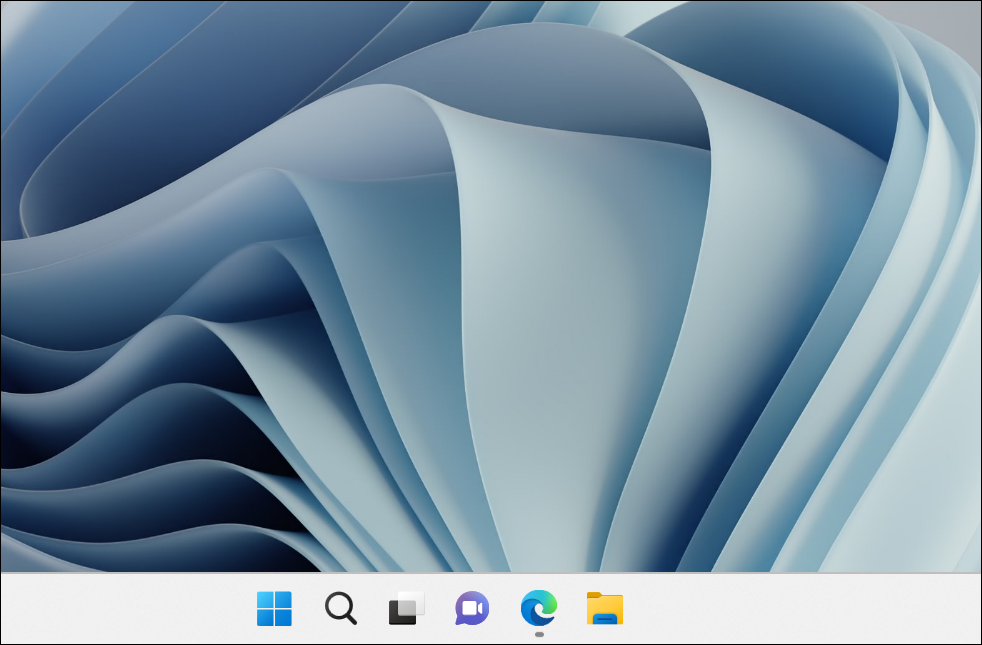 Windows 11 brings the Start button to the front and center, taking it away from the left corner where it has always stayed tucked before now. Personally, getting used to the Start button in the center hasn't been much of an adjustment for me. The problem most people are facing with the Start button being in the center is the fact that it keeps moving. If there are more apps open, the Start button would shift towards the left. If keeping the Start button on the left is a deal-breaker for you, you can easily move it back to the left.
Minimal Start Menu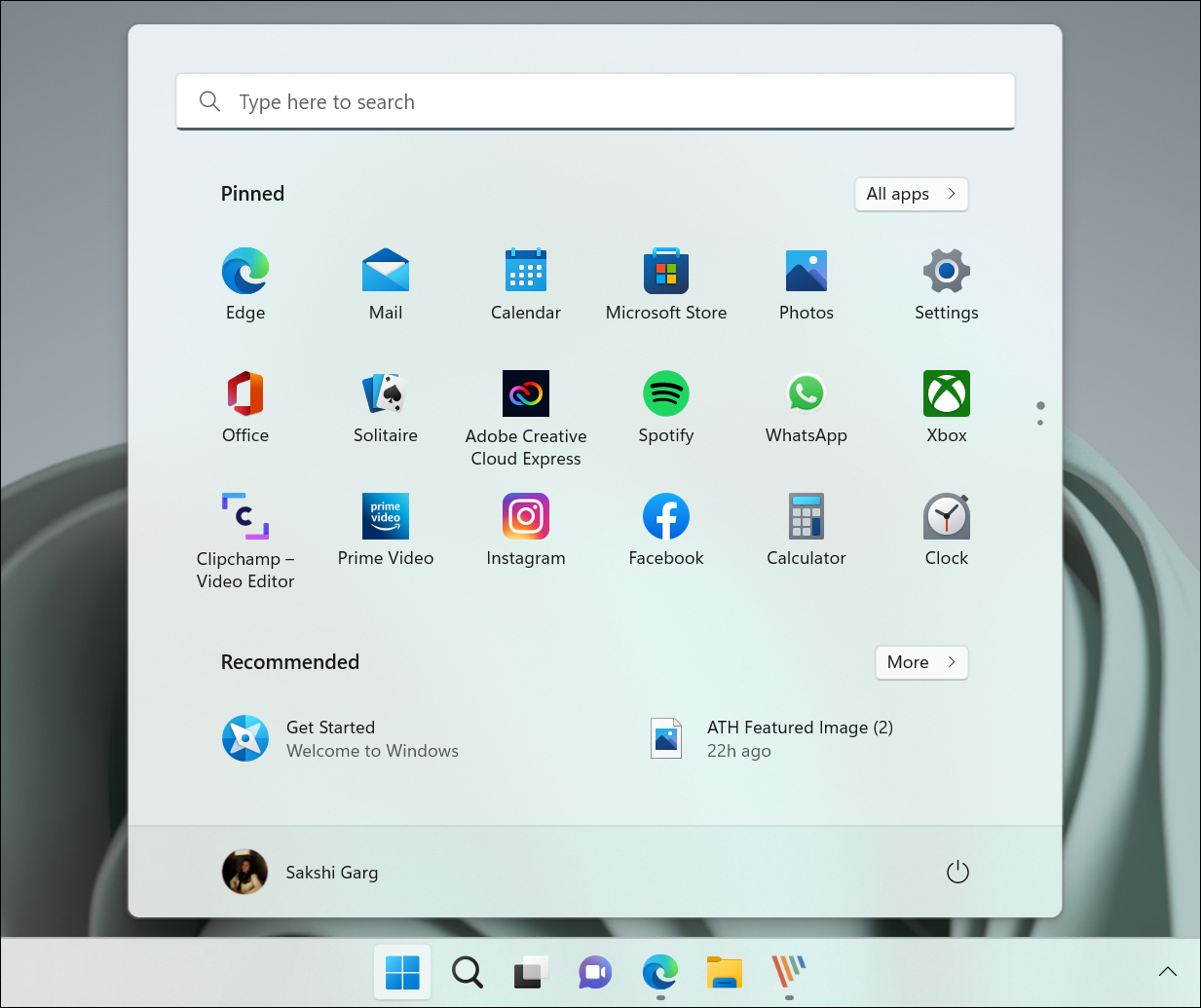 The Start menu itself has got a makeover – and it's a change that has been a subject of much controversy. For me, the new Start menu is an improvement in its simplicity. It does elicit a sense of calm and ease, as Microsoft stated as the goal, as opposed to the cluttered menu of Windows 10.
But if you're not a fan of keeping things simple, the Start menu will disappoint you. Most users who loved the live tiles in Windows 10 have gone through a tormenting and frustrating period of mourning for them. If you're too attached to them as well, there's one argument for staying on Windows 10.
The Start menu now has a section that shows you pinned apps, and another that shows your most recent files and apps. You'll see the files that matter to you in this section on all the Windows devices you're using with the same Microsoft account, since they are powered by the Microsoft cloud.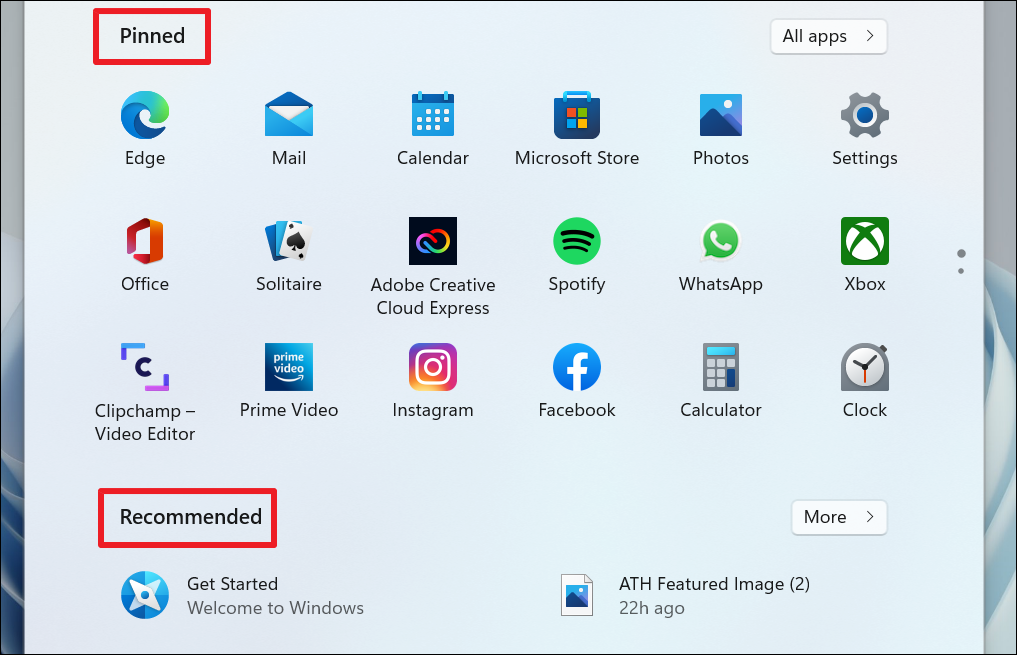 That's something else that's different in Windows 11. To use Windows 11 Home, you need to sign in with a Microsoft account. There has been some outcry on this front, but in my opinion, there was no need to make an issue out of it. Most Operating Systems, like macOS and ChromeOS, require you to sign in to an Apple or Google account.
To see all the apps on your PC, you can easily click the 'All Apps' button from the Start menu. Windows 11 dissenters feel that's one step too many to get to all apps since the Start menu in Windows 10 showed all apps right there. But if you prefer a minimal start menu, it's not going to be a problem. And most of us use the Search option to find apps on our PC anyways.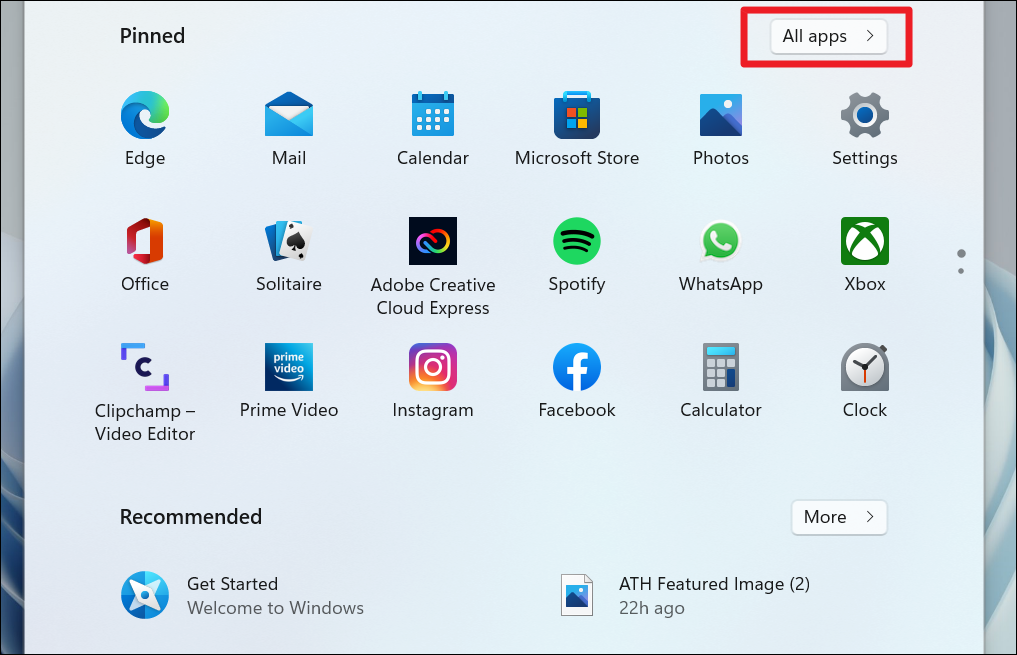 Taskbar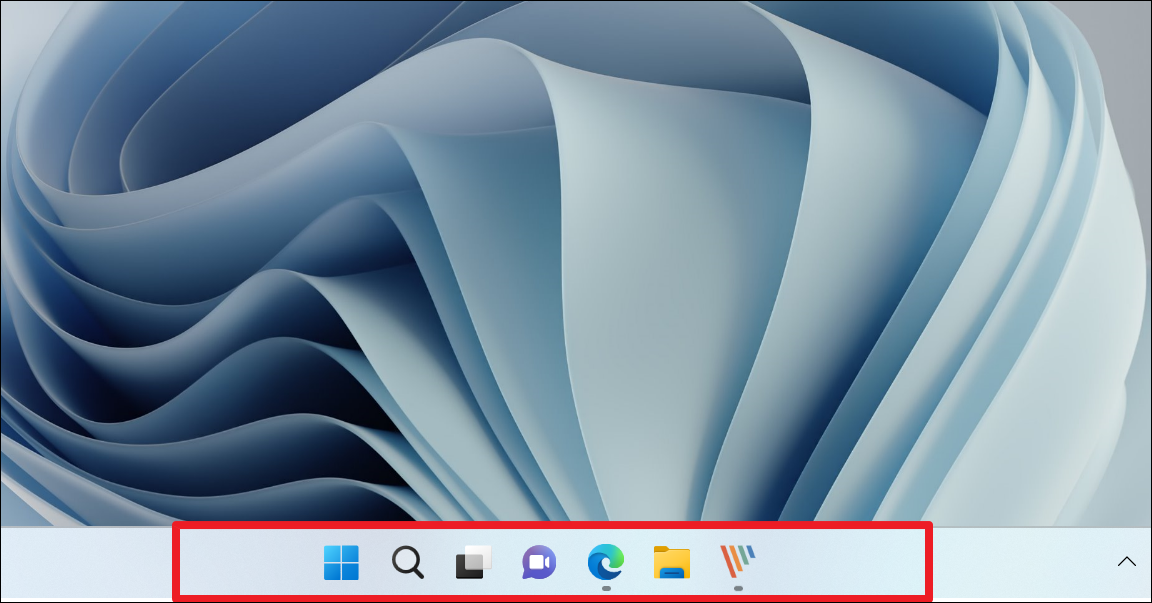 The design changes abound throughout the OS. From the taskbar to the file explorer, you'd find plenty of changes. The taskbar icons are also centered in Windows 11 and there is no search bar or Cortana either. The search option is now the Search menu, and the extra step can take a little getting used to.
But what invites most criticism about the new taskbar are the smaller – and what some claim – less informative app icons. Windows 10 makes it completely clear which apps are running by making the Taskbar buttons wider (if you chose not to change it in settings). That distinction is gone in Windows 11, making it difficult for some to determine open apps.
File Explorer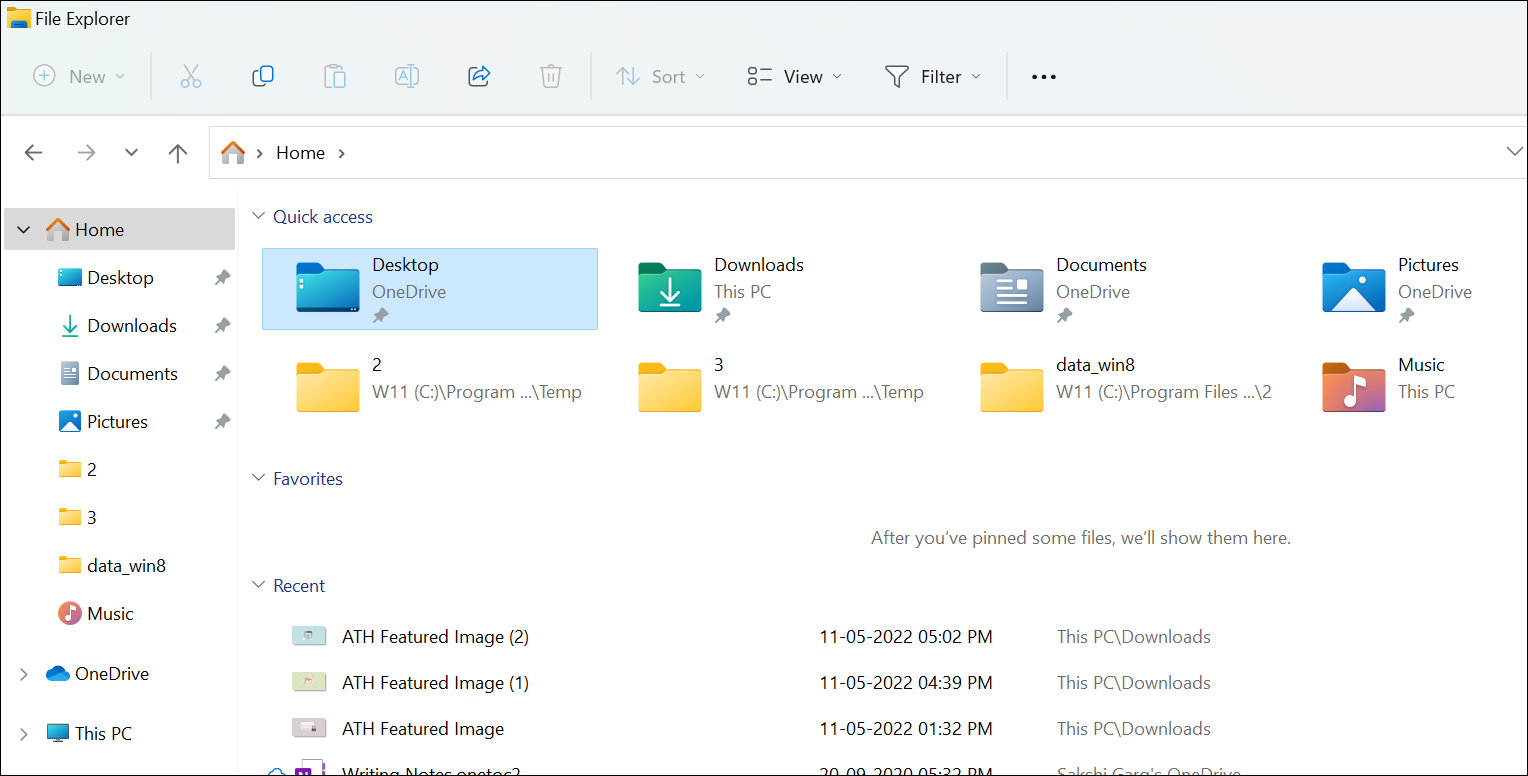 The makeover that File Explorer has got in Windows 11 is the only one that is entirely non-problematic, in my opinion. From the side panel to the simplistic ribbon at the top, everything reflects the beautiful design of Windows 11. Nothing has escaped the aesthetic overhaul – even the context menus are in line with the new design upgrade.
The new File Explorer is not just easy on the eyes, it's also reportedly getting tabs in Windows 11 – something users have been wanting for a long time. Although the upgrade isn't here yet, rest assured that it will be. That's another thing going on for Windows 11.
Notifications and Quick Settings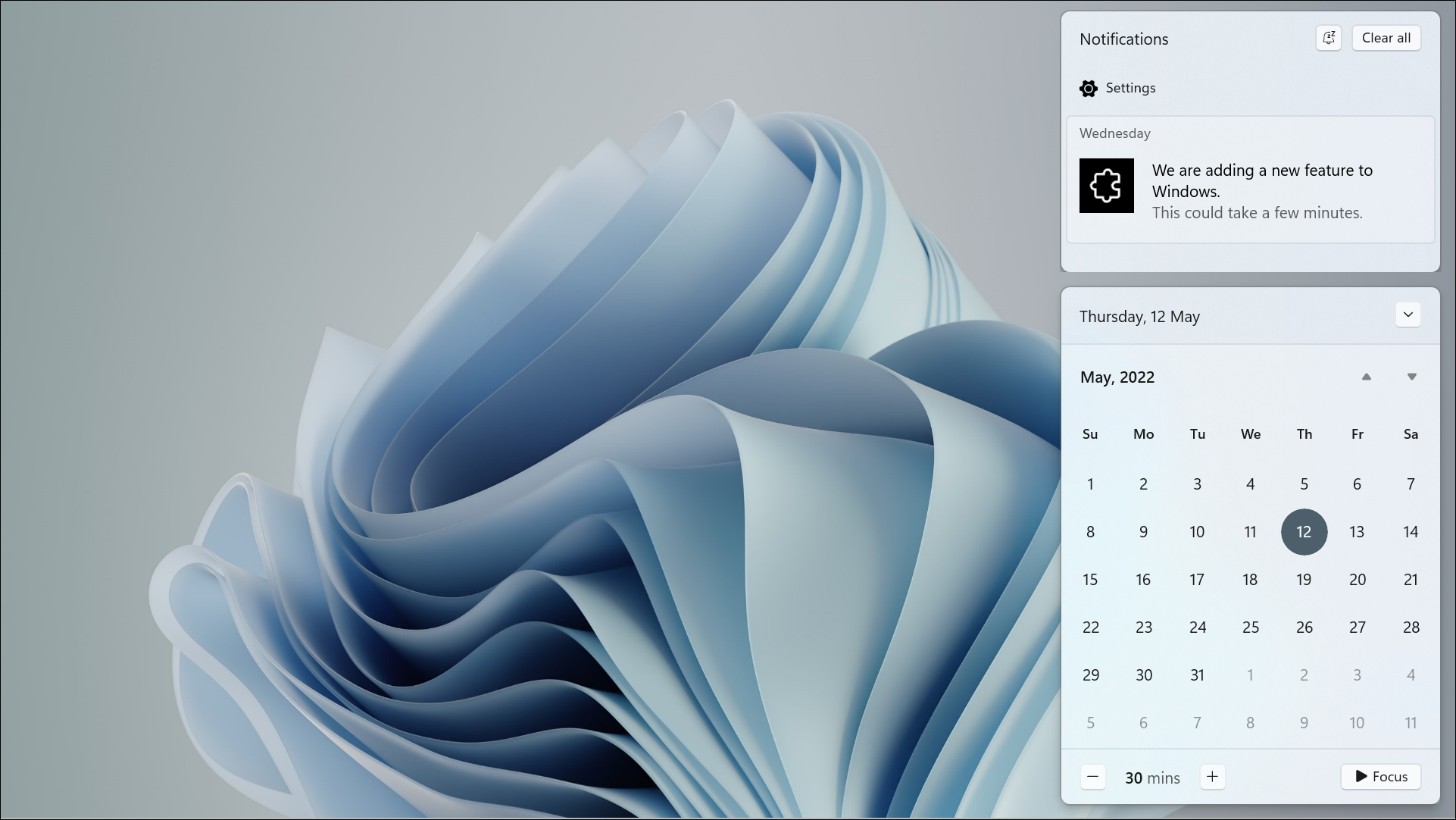 The Action Center from Windows 10 is gone and replaced by smaller panels that are separated into Notifications and Quick Settings. Clicking the date and time brings up the calendar and notifications panel, while quick settings have a completely separate panel.
There are things to love and hate with this update. Quick Settings, for example, can be customized rather easily with a simple edit button right there on the panel. But the taskbar buttons for Wi-Fi, Sound, and Battery open the panel for Quick Settings, and not the pop-up for each setting. Of course, in the looks department, there are no complaints as everything matches the Windows 11 aesthetics.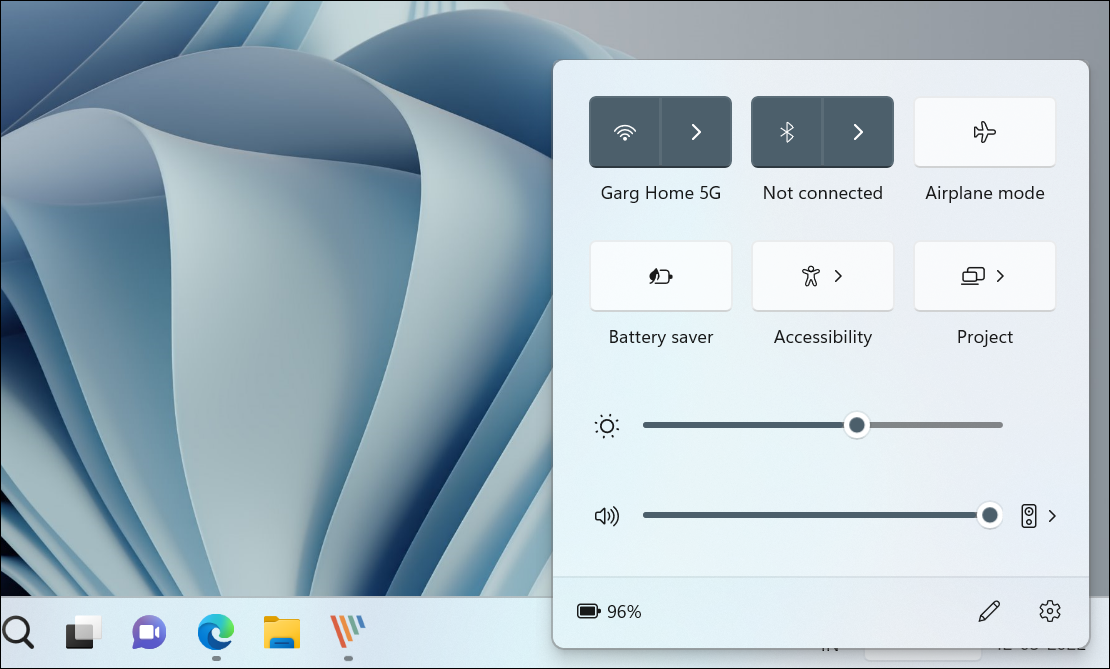 This change can take some time to get used to, but it isn't reason enough to refrain from upgrading to Windows 11, in my opinion. Touch screen users also get to access it by swiping from the right.
Windows 11 Features Review
Despite many design changes in Windows 11, it's not the only thing that's new in Windows 11. Windows 11 has a lot of new features to boast about and improved some of the past ones, and they're definitely worth it.
Snap Layouts and Snap Groups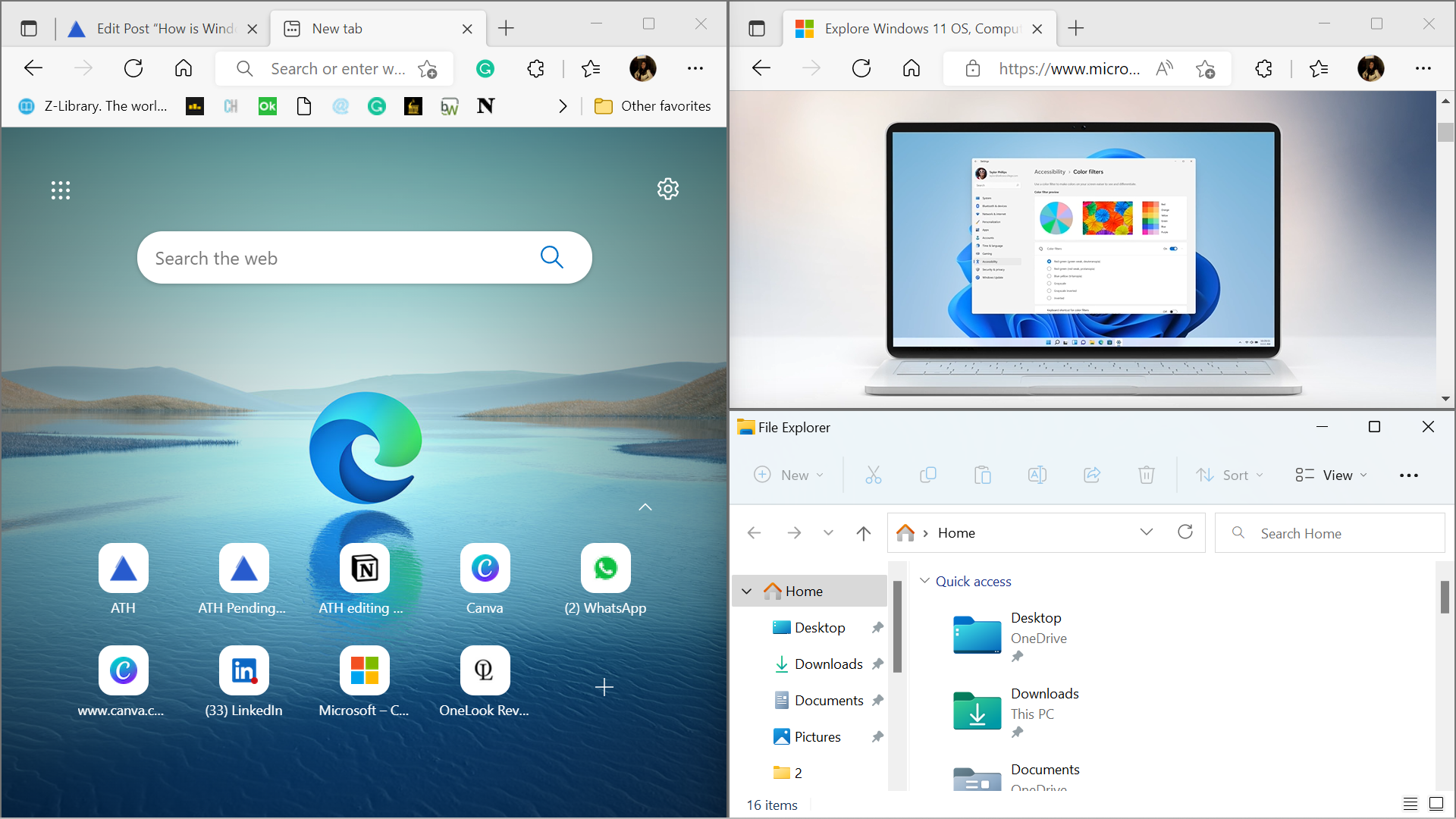 Even though Windows 10 also has Snap Assist, Windows 11 has infinitely improved the feature with Snap Layouts and Snap Groups. Snap Layouts cut down the nuisance of having to "snap" apps into places like you need to do in Windows 10.
Hovering over the maximize button brings up the tool and you can easily use any of the available Snap Layouts to snap the current window on the screen. The number of layouts you get depends on your hardware specifications and screen size, though. Three-column layouts are only available for screens with 1920 effective pixels or greater width.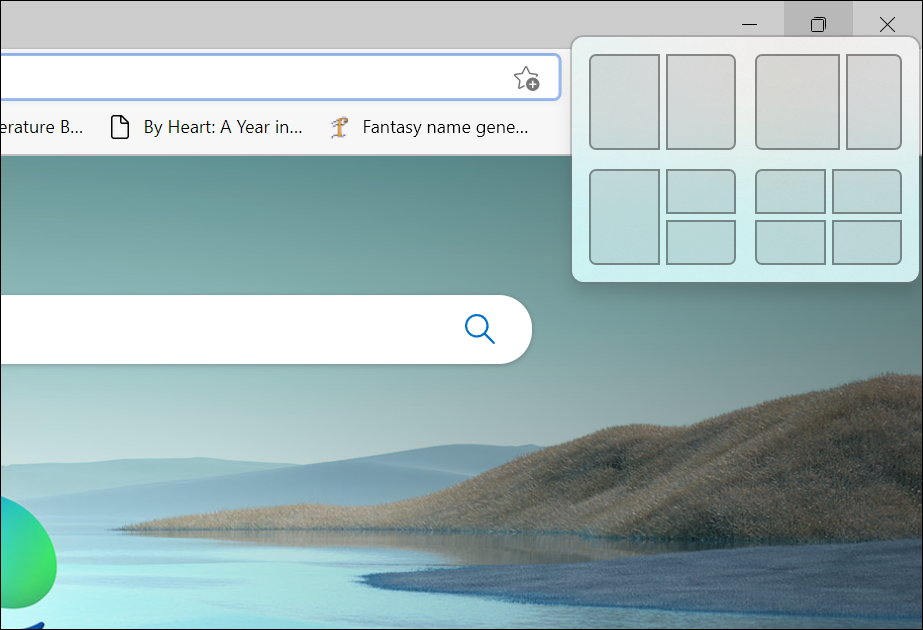 And with Snap Groups, accessing the windows you have snapped together is a very easy feat. The Snap Group is available from the taskbar, so you can either open the snapped group or the single app at any time. Snap layouts are also preserved if you open them on an external monitor multiple times.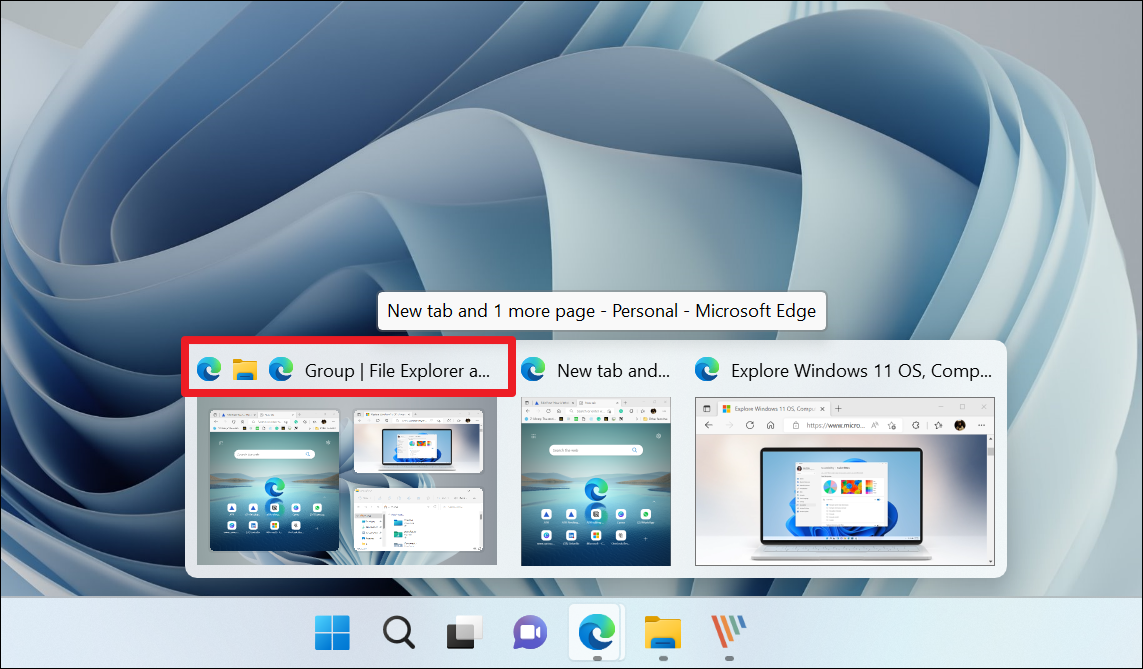 Personally, they've made multitasking a lot easier for me in Windows 11. And not having to drag apps into position to snap them is one of the major reasons for it. But the smooth flow for the entire process doesn't hurt either. And if there were users who didn't know of snapping in Windows 10, the maximize option makes them much more visible in Windows 11. All in all, if you're looking for reasons to upgrade to Windows 11, this feature stands proudly on that list, bluntly urging you to make the upgrade.
Virtual Desktops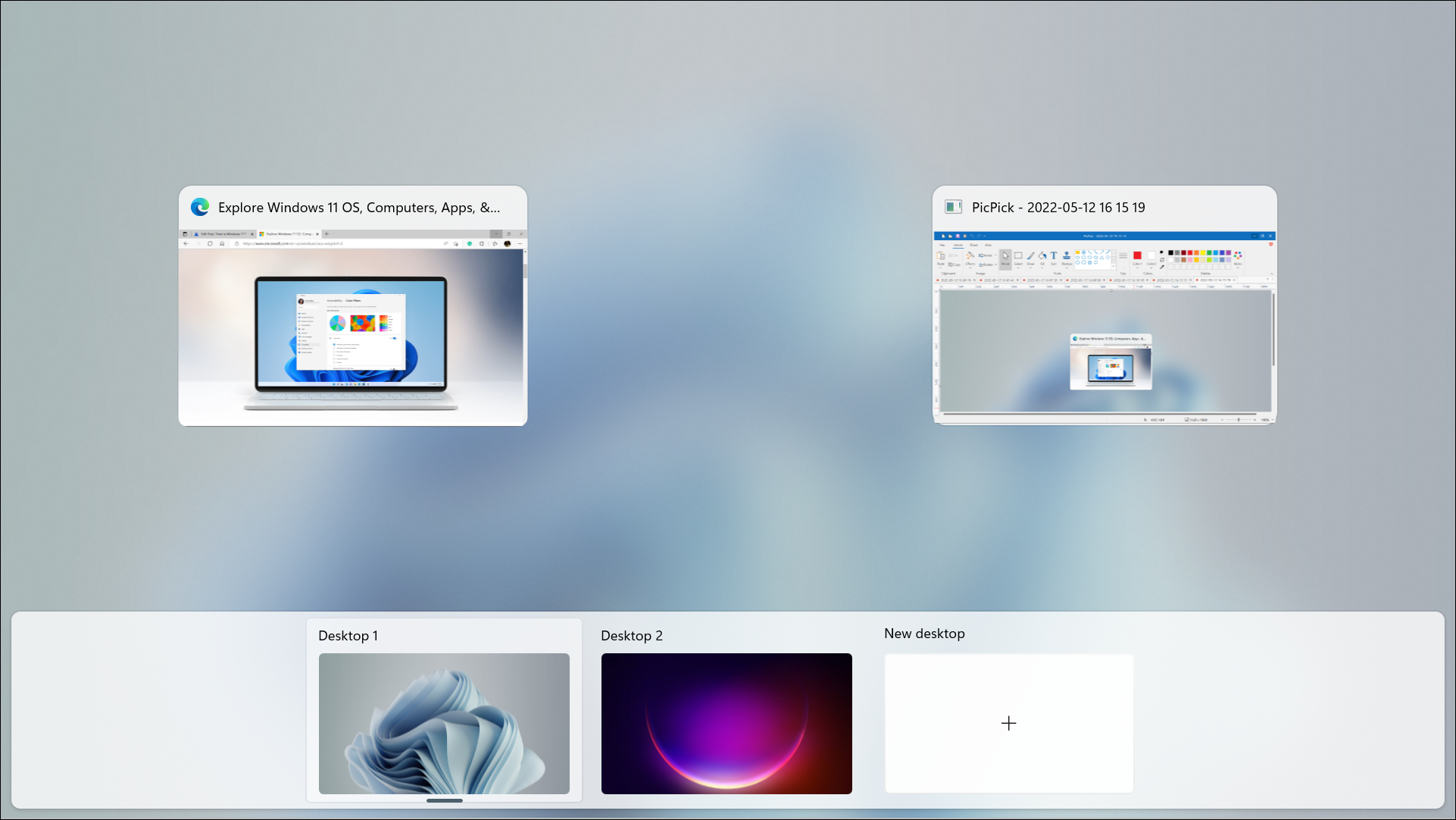 Even though Windows 10, too, has a task view, it hasn't always been an obvious feature. With Windows 11, task view is one of the prominent buttons on the taskbar. But most importantly, setting up and using multiple desktops is easier to use in Windows 11. The whole process was quite difficult and not as intuitive in Windows 10.
Virtual desktops are a great productivity tool to separate different projects or your work and personal apps on separate desktops. Even though the difference between the desktops is, in essence, a decorative one – you cannot have different apps installed on different desktops – I still find it incredibly helpful. The open apps on each desktop are unique to it, and it makes navigating between them much more efficient. You can still use the Windows logo key + Tab keyboard shortcut or the Task view button on the taskbar to switch between the different desktops.
Windows 11 also adds other improvements to the experience. You can now easily switch between different desktops using a four-finger swipe gesture on the trackpad, much like Mac users. You can also now have different backgrounds on different desktops, making it even easier to distinguish between them – something that wasn't possible before. It's certainly a feature that favors heavily for Windows 11.
Android Apps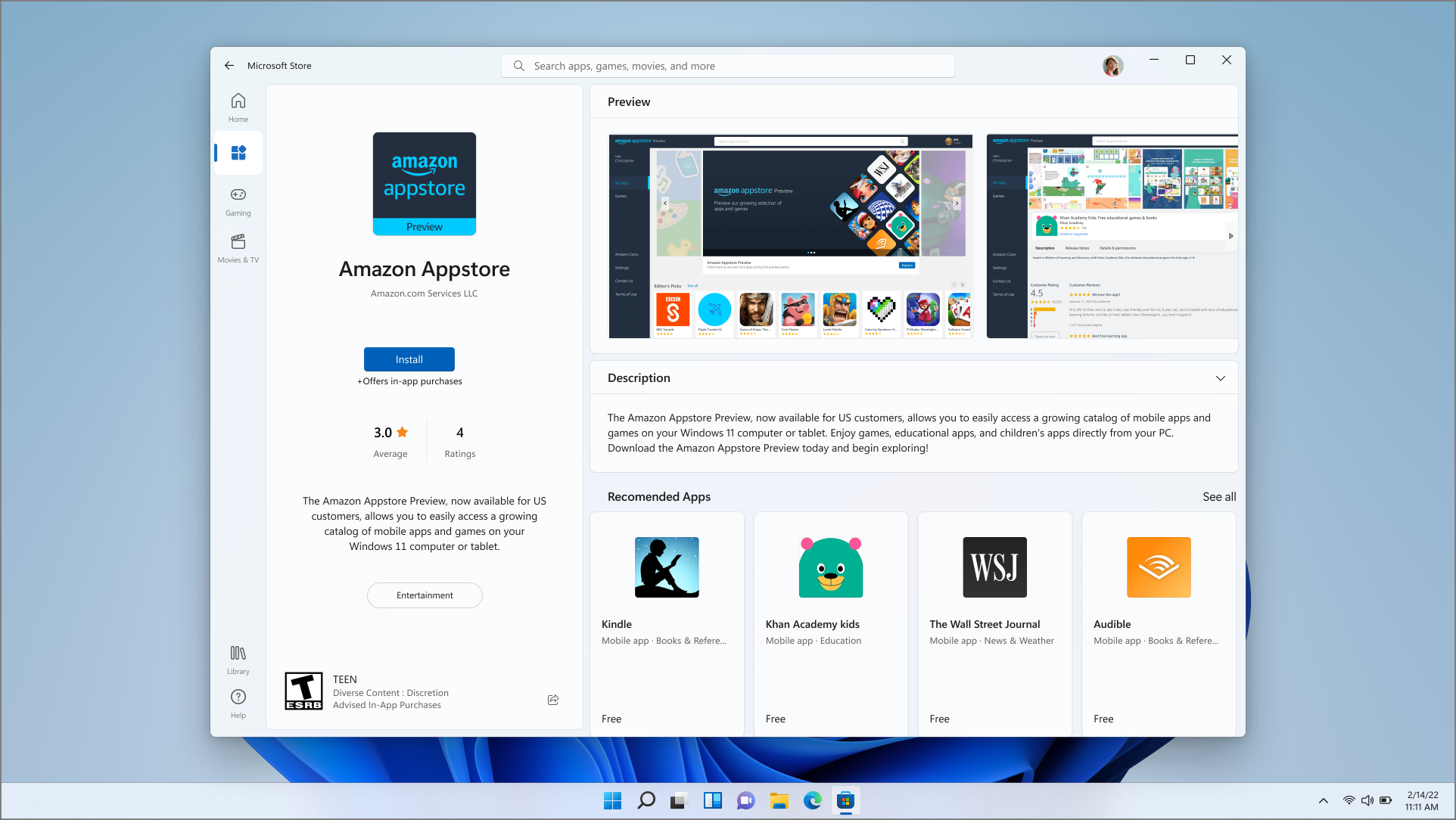 When Microsoft first previewed Windows 11, being able to run Android apps was one of the most attractive points. And even though the feature didn't first arrive when Windows 11 became available, it has now made its way to systems that meet the hardware requirements. Since the hardware requirements for using Android apps are the same as for Windows 11, the systems that are running the Operating System without any workarounds won't face any issues.
The Android apps are available either through the Amazon app store or through the Microsoft Store where the user doesn't have to go through any additional hoops to get the subsystem up and running.
Along with Android apps, Windows 11 will also have PWAs (Progressive Web Apps) in the Microsoft Store. Microsoft Store, too, has improved a lot in my opinion. The working of the store is smoother than in Windows 10. And there are a great number of apps and even films and TV shows to download.
PC Game Pass and Auto-HDR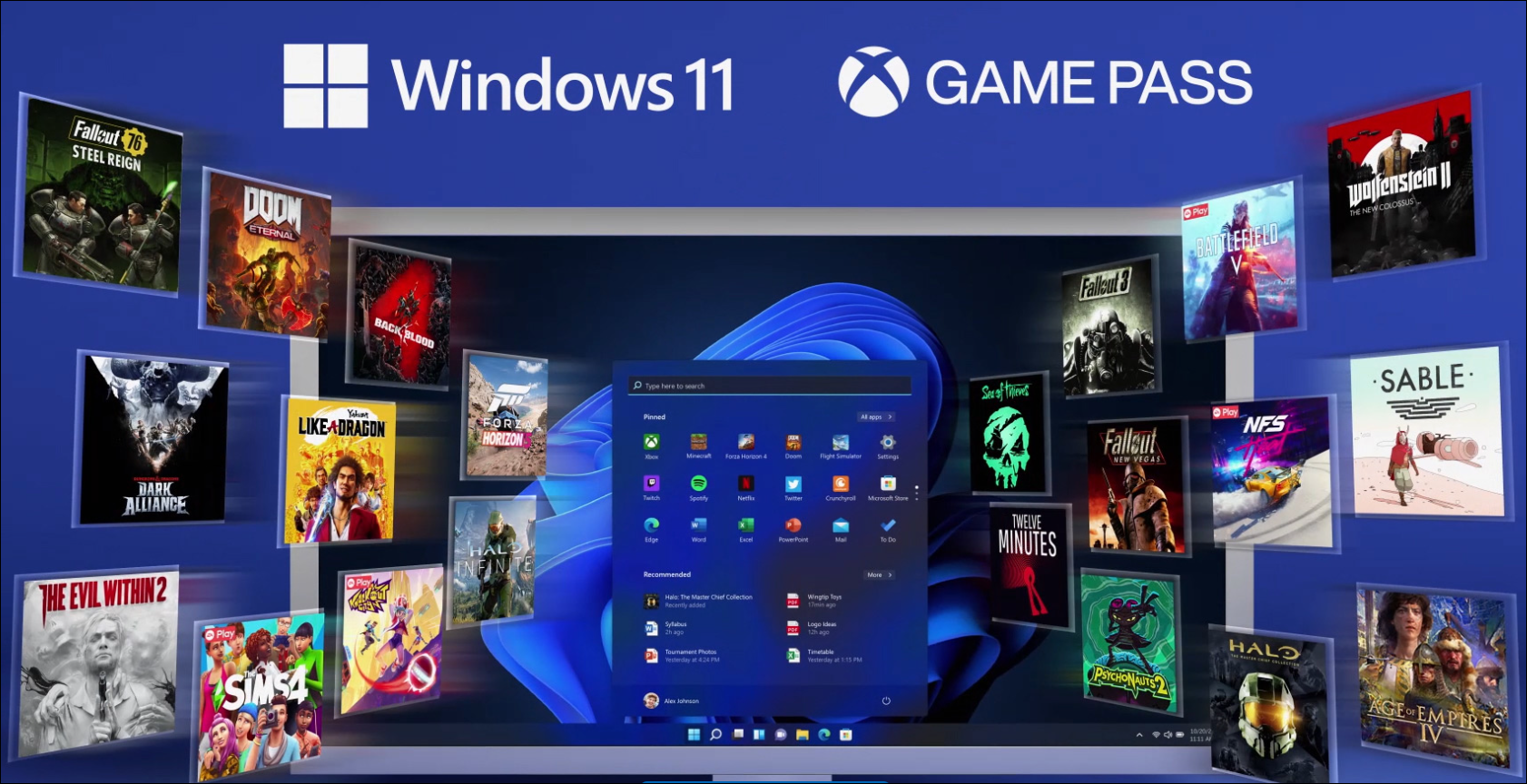 There are a few areas where Windows 11 is undoubtedly an improvement over Windows 10, and gaming is one of those finer areas. Windows 11 elevates the experience for gamers to a whole new level. Gaming was one of the highlighted points in the Windows 11 reveal and with good reason. With Xbox game pass integration in Windows 11, gamers will get access to more games than ever before on a PC, something that was direly needed.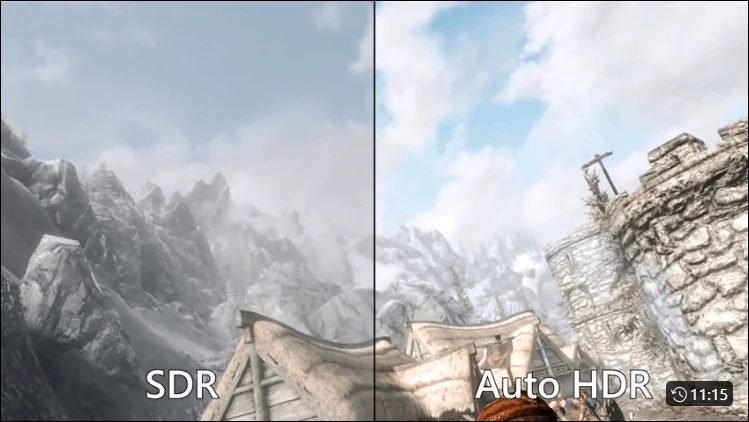 But what makes an even stronger case for upgrading to Windows 11 for gamers is the allure of Auto-HDR and DirectStorage. For users with the right hardware, Auto-HDR and DirectStorage will be a treat in Windows 11. With HDR, the visual difference in games that support it will truly bring them to life, with an entirely new range of colors on the screen. And with the DirectStorage API in Windows 11, the rendering of the virtual worlds will be more expansive than ever before. Windows 10 users won't get the extent of these benefits.
Widgets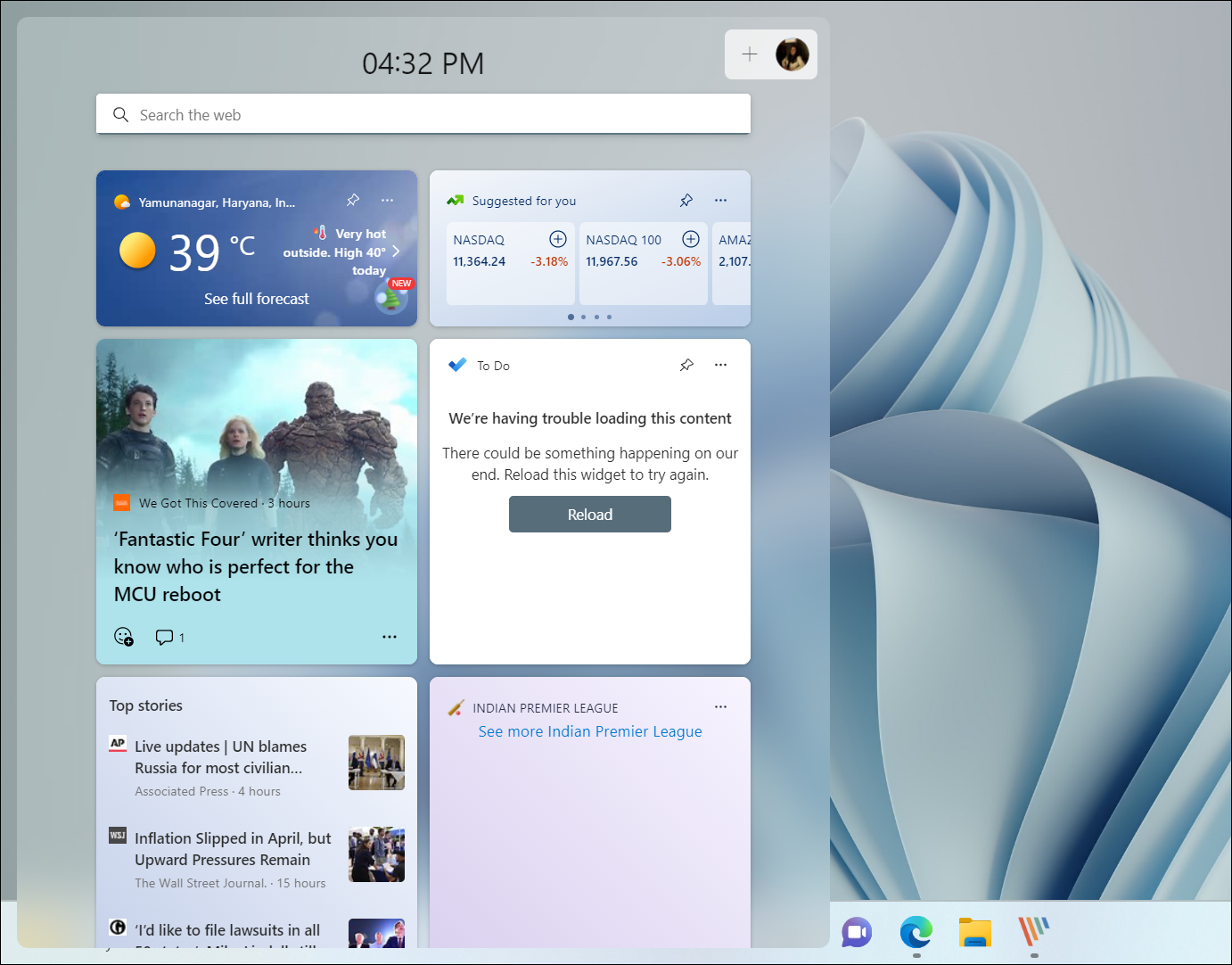 Microsoft introduced Widgets in Windows 11 showcasing it as one of the biggest features of Windows 11. In my opinion, the only thing they have going for them is the beautiful glass window that goes with the rest of the Windows 11 design.
Widgets have auto-updating tiles that show you the weather, news, your calendar, stocks, sports scores, etc. It isn't anything entirely new or revolutionary, since most of us are exceedingly familiar with widgets, courtesy of smartphones. It even feels like an iteration of the News and Interests popup that Microsoft added to Windows 10 recently. I don't think Windows 10 users are missing anything out in this department.
Maybe my stance will change in the future. Widgets are supposed to help you find the things that matter to you – fast. But most of the information only feels cluttered. And the loading times could be better.
Microsoft has shifted the Widgets button to the left corner of the taskbar, though, where it won't bug users who accidentally ended up hovering on it when it was next to the Start button. This at least prevents it from being a nuisance, which it previously was proving when it'd close the Start menu – something many users thought was a bug.
So, even if it isn't a crazy feature you should be rushing to try, it doesn't work against Windows 11 either – not anymore. Touch screen users do get to easily access widgets by swiping in from the left edge of the screen.
Teams Integration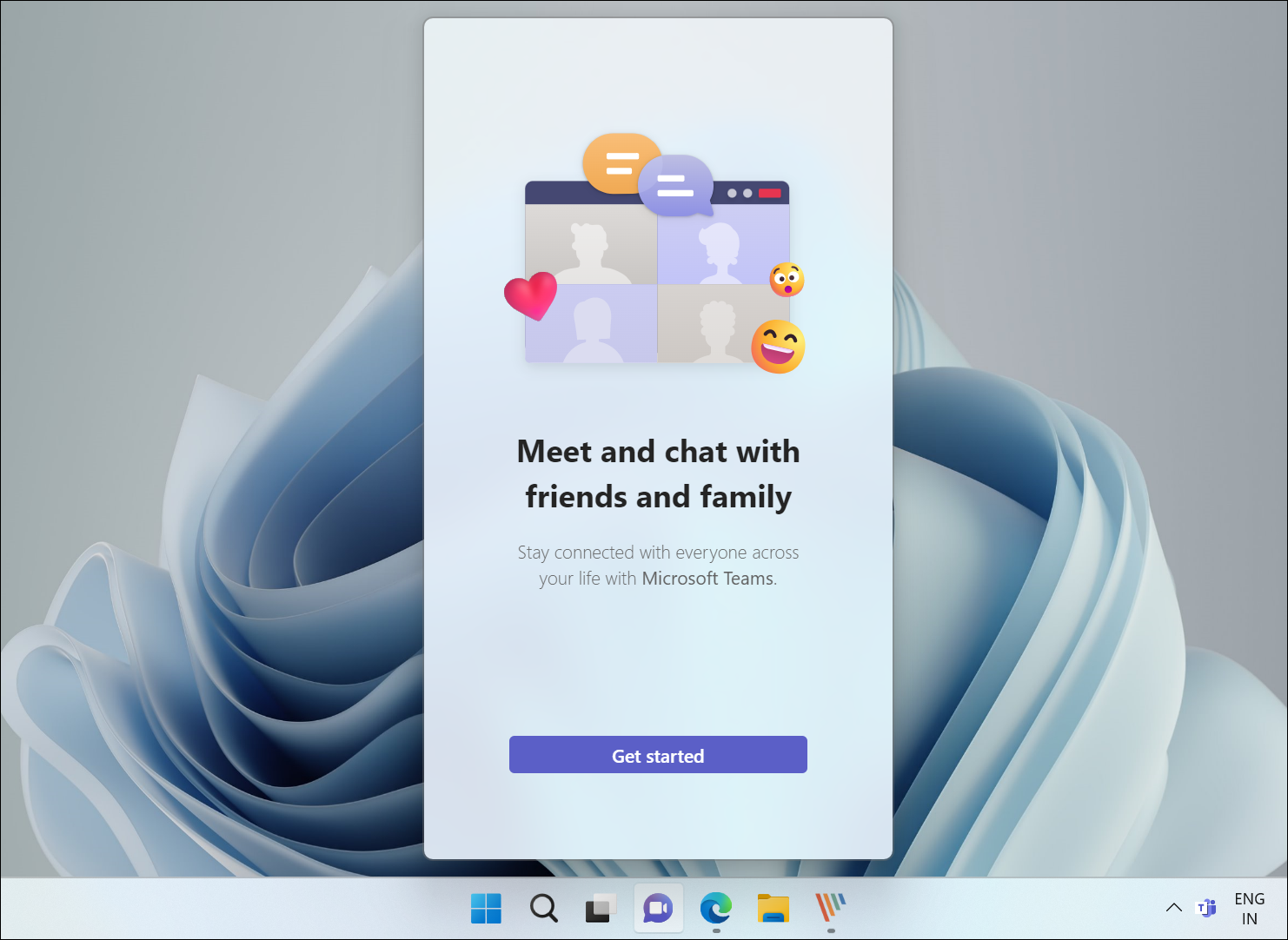 If you use Teams for Personal use, you're going to love Windows 11. With the Chat entry point on the taskbar, Windows 11 makes it extremely easy to use Microsoft Teams to connect with friends and family. Considering how important a good video chat app has become in the past two years, the integration makes sense.
But even if you're not too keen on Teams, the app does not slow down your PC as it is an even lighter version of the Teams Personal app that Microsoft released last year. And you can always remove it from the taskbar and stop it from auto-starting on login.
Windows 11 Experience Review
Using Windows 11 has been a great experience, but only if you have a machine that readily supports it. If you don't have a machine that meets the system requirements ut still get Windows 11 using one of the many workarounds in existence, the experience will not be as pleasant. More often than not, even simple processes will take up too much time, and apps will stop responding every now and then.
While using Windows 11, there are a few new tools and improvements that make the experience even better.
The new Snipping tool in Windows 11 takes things further than the Snip & Sketch tool from Windows 10 making the whole process even more seamless. It even adds an option to delay the screenshotting process by introducing timers.
Even the Settings app is infinitely better in Windows 11. With a navigation sidebar on the left, it makes it easier to find your way in the app. It includes more and more settings now as well, being well on its way to one day replacing the Control Panel entirely.
Windows 11 has also improved the Your Phone app from Windows 11, renaming it Phone Link. It makes connecting your Android Phone to your PC so seamless, that even Mac users might get jealous. You can't just receive calls or messages on your PC with the app, but also open any app from your phone on your computer. Even replying to notifications from other messaging apps is effortless.
Many other apps like the Photos app, the new Media player, the voice recorder app, and Paint apps have got a major overhaul. Even apps like Mail and Calendar app are due for an upgrade, which will be based on Windows 11's new love for PWAs. Another PWA that Windows 11 adds is Clipchamp. It's a great tool for video editing, that'll come as a stock app on Windows 11 PCs. Even apps like Notepad and Calculator have improved.
One of the things that have greatly improved in Windows 11 is the dark mode. It's much more consistent and looks better because of the transparent windows. A lot of new apps also support it now, including Notepad and Calculator.
What's missing in Windows 11?
There are some things that are no longer a part of Windows 11 and some of these will be missed.
Cortana is no longer a part of the OS by default. But you can get it from the Microsoft Store.
There are no live tiles in the Start menu. But you can get some information from widgets.
The timeline feature from Windows 10 is gone, as well. But there's some replacement in form of the Recommended section in the Start menu that shows your recent files and apps.
Quick Status on the Lock Screen isn't included anymore.
There is no dedicated tablet mode either. So, tablet users will find themselves in a fix and will have to re-learn how to use a lot of features. There are new three-finger touch screen gestures, but when you're using your tablet in landscape mode, they become rather impractical. But not all is bad for tablet users. There are some interesting additions, like the new stylus options and tricks for the on-screen keyboard.
Windows 11 Grievances
Though I find Windows 11 a favorable OS, there are a few complaints that I find are too hard to ignore and at least deserve a mention.
Strict Hardware Requirements
Although Windows 11 is a free upgrade, Microsoft has made upgrading to Windows 11 a difficult task for many with rigorous hardware requirements for eligibility. Even though at first glance, it appeared that the requirements for TPM 2.0 and Secure Boot Capability were going to be the reason many systems will be excluded, another surprise was in tow. Windows 11 requirements also exclude a great deal of processors, essentially making it impossible for users with a PC that's older than around 3-4 years to upgrade. Although there are workarounds to get Windows 11 on these PCs, the whole ordeal is dismal.
Start Button isn't Truly Centered
Windows 11 may have brought the Start button to the front and center of the taskbar, there is a flaw with the concept. The position of the Start button isn't fixed and it doesn't always stay at the center. If you have too many apps open on your PC, the Start button will shift towards the left. For something that's always had a fixed position ever since its introduction to the Windows ecosystem, it feels like Microsoft needed to put in a little more thought while making this change.
Changing Default Apps Should Be Easier
One of the areas that have no business being this difficult, and yet is, is the process to change default apps in Windows 11. To set a default app in Windows 11, you need to assign the app to each file type you want to be the default for, individually. That sentence does not do justice to why this is such a bother, but this example will.
If you want to make a third-party app default app for viewing photos, you might think it'll take a single click. But no. You have to make it the default app for each file type and web browser protocol. Open the list and you'll find yourself endlessly scrolling among filetypes you might have never even heard the name for and not just popular formats like BMP, JPG, PNG, etc.
---
Verdict
Upgrading to Windows 11 won't be a letdown, even if you're accustomed to doing things a certain way on Windows 10. It isn't too radical a departure from its predecessor and won't force you to question your decision to move. Ever since the whole business with Windows 8, it's understandable if you're wary of upgrading from a perfectly fine operating system like Windows 10. You never know what you might be getting into.
Overall, Windows 11 is a refinement over Windows 10. Even if there are some things from the previous Operating system you'll miss, the new features in Windows 11 will certainly help you increase your productivity. There's only a small adjustment period. In the end, the things it does offer far outweigh the things that it doesn't.
More importantly, Windows 11 is still a work in progress. There's nowhere to go but up – hopefully. But even without all the new updates and improvements that'll surely come in the future, it stands its ground on its own pretty well.
If you're wondering about updating from Windows 10 to Windows 11, I'd say go for it – as long as your system meets the hardware requirements. The best way to upgrade would be through Windows updates, so if your system hasn't got the update yet, I'd suggest that you wait.
There's no rush to get your hands on the OS by using any other available methods. Meanwhile, Windows 10 will still get security updates well into 2025, so there are no worries on that part.