Google Meet is by far one of the best and most secure video conferencing app. But it isn't as feature-rich as Zoom. One of the most lacking features of Google Meet is Grid View. There's no official way to see everyone in a Google Meet unless you use the Grid View Chrome extension, which is of course not supported on mobile devices like an iPad.
A lot of students use the iPad to attend online classes. While on a computer, Google Meet extensions make it possible for participants to see everyone, it's simply impossible to do the same on an iPad because Chrome for iPad doesn't support extensions.
Thankfully, Google is now working on a Grid View like functionality for Google Meet which will roll out as soon as the end of this month. Once it arrives officially, you'll be able to see up to 16 people in a gallery view like on Zoom. The feature will be available on both desktop and mobile apps of Google Meet, so yes, you'll soon get Grid View officially on iPad very soon.
However, there's no telling if the Google Meet gallery layout will arrive for everyone or only a group of users initially so Google can test before rolling out the feature to all Meet users. But since you have to attend classes anyway, and you want to view everyone while attending, we suggest you use Chrome Remote Desktop.
What we will do is set up 'Chrome Remote Desktop' on your desktop and join a Google Meet in Chrome on PC with Grid View enabled via extension. Then we'll access the Desktop using 'Chrome Remote Desktop' app on the iPad, and conduct the
Important note!
'Chrome Remote Desktop' is a far from ideal solution to get grid view on iPad. While you will be able to see and hear everyone, you won't be able to use your iPad microphone and camera in the meeting because you're only remotely accessing the Google Meet via your computer. So, you'll be essentially invisible in the meeting and won't be able to communicate.
Setting up 'Chrome Remote Desktop' on your Computer
Open Chrome on your computer, whether it is a Mac, Windows, or Linux machine, doesn't matter. Then in the address bar, type remotedesktop.google.com/access and open the link.
Find the card labeled as 'Set up remote access' and click on the blue download icon inside the card.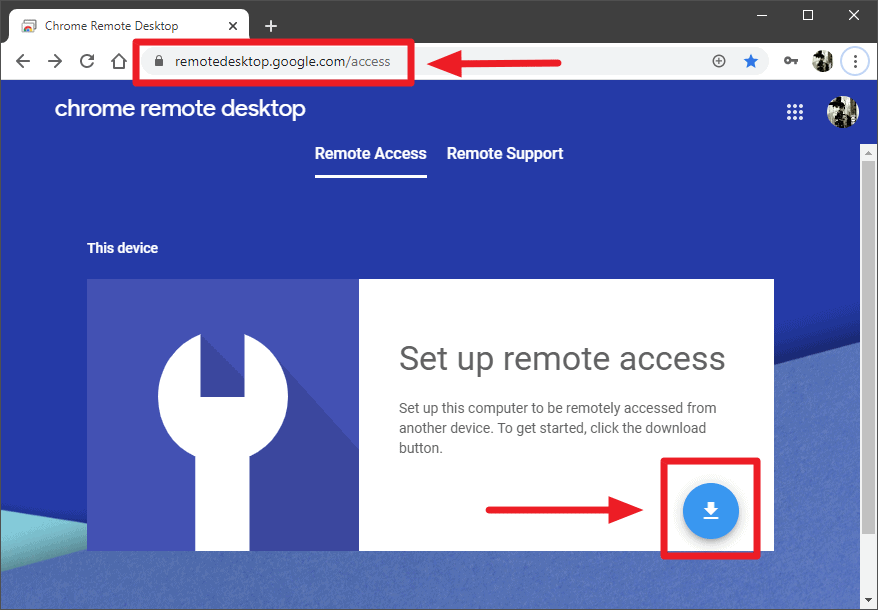 A separate window will open for you to add the 'Chrome Remote Desktop' extension to your Chrome. Click on the 'Add to Chrome' button.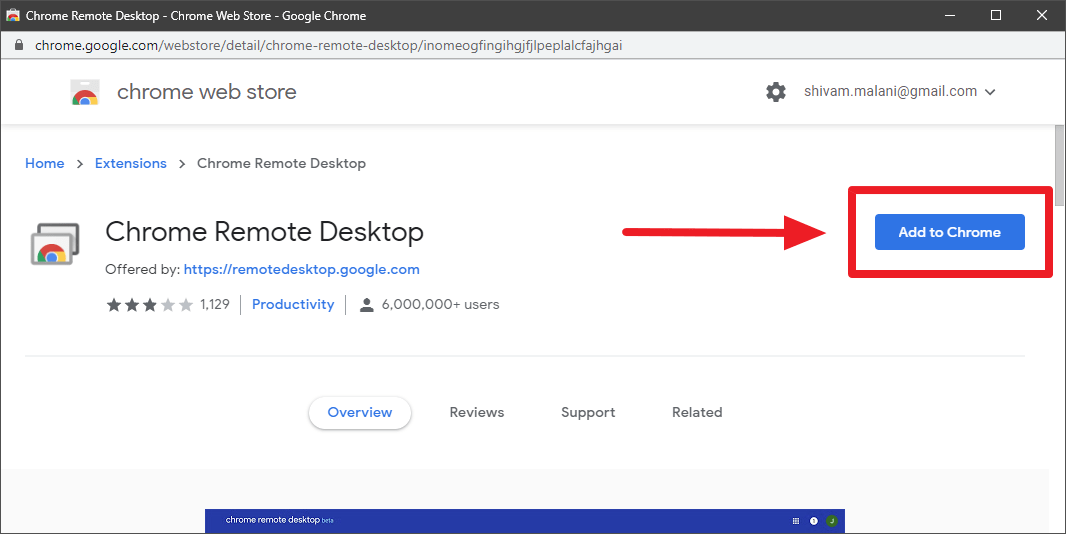 A popup will show on the screen to let you know of all the permissions 'Chrome Remote Desktop' extension is going to use on your computer. Click the 'Add extension' button to proceed.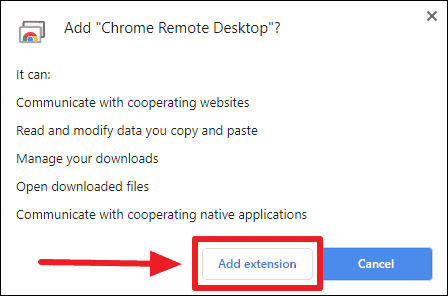 Once the 'Chrome Remote Desktop' extension is installed in your Chrome browser, you'll see a pop-up notification for the extension to let you know of its location. You can safely close the notification pop-up.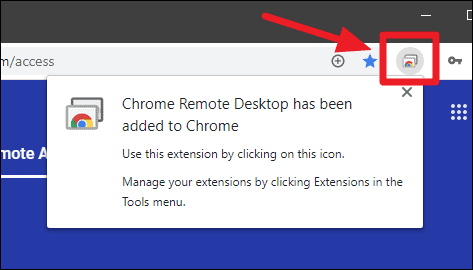 The 'Chrome Remote Desktop' website will also try to download a desktop app installer file by the name 'chromeremotedesktophost.msi', make sure you allow the download. If you get a prompt to 'keep' or 'discard' the download, be sure to click on the 'Keep' button.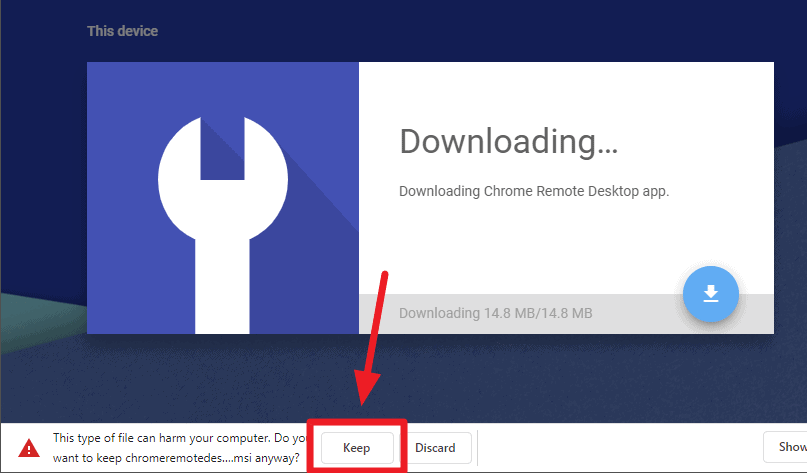 After Chrome finishes the download for the desktop app file, you'll prompted to install the app on your computer. Click the 'Accept & install' button.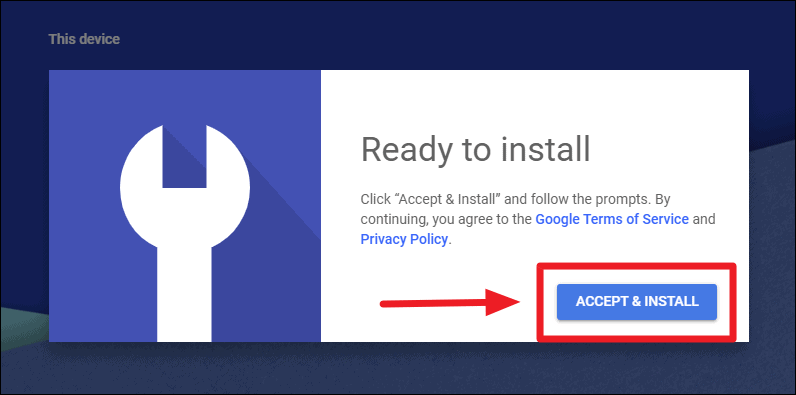 If you get a prompt to allow Chrome to open the downloaded file, be sure to click the 'Yes' button.
During the installation of the program, you might get a prompt to give administrator privileges to the installer. Do it or else the installation won't be completed.
Finally, on the 'Chrome Remote Desktop' website, you'll be prompted to enter the name of the computer. By default, it'll pick your PC's name, but you can change it to your liking. Hit the 'Next' button once you're done picking a name.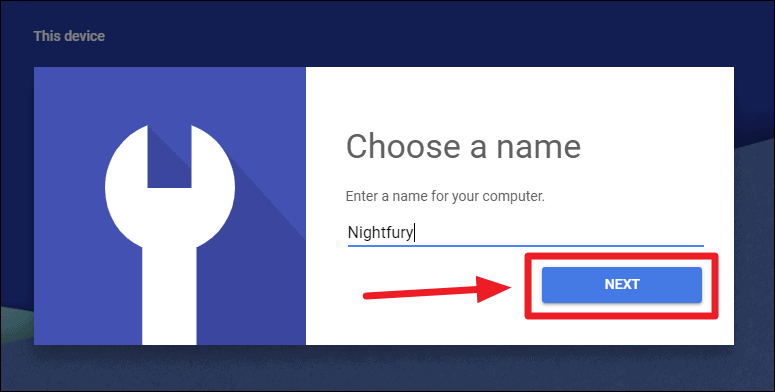 On the next screen, set up a PIN. This PIN will be used to authorize remote connections to this computer, so make sure you set a strong PIN. After entering a secure PIN code, click the 'Start' button.
It might take a few seconds to start and your computer will be ready for remote access.
Using 'Chrome Remote Desktop' on iPad
To access your computer remotely, you need to install the 'Chrome Remote Desktop' app on your iPad.
After installing the app, open it on your iPad and sign in using the same Google account that you used to set up 'Chrome Remote Desktop' on your PC.
Once signed-in, the app will show all your devices under the 'Remote devices' section on the main screen of the app along with the 'Online' or 'Offline' status of the device.
To begin a remote session using the app, tap on the device you want to access from the main screen of the app.
The app will try to establish a connection with the selected device, if successful, you'll be prompted to enter the PIN code to authorize the connection.
Enter the PIN code you set while setting up 'Chrome Remote Desktop' on your computer, and hit the 'connect' button. You also (optionally) choose to remember/save the PIN on your phone so you don't have to punch it in every time you want to access your computer.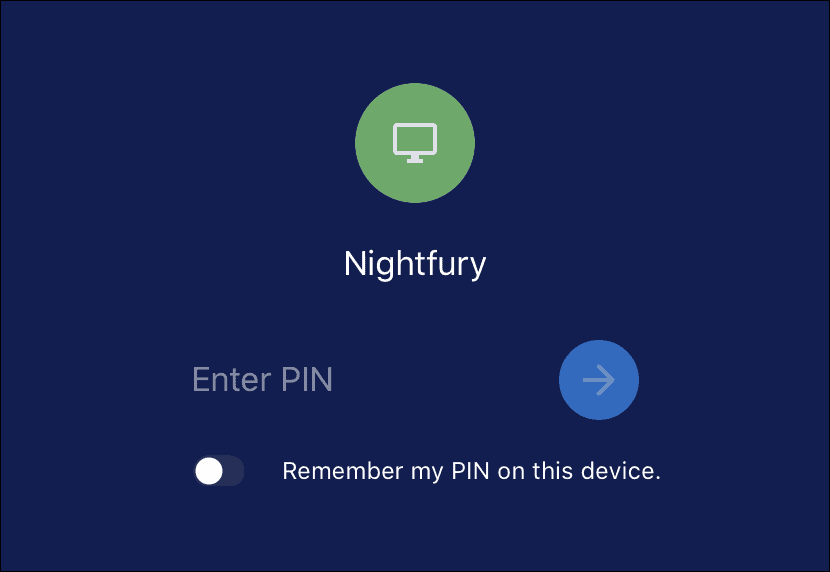 Voilà! Your computer is now fully accessible from your iPad over the internet.
While it's being accessed remotely, a prompt will be shown on the computer so that (in case) anyone is using the computer, he or she will know that the screen is being shared.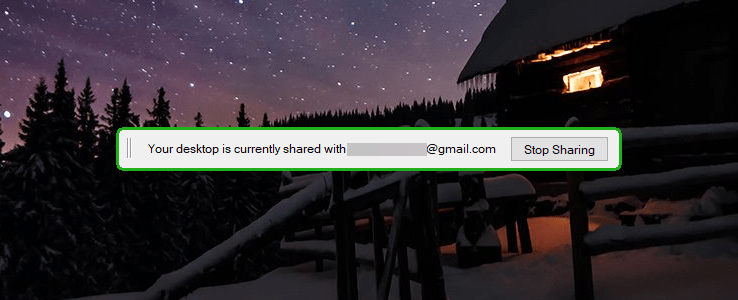 On your iPad, you can use the menu button on the bottom left corner of the device to access various options 'Chrome Remote Desktop' app offers to make it easier to use your computer over a touch screen.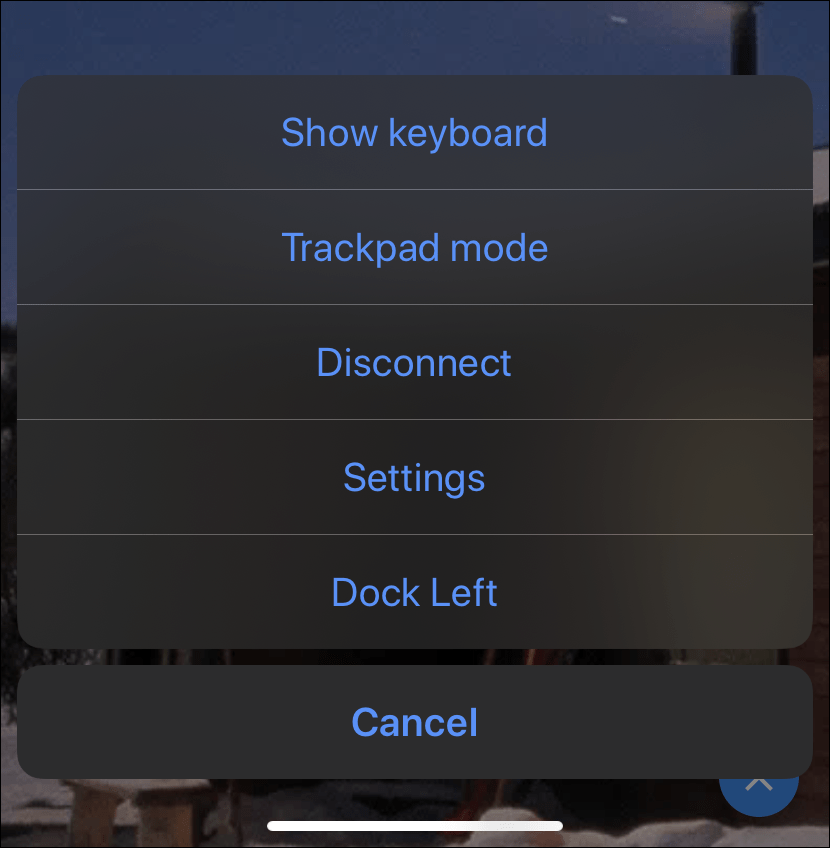 You can use the 'Show keyboard' option from the app's menu to use your iPad's keyboard to input text on the remote computer's screen.
The app's setting allows you to adjust the resolution in case you're experiencing issues with the display. You can also select whether you want to use the computer in 'Touch mode' or 'Trackpad mode' (with a mouse cursor). While 'Touch mode' is, of course, convenient, there are some interfaces that work better with the mouse pointer in the Trackpad mode.
You can even take a screenshot on your computer while accessing it remotely using the app by sending a 'Send PrtScn' command from the app's settings. There's also an option 'Send Ctrl-Alt-Del' command in case your computer is freezing.
Viewing Google Meet with Grid View on iPad
Once your iPad is configured to remotely access your desktop using 'Chrome Remote Desktop', you can start/join a Google Meet on the Desktop and enable Grid View to get it on your iPad as well.
See: How to Get Grid View in Google Meet
You can also interact with your desktop remotely from the iPad directly to join a meeting and enable the Grid View in Google Meet.
Below is how Google Meet grid view looks like on an iPad using Chrome Remote Desktop.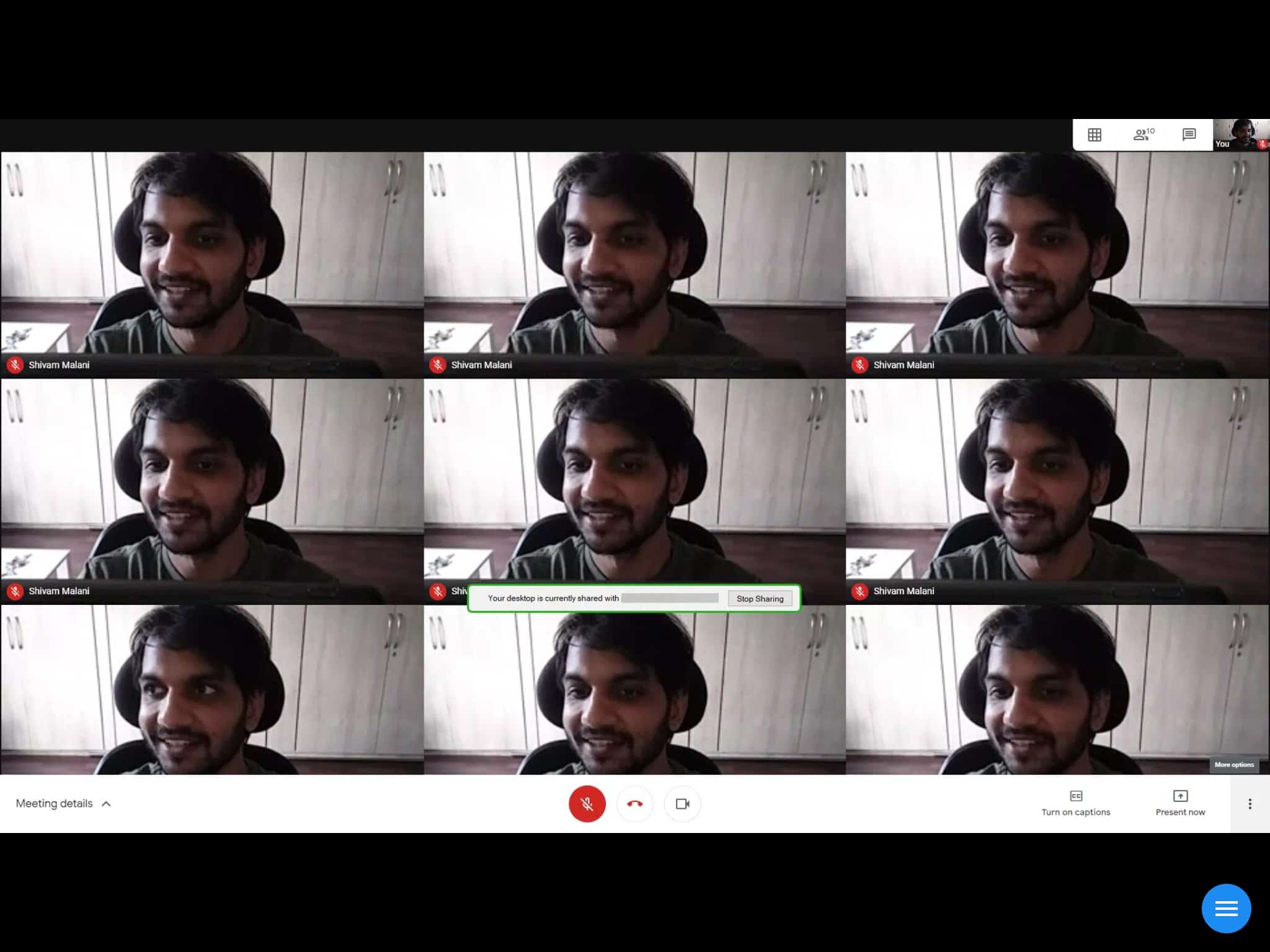 ---
If you must have Google Meet with grid view on your iPad, the above guide should help you. However, we strongly recommend using Google Meet with Grid View on your desktop only as much as possible. Because using it on iPad means you can't communicate with anyone, which defeats the purpose of using Google Meet.