Microsoft's PC Manager is a new free PC optimizer and cleanup utility that can help you boost your PC performance and clean up systems, similar to popular third-party apps like CCleaner, IObit Advanced Systemcare, AVG TuneUp, etc.
This is a 1-click optimizer that provides various functionalities such as cleaning up temporary files, optimizing background tasks, freeing up memory, monitoring resource usage, managing startup apps, checking for updates, detecting viruses, and more to protect and speed up your PC. It even offers browser protection for your default browser.
This is a lightweight app that consumes less RAM and CPU usage and is only available for Windows 10 and Windows 11 operating systems. Right now, only a beta version of the software is available for download to the public. You will need at least Windows 10 version 1809 and above operating systems to run the app.
In this article, we will show you how to download, install and test this new PC Manager on Windows 10 and 11 PCs.
Download and Install Microsoft PC Manager on Windows PC
Before we start, make sure you are running either Windows 10 (1809) or Windows 11 operating system on your device. If you are using Windows 10 PC, open Settings, then go to System > About to check your OS version.
Then, download Microsoft's PC Manager from the official website. Head to the PC manager website and click the 'Download for free' button to download the app.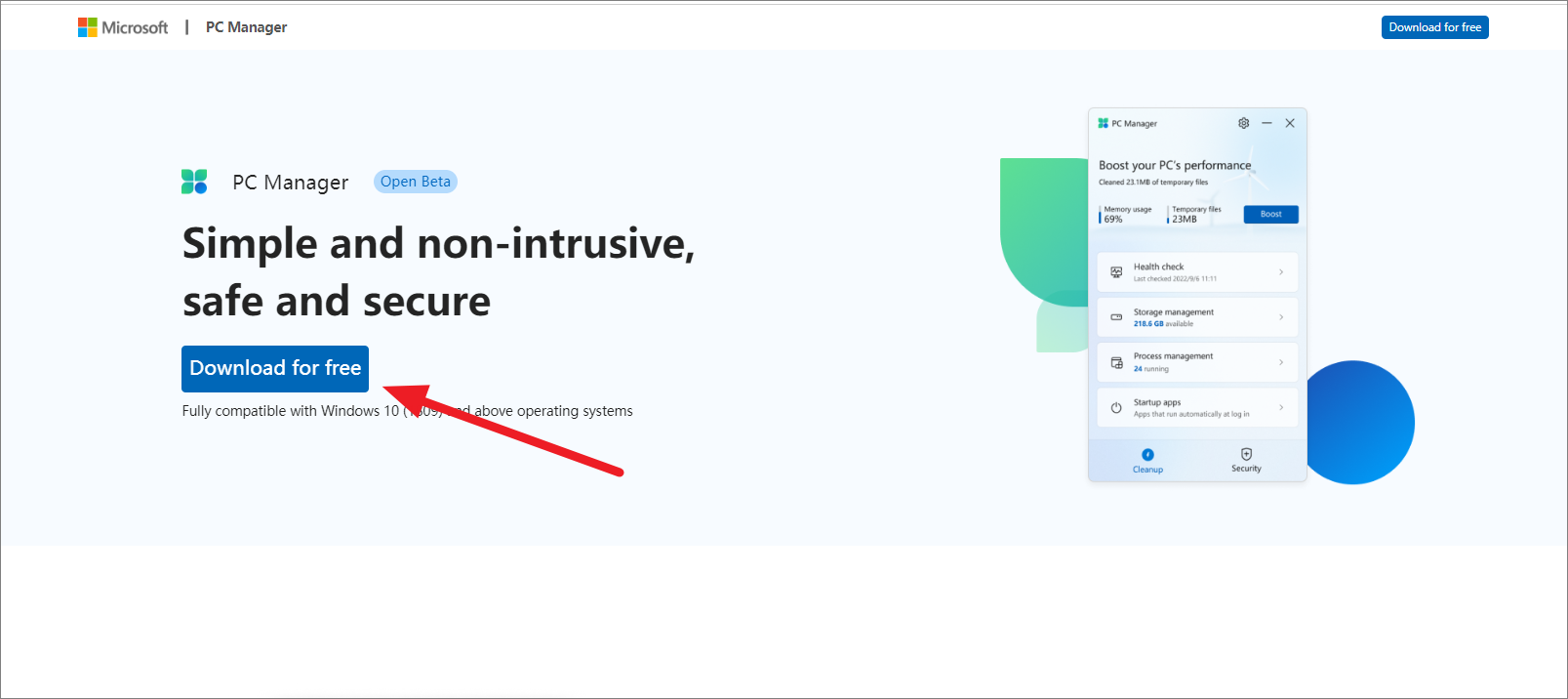 After the file is downloaded, run the 'MSPCManagerSetup.exe' file to install it.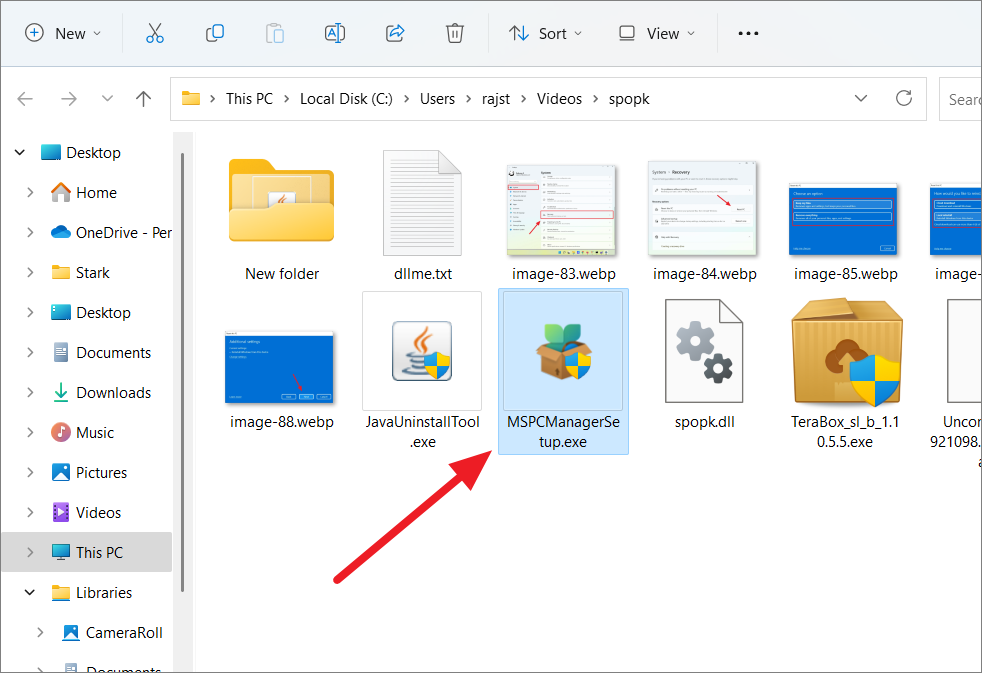 Check the box for 'I accept End User License and Privacy Agreements' and click on 'Install'.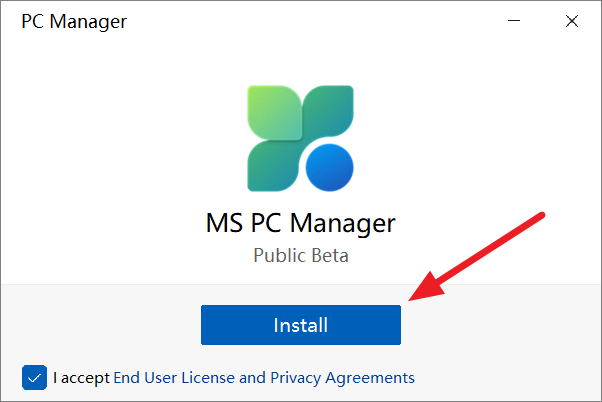 Once the app is installed, launch it.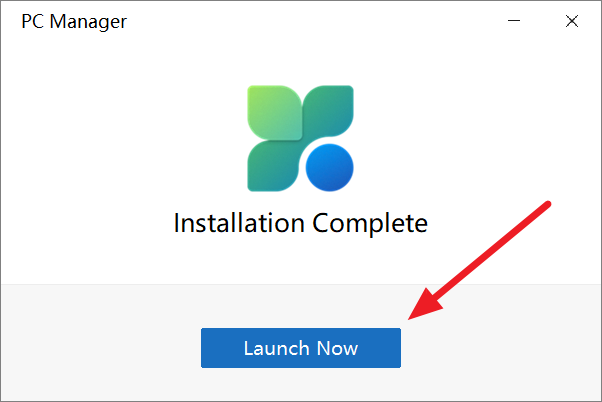 You can also launch the app from the desktop or the taskbar corner overflow (system tray). The PC Manager will be automatically added to startup apps when you install it and will be running in the background, so you can access it from the system tray anytime.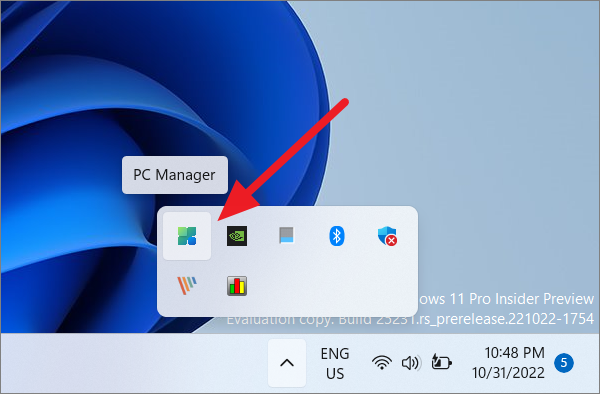 How to Use Microsoft's PC Manager
When you launch the Microsoft PC Manager, you will see two tabs at the bottom: 'Cleanup' and 'Security'.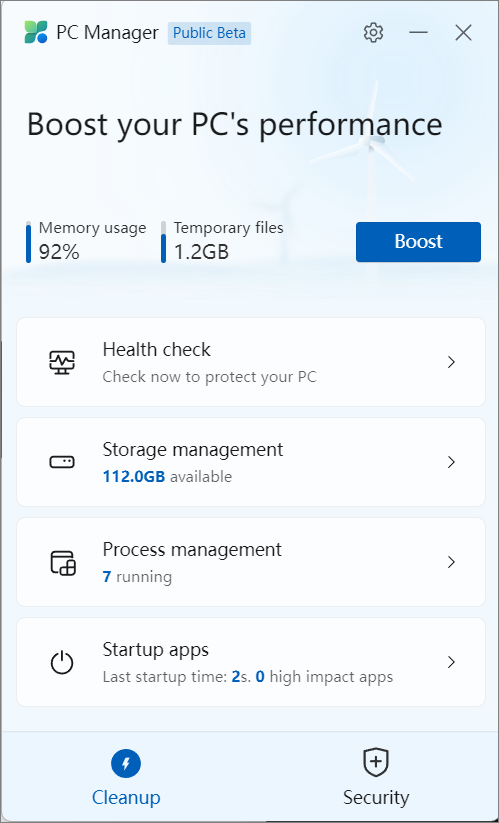 Using PC Manager for Cleanup
The Cleanup tab offers five options to boost your PC's performance:
Boost
Health check
Storage management
Process management
Startup apps
1. Boost PC Performance
As you can see below, the PC's currently using 92% of its memory and has 1.2 GB of junk files. It's practically choking the system's performance.
By simply clicking the 'Boost' button at the top of the app, you can quickly clear temporary files and free up memory to give a performance boost to your PC.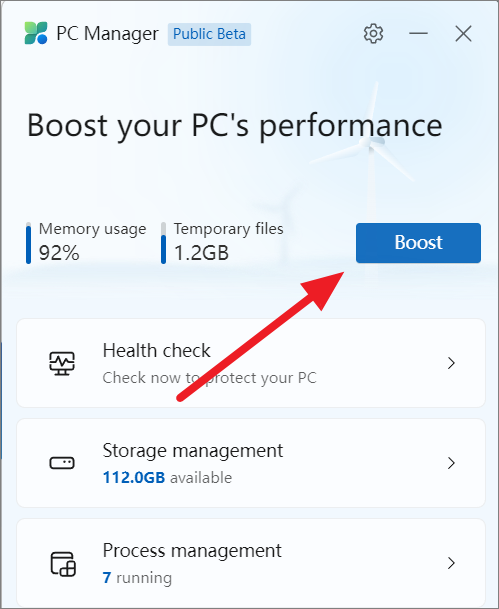 Now, it brought the memory usage to 57% and all the temporary files were completely removed from the computer. Whenever your PC is slowing down, you can hit the 'Boost' button to speed up things.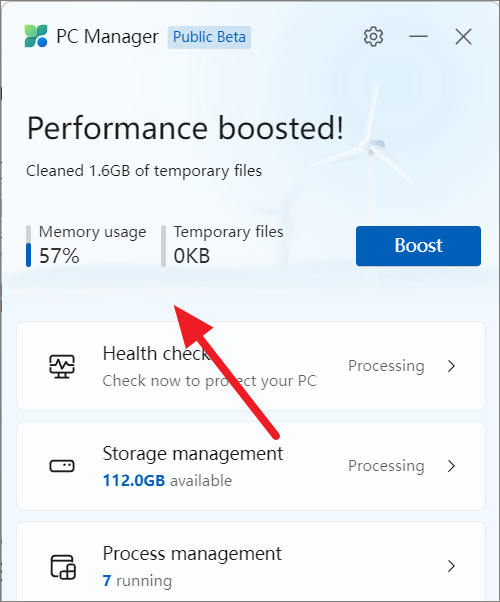 2. Health Checkup
To find out all kinds of junk files you can clear, potential issues you can resolve, and start-up apps you can disable to speed up your PC, click the 'Health Checkup' option in the app.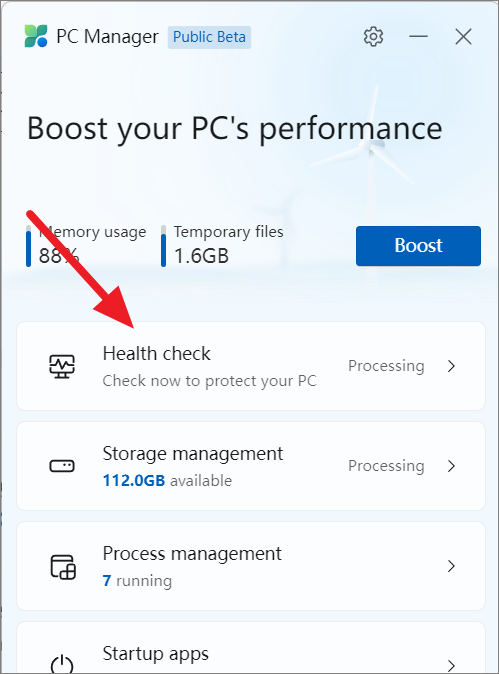 This feature scans your computer for junk files including Windows cache, browser cache, temporary files, system logs, and recent file lists. Make sure to select all the items you want to clean up.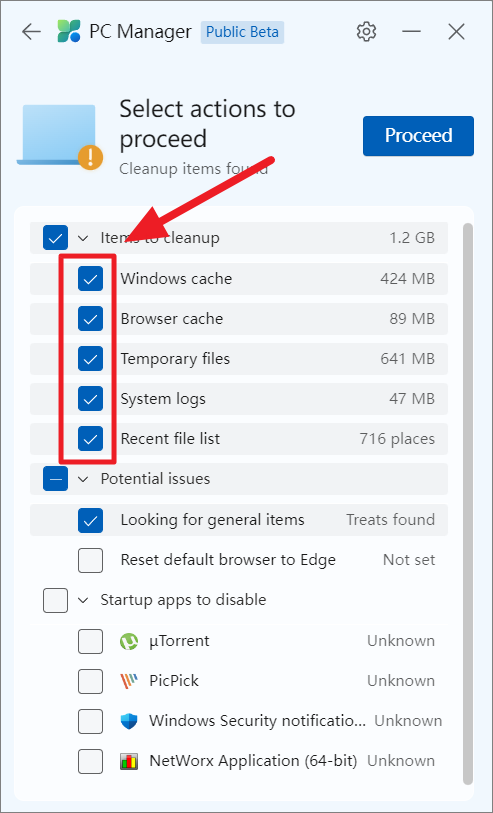 It also suggests apps that you can disable from startup to speed up your boot time.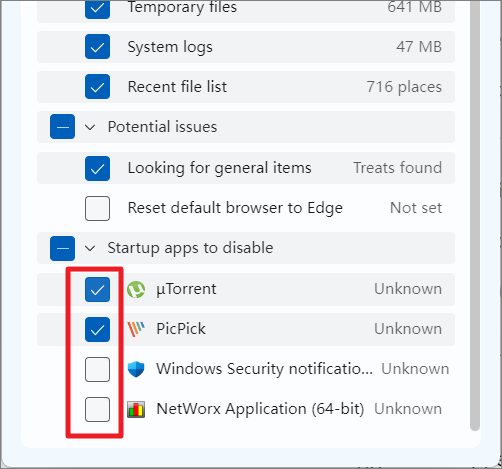 In addition to that, you can learn about the potential issues on your system. It will probably include an option to change your default browser to Microsoft Edge in case you are using a different browser. Microsoft always nags you to switch the default browser to Edge. You can ignore this issue if you don't want to change your default browser.
After selecting all the necessary actions, click the 'Proceed' button to boost performance.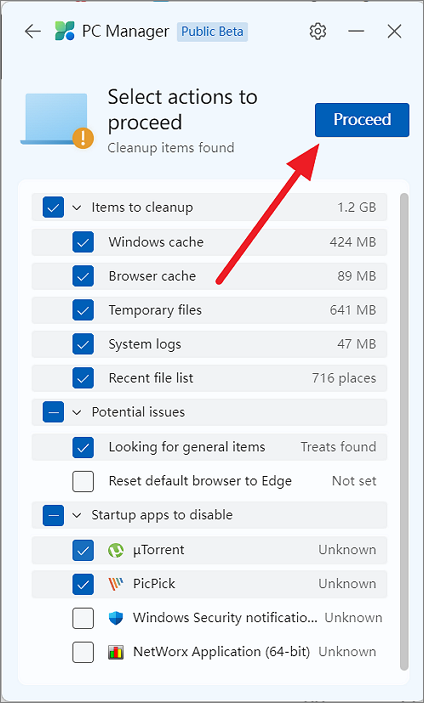 Once the cleanup is finished, click 'Done'.
3. Manage Your Storage
To perform a full cleanup, and manage large files, apps, and storage sense, click the 'Storage Management' option.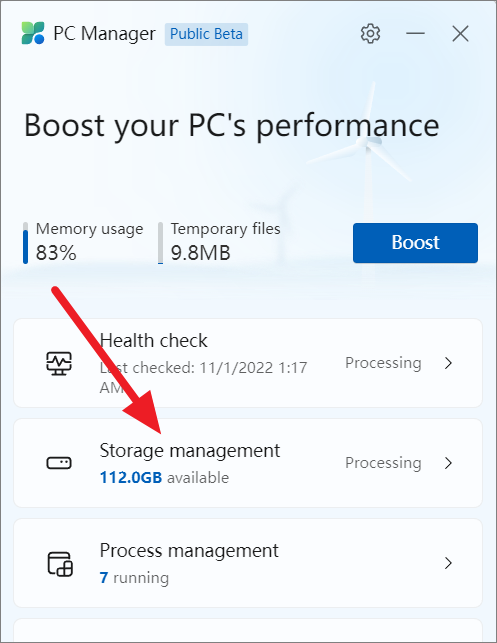 To perform a full cleanup scan, select the 'Deep cleanup' option.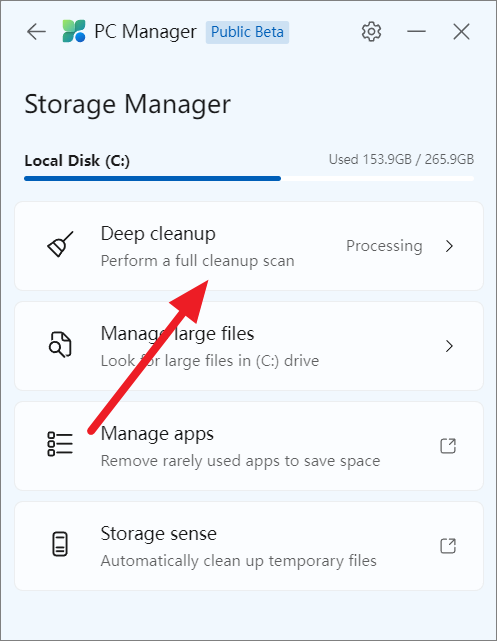 The feature will perform a deep scan and find every unnecessary disposable file from the computer including Windows Update files, error reports, temporary files, recycle bins files, web cache, etc. You can select all the files you want to remove and click 'Proceed' to free space on your disk.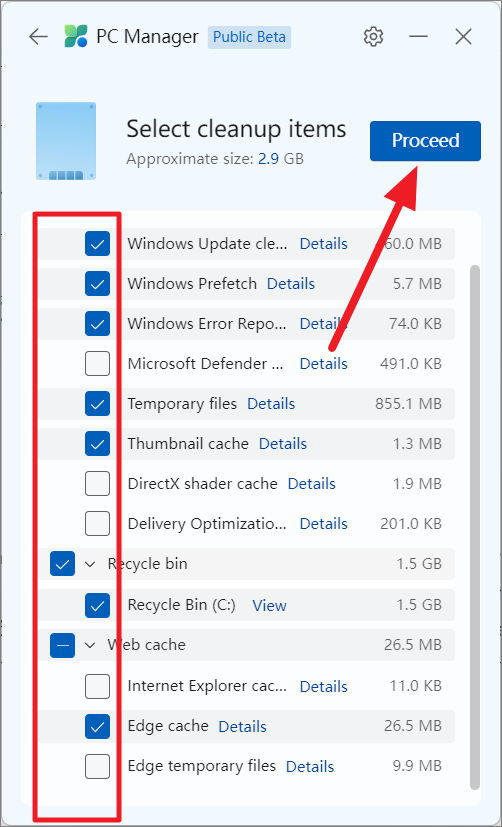 If you wish to inspect the junk files and where they are located, click the 'Details' link near the item name. Then, you will see the list of all the files of the respected item in a pop-up window.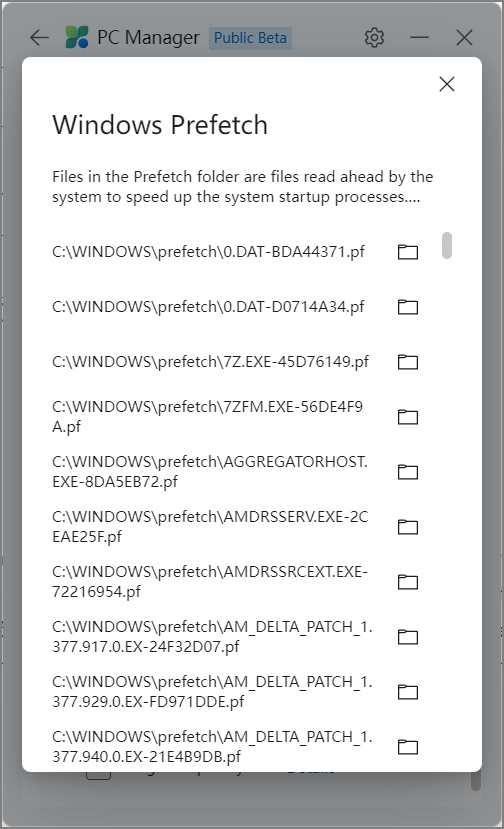 To find large files that take up space on your C drive, click the 'Manage large files' option.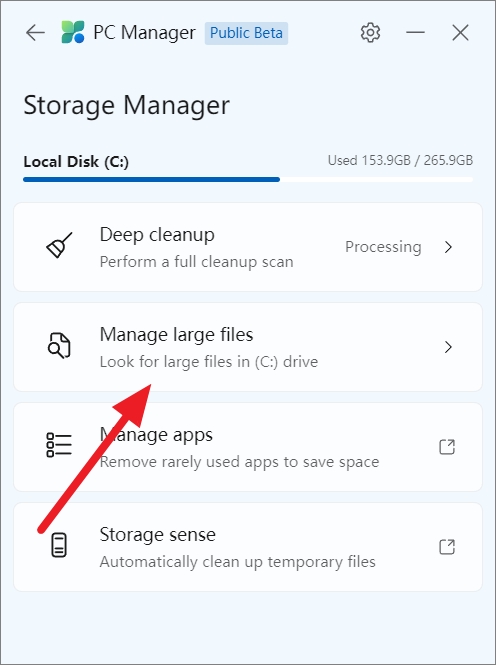 Under Manager large files, choose the size of the large files you want to find (bigger than 10MB, 50MB, 100MB, or 1GB). Then, select the file types and click 'View in File Explorer'.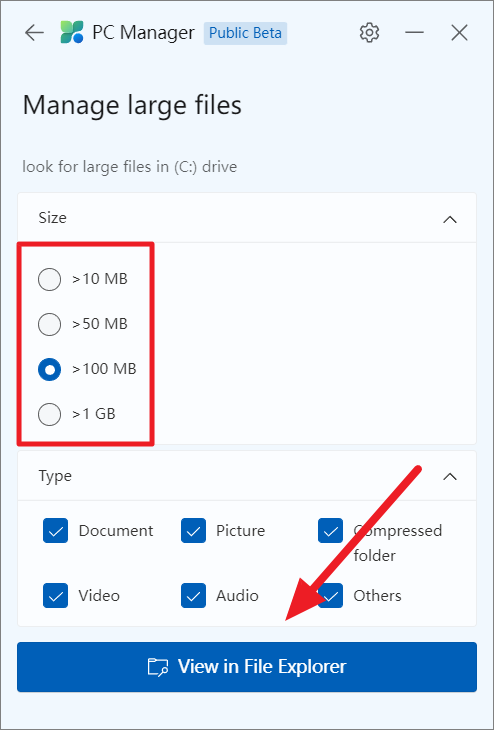 This will open File Explorer, search and show you the list of large files you can delete. Then, select the files you wish to remove and delete them.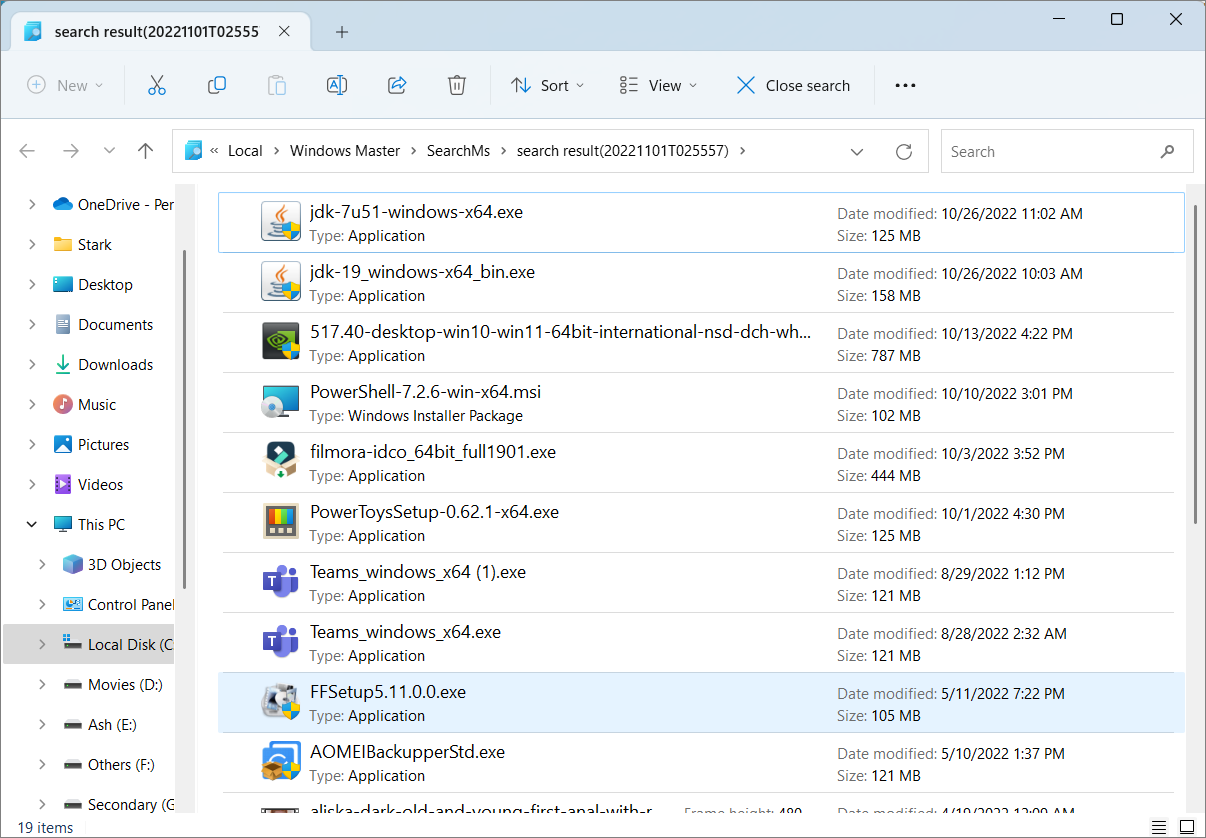 Besides these options, the Storage Manager section has two more options – Manage apps and Storage sense which are links to respective Windows settings. 'Manage apps' will take you to the 'Installed apps' settings page (Apps and features page in Windows 10) where you can find rarely used apps and uninstall them. 'Storage sense' will take you to the Windows Storage sense settings page where you can set up the automatic cleanup of temporary files.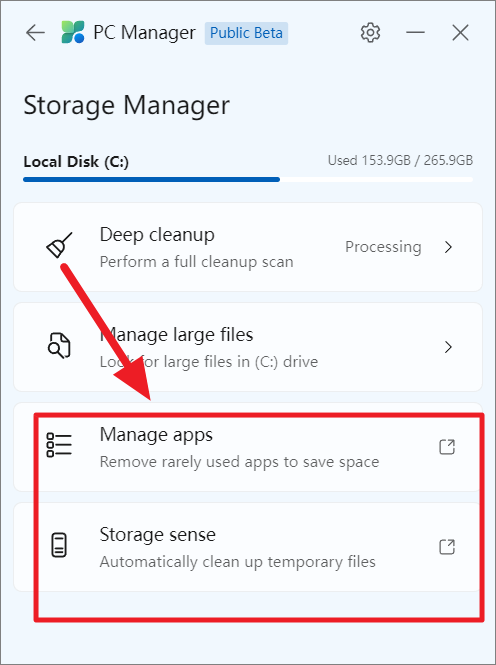 4. Manage Background Processes
Under the 'Process management' section, you will see the list of RAM-hungry processes that are currently running in the background. You can use this feature to quickly end unnecessary resource-hogging processes and make your system run faster.
To kill a process, simply click the 'End' button next to it.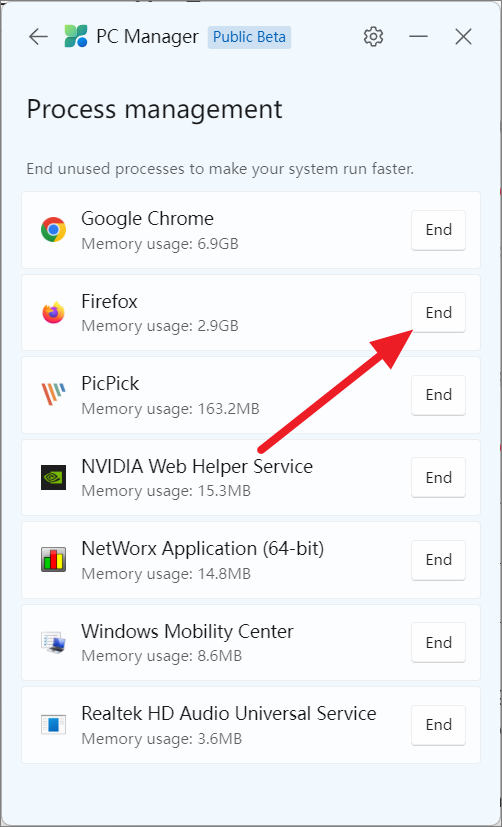 5. Disable Startup Apps
Too many startup apps can overload your system and slow down the bootup process. Every time you sign into your Windows PC, these apps automatically start and run in the background which can slow down your computer if you don't have enough RAM to keep them all running at once. Several apps you install on Windows can sometimes configure themselves to run automatically on startup. So, disabling the startup apps you don't always need and ones that take up too many resources can improve your system performance.
To disable applications from running on startup, select the 'Startup apps' option.
Under Startup apps, use the toggles to enable or disable apps to speed up the boot process.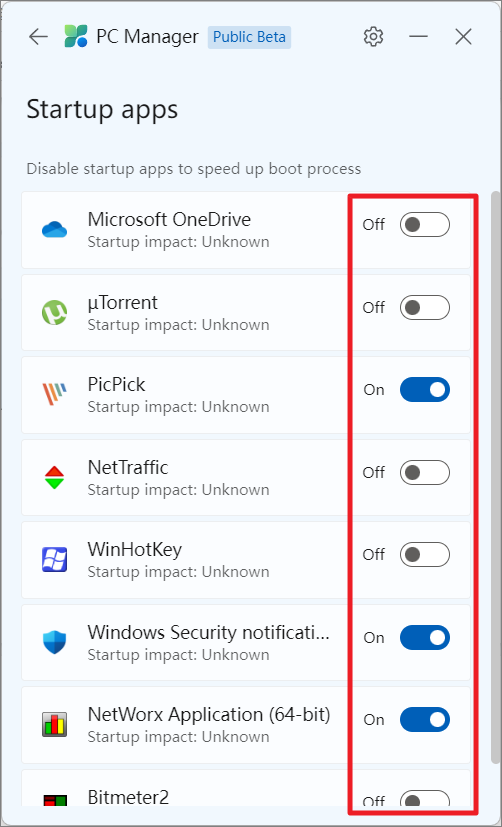 Using PC Manager to Manage Security and Updates
Another tab in the Microsoft PC Manager is 'Security'. Here, you can scan your computer for viruses and malware, find updates, protect your browser, and block pop-ups. When you switch to the 'Security' tab, you will find the following options:
Scan your PC
Windows Update
Browser Protection
Pop-up Management
1. Scan your PC for Threats
For scanning your computer for threats, Microsoft Defender is embedded into the PC Manager. You can click the 'Scan' button on the 'Security' tab to quickly scan your PC for viruses and malware.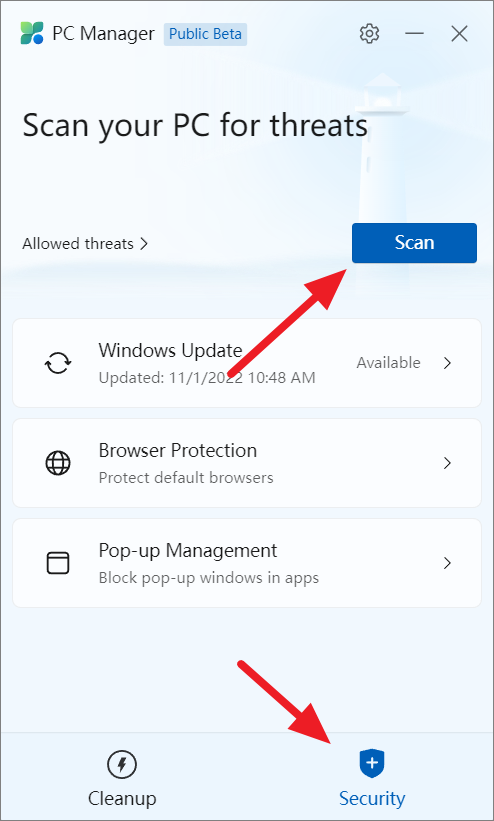 It scans key system locations, browser extensions, startup apps, background services, etc., for threats and removes them.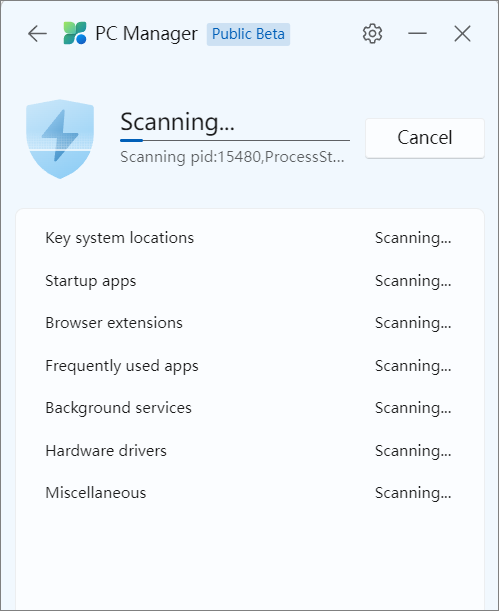 When you click the 'Allowed threats' option, it will take you to the 'Virus and threat protection' page on the Windows Security app.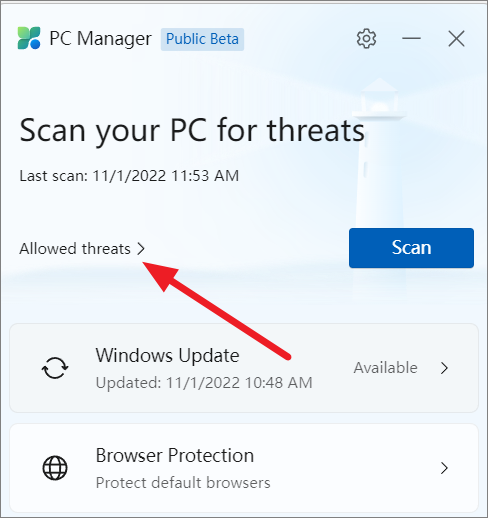 2. Update Windows using PC Manager
PC Manager automatically searches for features and quality updates along with driver updates. Click the 'Windows Update' option to check for available updates.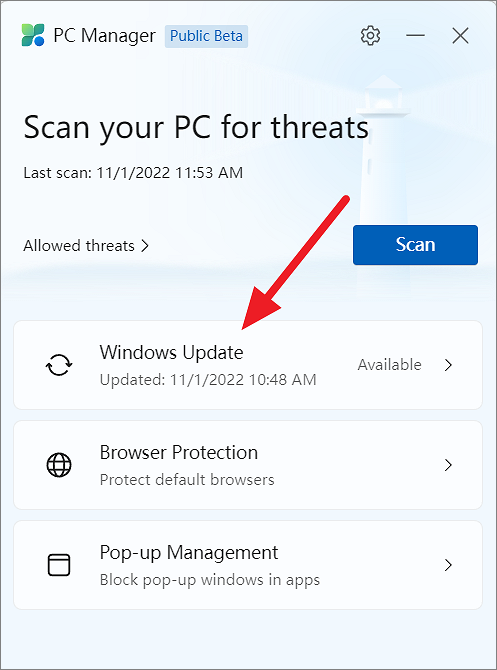 If you don't see any updates, click the 'Check now' button to look for updates.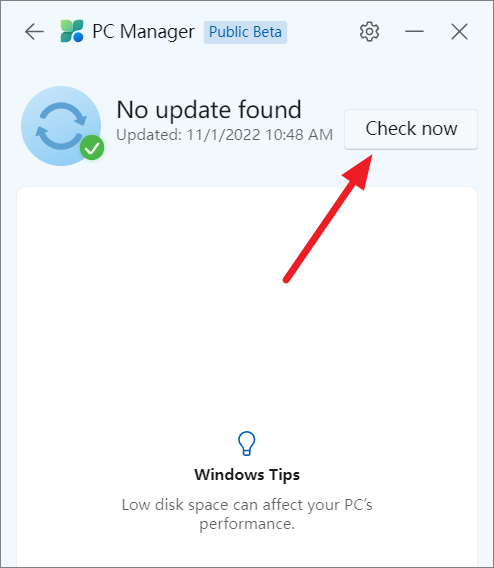 Then, select the updates you want to install and click the 'Update' button.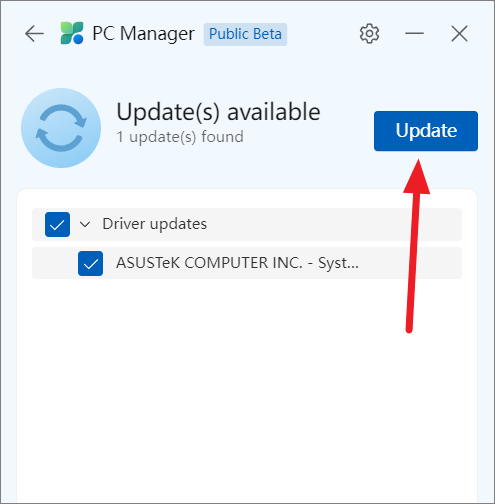 3. Protect Your Default Browser
Under the Browser Protection option, you can enable the 'Block change by malicious apps' setting to prevent malicious apps from changing the default browser.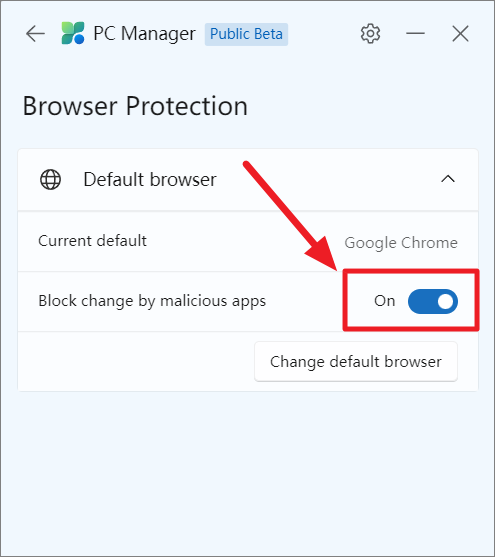 You can set the default browser yourself by clicking the 'Change default browser' button.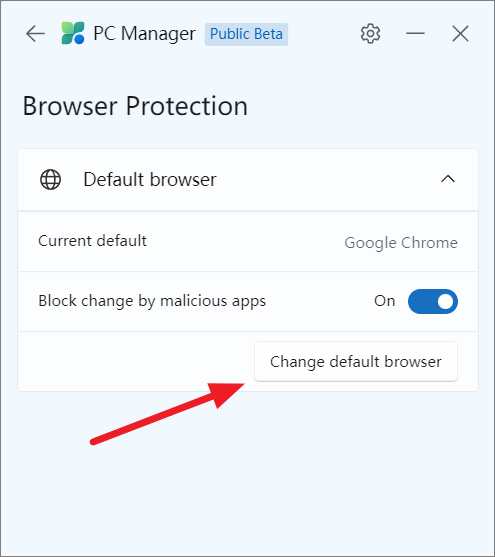 Then, choose one of the three browsers and click the 'Set as default' button. Right now, only edge, chrome, and firefox are supported for browser protection and more browser support will be added in the future.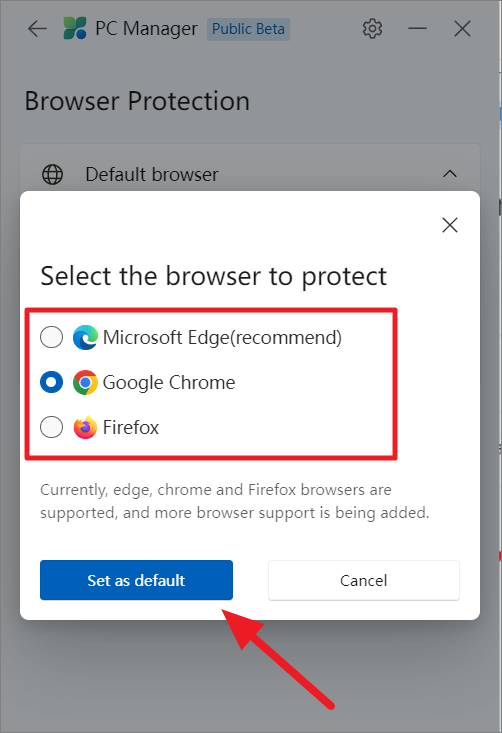 If you have set anything other than Edge as your default browser, the app will often recommend you switch to Edge and label other browsers as a "Potential issue". This is just Microsoft's trick to get more users to use Edge. However, if you are using a highly resource-intensive browser, it is recommended to switch to Edge.
4. Manage Pop-ups in Apps
The final option under the Security tab is Pop-up Management. By turning on the toggle for 'Enable pop-up block' setting, you can block pop-up prompts within apps.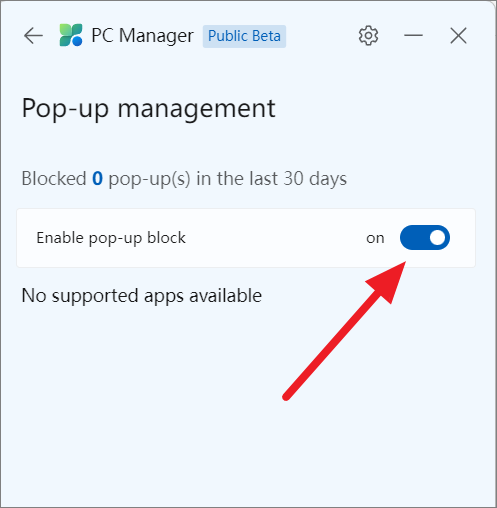 Change PC Manager Settings
To change PC Manager settings, click the cog icon at the top of the app and select 'Settings' from the menu that opens.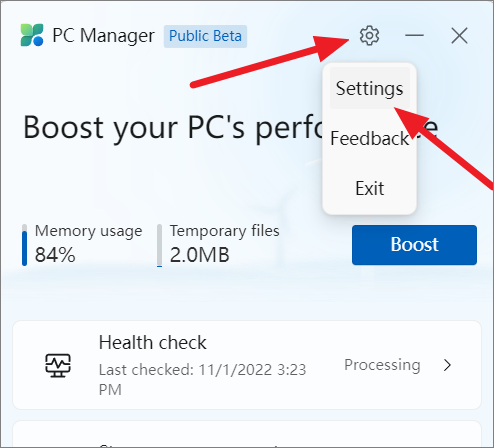 In Settings, you can enable or disable PC Manager to automatically start when you log in to Windows. You can also turn on/off auto update for PC Manager here.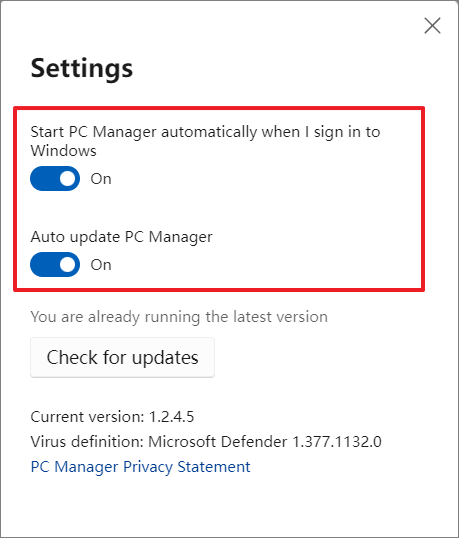 ---
That's it. Although third-party options have been available for some time, if you're someone who's not too big on using third-party apps, PC Manager from Microsoft is the perfect solution for you.