As we grow in our careers, we realize that we become them. We own our professional lives to the extent that it evolves into an active and endearing part of us. We identify with our work; on-site and in life as well. Each profession has its own defining aspect — something you're functioning with daily. An archetype of sorts.
If Excel spreadsheets are your work archetype, then these Excel Shortcuts mugs would be a great souvenir to gift yourself or someone in the same field. These mugs aren't just quirky, they're resourceful as well. If a shortcut is just at the tip of your tongue, refer to your mug! Besides work and beverages, these mugs can be wonderful decor items too.
Excel Shortcut Mug by Lolora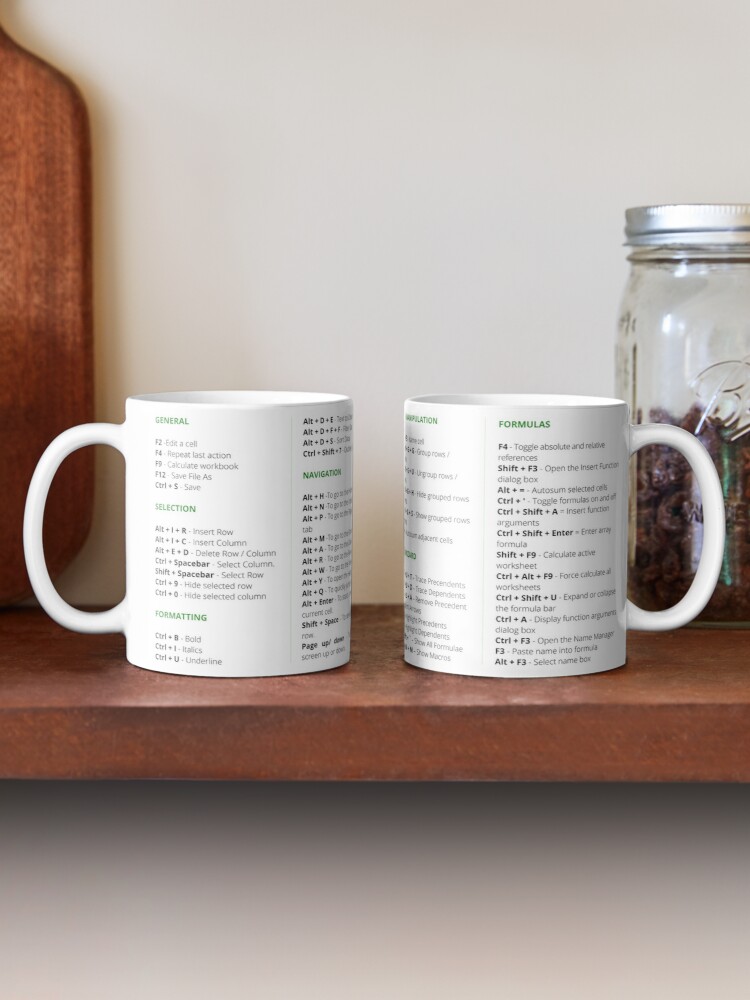 Red Bubble is a shopping platform for independent artists, and this coffee mug designed with a variety of Excel shortcuts is a masterpiece by Lolora.
This sleek white ceramic mug hugs 7 different categories of Excel shortcuts. General, Selection, Formatting, Navigation, and Data Manipulating shortcuts in addition to Excel Wizard and Formulae is what you can expect on this mug.
There are two variants of this Excel Shortcuts Mug – the classic mug and the tall mug. The classic variant is the standard mug with the same diameter from the rim to the bottom. The only difference between the classic and tall variants is that the shape of the latter tapers from the rim to the bottom and holds just 1 ounce more than the classic mug.
Nevertheless, they both cost the same – $17.50. The price reduces the more you buy – $14.50 for 2 mugs, $14 for 4 mugs, and so on.
---
Spreadsheet Shortcut Mug by Uncommon Goods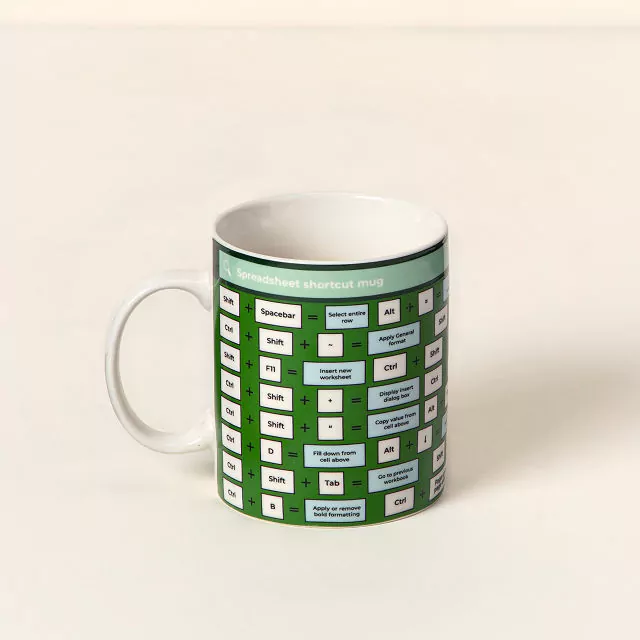 With some of the most crucial keyboard shortcuts for the Excel geek printed on it, this thick classic mug is the perfect quirky present for someone new to spreadsheets and equally great for pros — but mostly for the forgetful Excel-ler!
This porcelain Excel Shortcut mug consists of a 'Spreadsheet Shortcut Mug' search bar and a series of vital keyboard shortcuts useful in formatting, filtering, and functions. You may also come across some formulae in there as well! The mug is both dishwasher and microwave friendly and can hold up to 12 liquid ounces.
---
Excel Super Shortcuts Mug by excelmug.com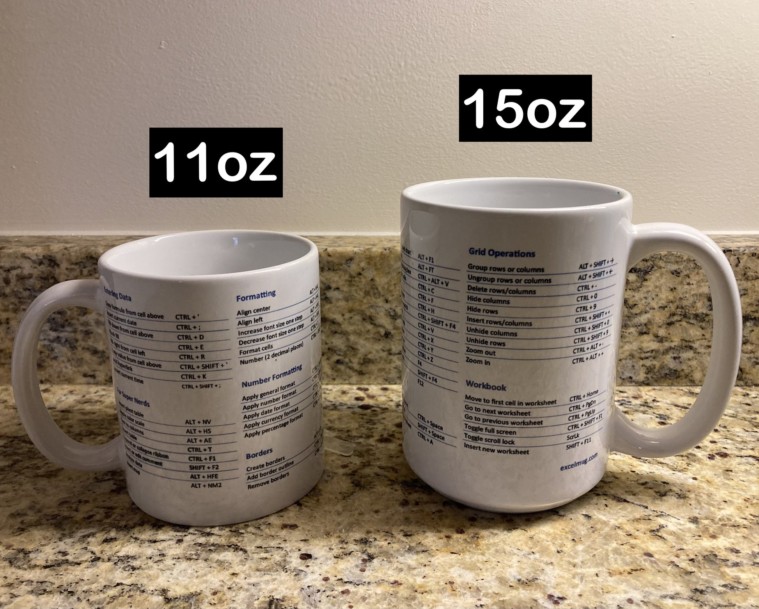 This Excel shortcuts mug is brought to by the exclusive site — excelmug.com. This site only deals in Excel Shortcuts mugs; in two capacities — 11-ounce and 15-ounce. Both mugs share the same quality and Excel shortcuts!
The Excel Super Shortcuts mug by excelmug.com is not your average Excel shortcuts mug! This ceramic mug has nearly 64 different Excel shortcuts sorted into convenient categories such as 'Entering Data', 'Formatting', 'Borders', 'Selection', and 'For Super Nerds'. Plus, it's super functional as cutlery — the mug is dishwasher and microwave safe! The 11-ounce mug is $23.99 and the 15-ounce mug is $26.99.
---
First Coffee. Then I'll Excel. Mug by Yacosta
Yacosta has a chic yet nerdy collection for the elegant Excel folks. Though the mug only has a couple of basic shortcuts, and cannot be used for reference per se, it can be a stylish addition to an Excel worker's desk — given the badass quote on the mug.
Yacosta's 'First Coffee. Then I'll Excel' ceramic mug is available in 2 varieties as well – the classic mug and the tall mug. Both have the same color code and have a single ounce of difference in capacity. If you prefer a change in mug color and font, then check out the same mug in red. This mug is contextually the same, only different design-wise.
Apart from the ceramic mug, Yacosta also has a Travel Mug for the traveling Excel freak. This mug holds about 15 liquid ounces. Yacosta also has a red variant of the travel mug. Both ceramics and travel mugs are dishwasher safe. However, the latter goes only in the top rack!
---
Excel Formula Cheat Sheet by IMTHEBUS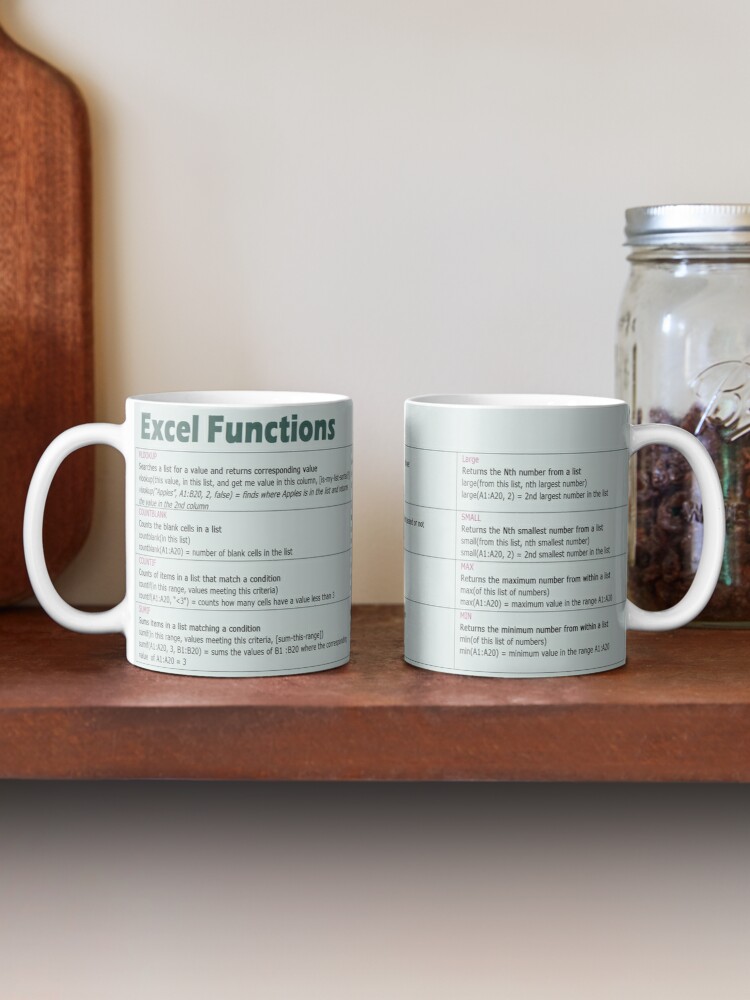 If you're not looking for Excel shortcuts particularly, Excel functions can be your new cheat code. IMTHEBUS features the 'Excel Functions' mug where essential Excel functions like Vlookup, Countblank, Countif, Sumif are at your disposal.
The mug has three varieties — powder pink, pastel green, and dark pastel green. All three colors are available in both Classic and Tall mug types.
The Classic 'Excel Functions' mug can hold 11 liquid ounces and the Tall mug, 12 ounces. Both are made with dishwasher-safe ceramic. An alternative to the 'Excel Functions' mug is the the Ultimate Guide to Spreadsheet Functions mug. This one summarizes all the important Excel functions. It is available in both Classic and Tall mug types.
---
Excel can be a sweet obsession especially when you're good at it. So, the next time you're rewarding yourself for your Excel skills, keeping a physical memory backup, or looking for an uncommon gift for that geeky colleague/friend, we hope these sources come to the rescue!