Yes, it's time to jump up and down with excitement for all Google Meet users. Google Meet will finally be getting the one thing users have been consistently imploring the company for.
Background blur and virtual backgrounds have become one of the most MVPs of the video conferencing ecosystem with apps like Zoom and Microsoft Teams already supporting the functionality. The feature enjoys almost something of a cult status with users, and rightly so. It saves a lot of users from a lot of potential embarrassments and makes the calls fun and creative for various others.
So, it's no surprise that Google Meet would plan to bring the said functionality to their platform too. It is, after all, a matter of staying ahead in the race and giving the customers what they want.
When Can We Expect it?
Although it is definitive that the feature is officially in development at Google, there's not much known about when can the users expect it. There is no concrete timeline for it yet. But from the official support page for upcoming G Suite releases, one can say the only definitive about now is that Google plans to bring the feature to both the web and mobile apps.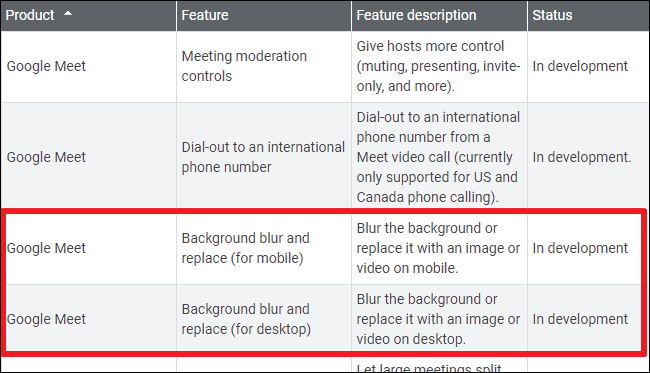 Currently, they plan to bring the support for Background Blur and Replace, i.e. replace the background with an image or video on your mobile or desktop, to both the web app and the mobile app.
---
You should note that although the feature is officially in development, there is always a chance that it might get dropped and not make its way to the app. But for now, it's safe to say that Google fully plans to bring the feature to the platform, and let's just hope that it is sooner rather than later.
Also, as the plan is shoved under upcoming releases for "G Suite", one can assume that the feature might only be coming for G Suite Meet users as of now, and not Meet free users.