Ever since Windows 11 was officially announced, users were anxious about whether and when they would be able to upgrade to it. To answer the latter part of the question, as per Microsoft, Windows 11 would be officially rolled later this year, i.e., 2021. But the former part of the question is what draws maximum attention, and we will cover every aspect of it in the following sections.
Windows 11 offers a refreshing interface with a centered Taskbar, efficiently organized Start Menu and Settings, a new File Explorer, and a redesigned Action Center for easy access to the Quick Settings. All these changes have taken users by storm and many are looking for ways to check if their system is compatible with Windows 11.
Microsoft released the PC Health Check app for users to check if their system meets the requirements for Windows 11. Along with PC Health Check, there are a few highly effective third-party apps available for download that perform the same function. Let's check them all out.
Use Microsoft's PC Health Check App to Test Windows 11 Compatibility
Coming from a trusted source, the PC Health Check app should be your first choice. It was launched by Microsoft for users who wanted to check if their PC met the requirements for Windows 11. This is how you run the app after downloading it.
Note: The PC Health Check app has been pulled off the official website and would soon be relaunched with enhanced features to provide more information to users.
To run the PC Health Check app, double-click on the downloaded file to run the installer. Next, select the 'I accept the terms in the License Agreement' checkbox, and then click on 'Install' at the bottom of the installer.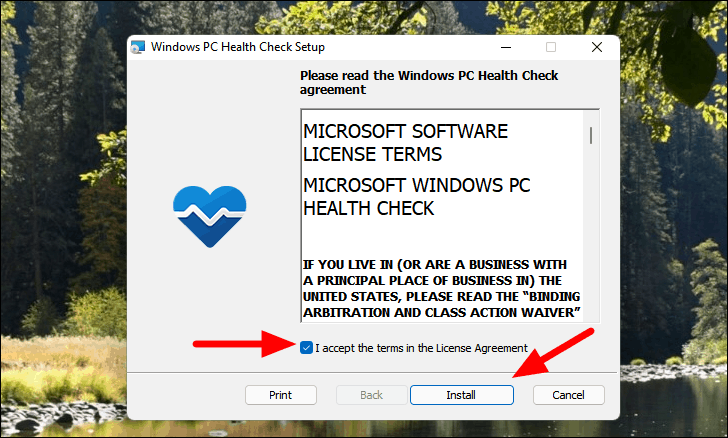 Once the app is installed, make sure you have selected 'Opened Windows PC Health Check', before you click on 'Finish' to close the installer.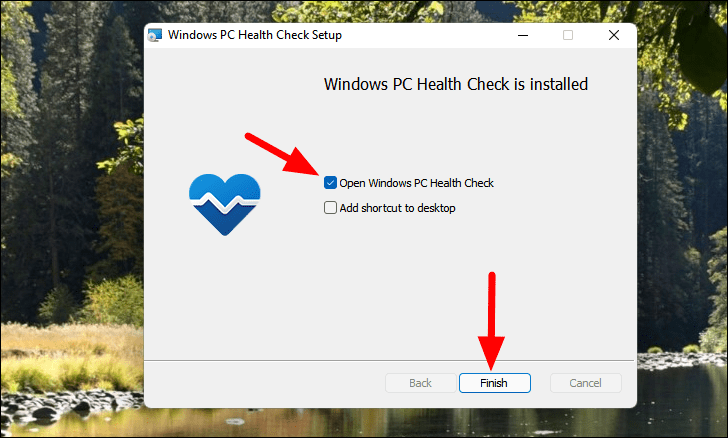 Click on 'Check Now' to find whether your PC meets the system requirements in the PC Health Check app.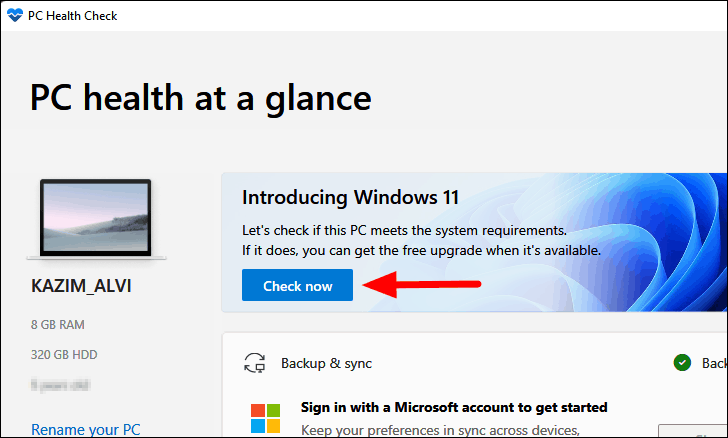 A box will pop up with either of these two messages.
'This PC can run Windows 11': If you receive this message, you are good to go and can upgrade to Windows 11 when it's available.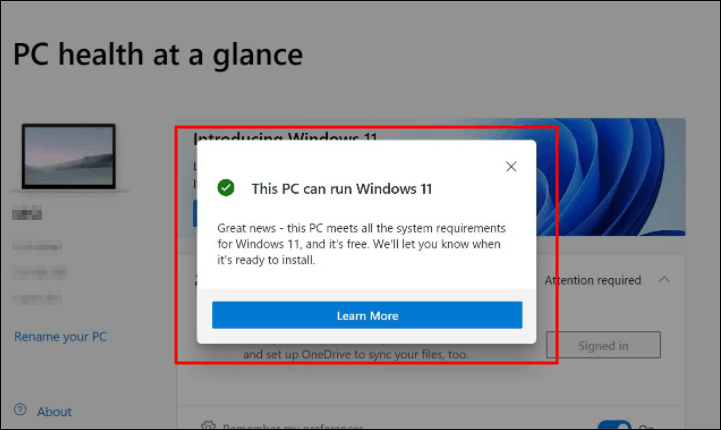 This PC can't run Windows 11: If you receive this error message, it could be due to various reasons, such as disabled Secure Boot or TPM, or your processor may not be supported by Windows 11. But, it doesn't rule out your chances of upgrading to Windows 11.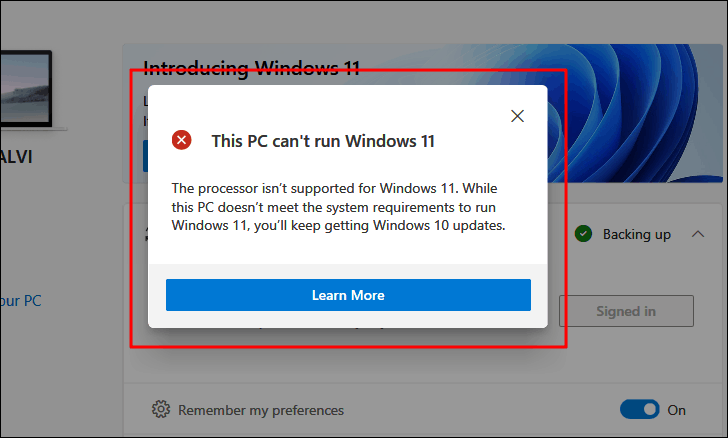 'This PC can't run Windows 11' – What do I do?
The first thing you must do is to check and enable both Secure Boot and TPM, if they are currently disabled. These two are critical requirements for Windows 11.
If even after enabling these two, the PC Health Check app still shows 'This PC can't run Windows 11', likely, the processor is not supported. For Intel, Windows 11 only supports the i5 8th generation and above. If your PC has an older processor, upgrading to Windows 11 might be tricky and could be confirmed once it rolls out for the public. You can check the list of compatible processors and incompatible processors for Windows 11.
---
Check Windows 11 compatibility using a third-party app called 'WhyNotWin11'
The PC Health Check app didn't provide much information as to why a PC cannot run Windows 11 and now that it's been pulled off the website, users can try the 'WhyNowWin11' app. It's an open-source app available on GitHub for download. Needless to mention, it isn't released by Microsoft or is affiliated with it.
The 'WhyNowWin11' app provides a lot more information to users to identify why their system does or doesn't support Windows 11. To download the app, go to github.com/rcmaehl, scroll down, and click on the 'Download latest stable release' option.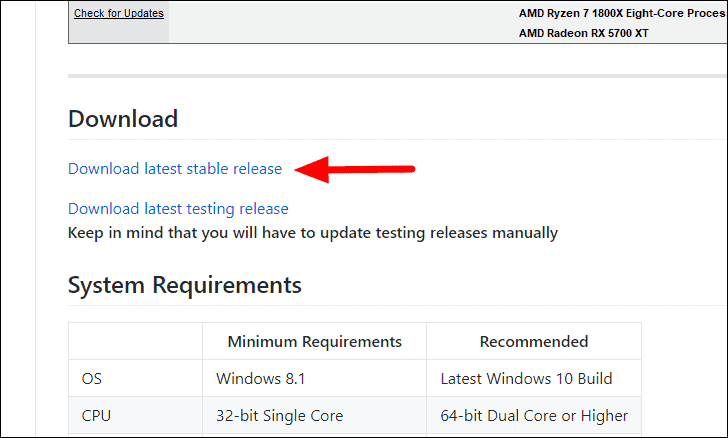 After the app is download, double-click on the downloaded file to launch the app. It will take a few seconds to scan the system configuration and then display the compatibility results. It will scan the system for 11 different aspects, each of which is critical for compatibility with Windows 11.
The components with a green box before them meet the Windows 11 requirements, an orange box indicates that components are not firmly established, and the red box indicates that these components don't meet the requirements.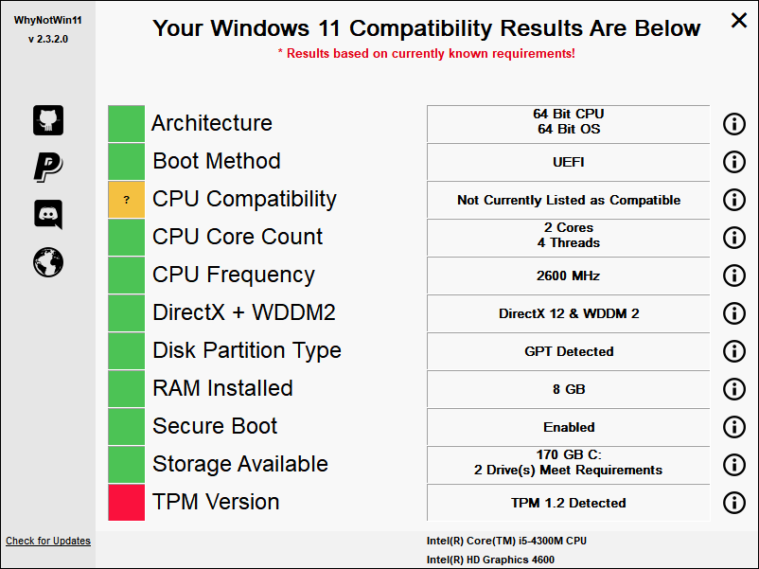 Hovering the cursor over the 'i' icon next to any of the criteria will reveal more information regarding it.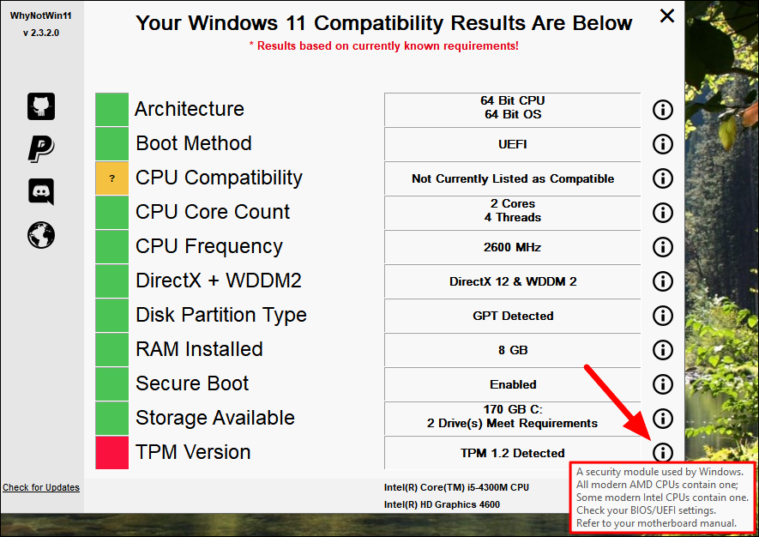 The 'WhyNotWin11' app is pretty much self-explanatory and doesn't require high technical acumen.
Use 'Win11SysCheck' Tool (another open-source app)
The Win11SysCheck is another open-source tool that can be used if your system meets the requirements for Windows 11. It's also available on GitHub, a website for similar apps and tools. When you run the tool, a DOS window appears where the scan results are displayed. Here's how you can run the Win11SysCheck tool on your PC.
First, go to github.com/mq1n and then click on the 'Win11SysCheck.exe' option under assets to download the tool.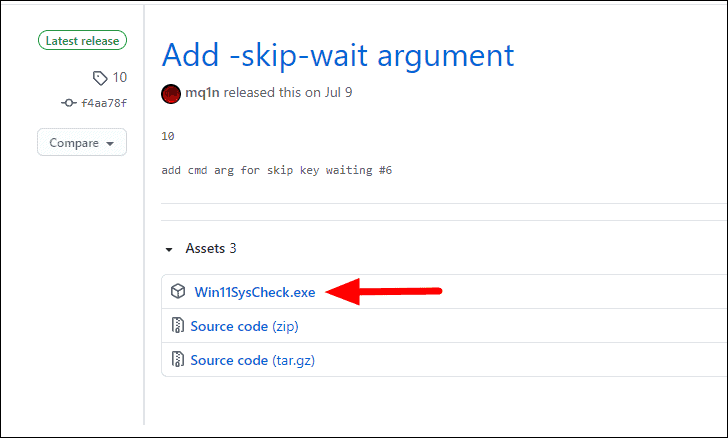 When running the tool for the first time, you may come across an error. Simply, select 'More info' and then click on 'Run anyway' at the bottom.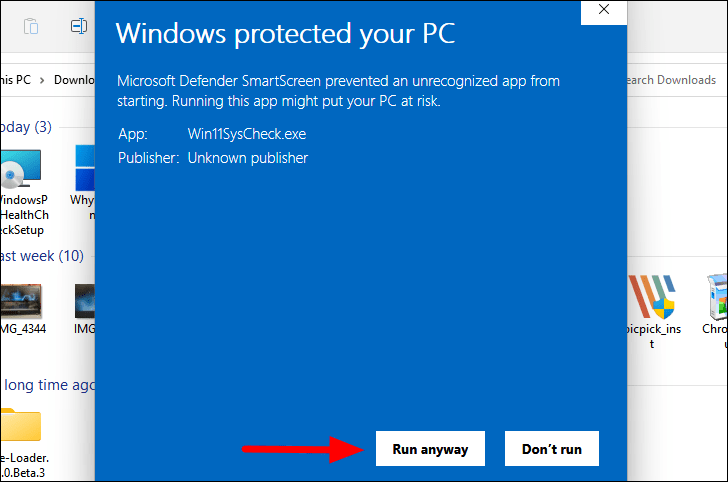 A DOS window will open and display the scan results for the various system requirements.
Note: In my case, the processor doesn't meet the Windows 11 requirement, and it showed the relevant problem. If your PC meets all the requirements, 'All checks passed! Your system can be upgradable to Windows 11' will be displayed at the end.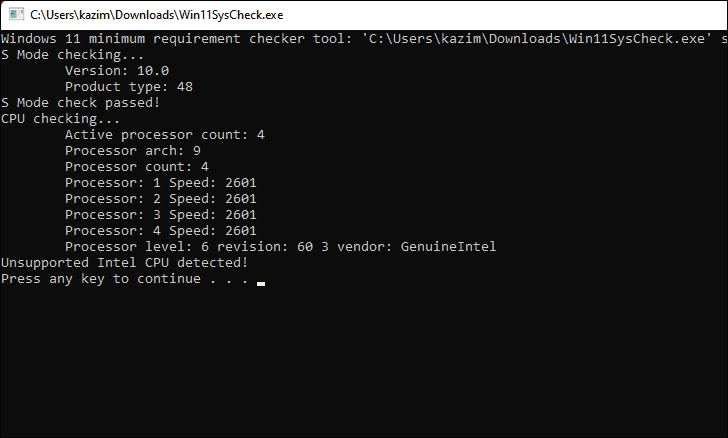 That's all there's to checking system compatibility on Windows 11. The open-source tools mentioned here are probably more effective but since they aren't from Microsoft, safety cannot be guaranteed.
---
Windows 11 System Requirements
While the methods mentioned above scan your system configuration and identify whether it meets the Windows 11 requirement, you may also want to find what these requirements actually are. We have listed them here for your perusal.
| | |
| --- | --- |
| Processor | 1 gigahertz (GHz) or higher, with 2 or more cores on a compatible 64-bit processor or System on a Chip (SoC) |
| Memory | 4 GB or more RAM |
| Storage | 64 GB or more |
| System Firmware | Must support 'Secure Boot' and 'UEFI' |
| TPM | TPM (Trusted Platform Module) version 2 |
| Graphics Card | DirectX 12 compatible graphics or WDDM 2.x |
| Display | More than 9″ display with HD resolution (720p) |
| Internet Connection | Requires a Microsoft Account and stable Internet connection during set up |
---
You would by now have identified if your system can run Windows 11. If your PC doesn't meet the system requirement, it's not the end of the world. Microsoft will continue to support Windows 10 till October 14, 2025. Also, you can either purchase a PC that's compatible with Windows 11, or wait for a few months after release for the workarounds to pour in.