Google meet has eased secure video conferencing for businesses and educational institutes alike with its strong security features. However, Google Meet being a browser-based video conferencing software lacks certain features that Zoom and Microsoft Teams easily offer, like the inability to control the meeting volume.
Google Meet doesn't have an audio control feature while video conferencing. This makes it difficult for users to operate as in order to turn the volume up or down, the whole system volume needs to be adjusted rather than just the volume of Google Meet.
Solving the Audio problem on Google Meet
A convenient tactic that helps users control the Google Meet volume is the Volume Controller chrome extension. It allows you to adjust volumes on a per tab basis, making it super easy to lower or increase the volume of the Chrome tab where your Google Meet meeting is happening.
After opening the Chrome Webstore page for the extension, click on the 'Add To Chrome' button to install the extension.

After installing the extension in Chrome, start or join a Google Meet. Then, when you want to turn down the volume during the meeting, click on the 'Extensions' icon (shaped like a jigsaw puzzle piece) next to Chrome's address bar. A list of extensions installed in your browser will show, click on the 'Volume Controller' extension to open it.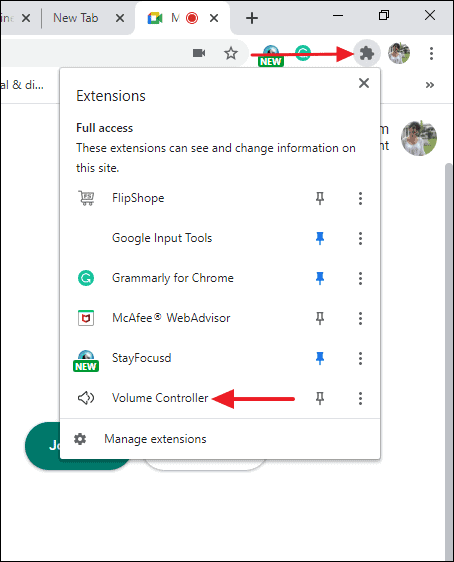 The Volume Controller interface will appear on the screen. The volume cursor would be prominently displayed along with a list of all tabs playing audio in Chrome. Here, select the Google Meet tab and adjust the sound by scrolling the cursor.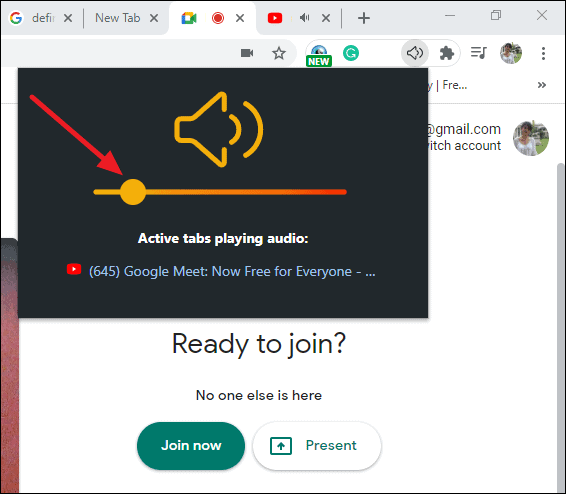 ---
Now you can turn down the volume in Google Meet Conferences, as well as on other websites in Chrome which don't offer volume control features, without any hassle.