Rewind to WWDC'21 earlier this year when Apple introduced iOS 15. Did you do it? You'll recall that SharePlay in FaceTime was one of the MVPs of the whole keynote.
But when iOS 5 finally came, SharePlay was curiously missing. Or maybe it wasn't so curious; after all, SharePlay was riddled with bugs in the iOS 15 beta. Now, you must be wondering why we took that trip down memory lane? To break the news that SharePlay is finally here! Let's get in on the action.
What is SharePlay in FaceTime?
If you're not familiar with the feature, here's a quick rundown. SharePlay is a FaceTime feature that lets people share activities and experiences.
Share Experiences With SharePlay Integration
You can listen to music or watch movies and TV shows together on a FaceTime call. Of course, Apple Music and Apple TV are at the forefront of this whole experience, the list doesn't end here. There are other apps, albeit not too many right now, that SharePlay works with. With apps that offer the functionality, SharePlay offers synchronized app playback on all participating devices.
So, even if it was you who started playing the movie (for example) on the call, everyone can pause, play, or skip it and use all the other controls from the app. And the video will synchronize perfectly on each member's device for a seamless experience unlike any other.
Users can use SharePlay in apps like TikTok, NBA, Paramount+, MUBI, Showtime, Moon FM, Digital Concert Hall, etc. to watch and listen together.
You can also use SharePlay in apps like Flow, Kahoot!, Redfin Real Estate, Apollo for Reddit, Fitness, to name a few, you can browse homes or a subreddit together. With the SharePlay integration, you can draw, edit photos and videos, play quizzes, and much more all in real-time by hopping on a FaceTime call.
Although the selection of apps is quite limited right now, more apps will most likely be added in the future as more developers use the API, with Disney+ and Hulu already on their way.
Note: To use some of these apps with SharePlay, everyone on the call must have a subscription. If you're playing music from Apple Music, for example, the other participants on the call must also have an Apple Music subscription, or they won't be able to listen with you.
Share your Screen in a FaceTime Call
Other than the SharePlay integration built right into the apps, the feature also lets you share your entire screen on FaceTime now. So, to share the content of other apps that don't have a SharePlay integration, you can simply share your screen. Granted, others in the call won't have any control over the content, but the feature is useful in many other instances than just being a workaround for sharing content.
You can share web pages, look at photos together, help friends with a technical issue, browse shopping catalogs, etc. The iPhone apps are your oyster!
And the best part – you don't have to worry about your privacy. When you're sharing your screen, your notifications are not visible to those in the call to protect sensitive information.
How is SharePlay App Integration Different than Sharing Your Screen
Sharing your screen is different than sharing content from apps that offer a SharePlay integration.
With SharePlay integration, everyone on the call gets the same amount of control over the stream. It's essentially collaborative. But sharing your screen is plain, old screen sharing where other call participants are passive viewers and have no control over what you're sharing.
Another difference here is that other participants in the call don't need a subscription. Heck, they don't even need to have the app installed on their phone.
You can even use it to watch YouTube videos together. But it doesn't work with Netflix or Disney+ as the content doesn't play because it counts screen sharing as screen recording. Still, you can try it in other apps to watch content together that don't offer a SharePlay integration yet; not all apps restrict the playing of content over screen sharing.
Other Features of SharePlay
Smart Volume: SharePlay also has a feature called Smart Volume that automatically lowers the volume of whatever is playing when someone in the call is speaking. Apparently, it works best with AirPods, but it'll work just fine with your device speakers and other devices, too.
iMessage Access: FaceTime controls also have an access point for iMessage now. So, you can just switch off your camera and microphone and hop directly to iMessage to communicate. Whether you want to focus on the content on the screen or just need a bathroom break during a long binging session, you just need to tap.
---
How to Use SharePlay in a FaceTime Call
Before you want to SharePlay anything in the call, make sure you and everyone else in the call is updated to iOS 15.1. If there are participants in the call who are not on iOS 15.1, they won't see or know anything that's going on in the call regarding SharePlay.
Users must also have an app subscription. If users have iOS 15.1, but no subscription, they'll see that you're playing content over SharePlay. They'll also see what content is being played but won't be able to see or hear it.
To use SharePlay, start a FaceTime call. Then, simply go to the app where you want to SharePlay the content. For this guide, we're opening the Apple Music app.
You'll see a banner that the content will SharePlay automatically. All you have to do is play the song.
Once you SharePlay something, the other person in the call will get a request to join you. If they accept it, they'll be part of the SharePlay session.
You'll see how many people are listening with you from the 'Now Playing' card with '[N] Listening'.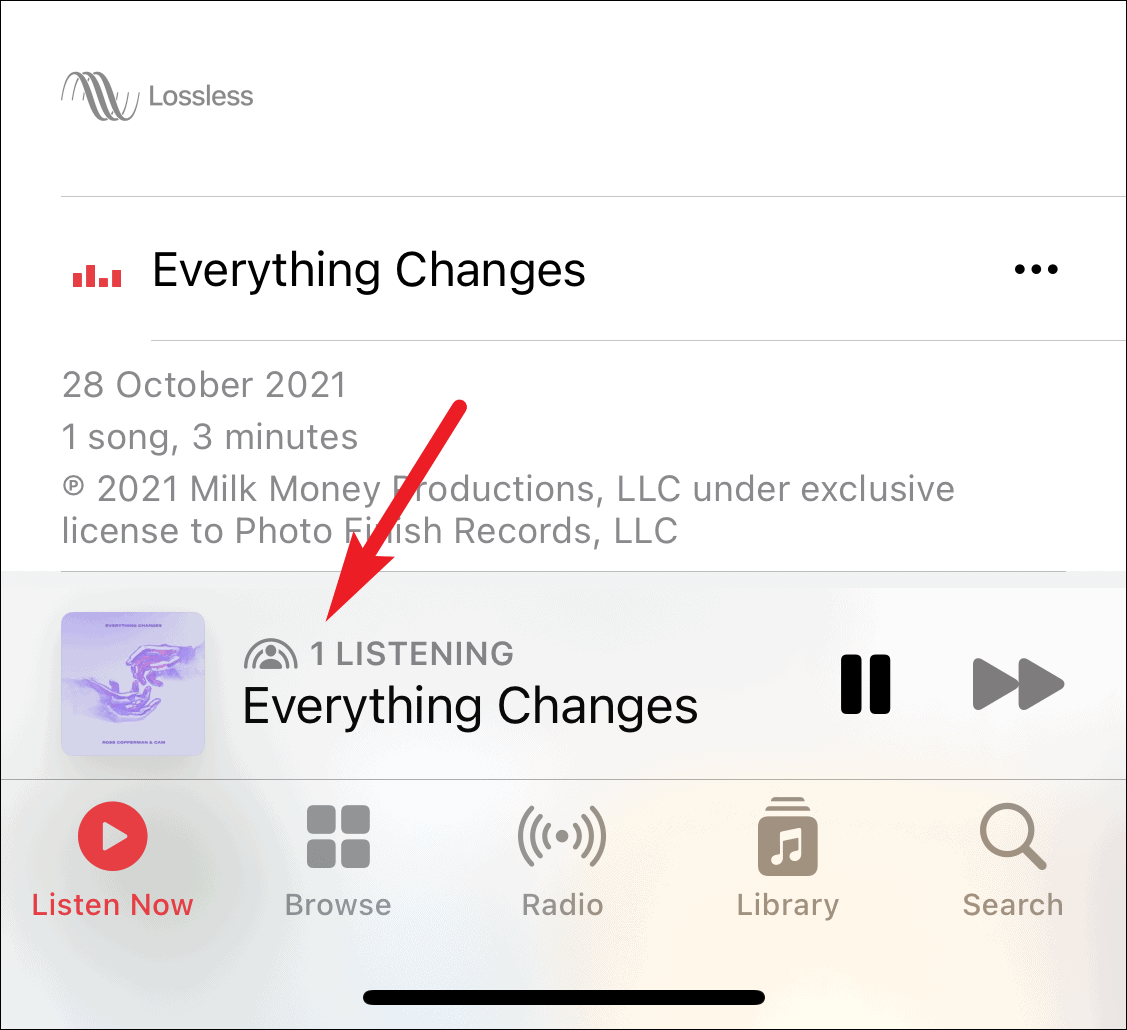 Everyone who's participating in the SharePlay session can pause, play, skip forward or rewind, and stop the stream.
While you're sharing the content, the video from FaceTime will appear in Picture-in-Picture and the feed of the active/ last speaker will display on the screen. You can also dock the PiP video away from the screen and bring it back at any time.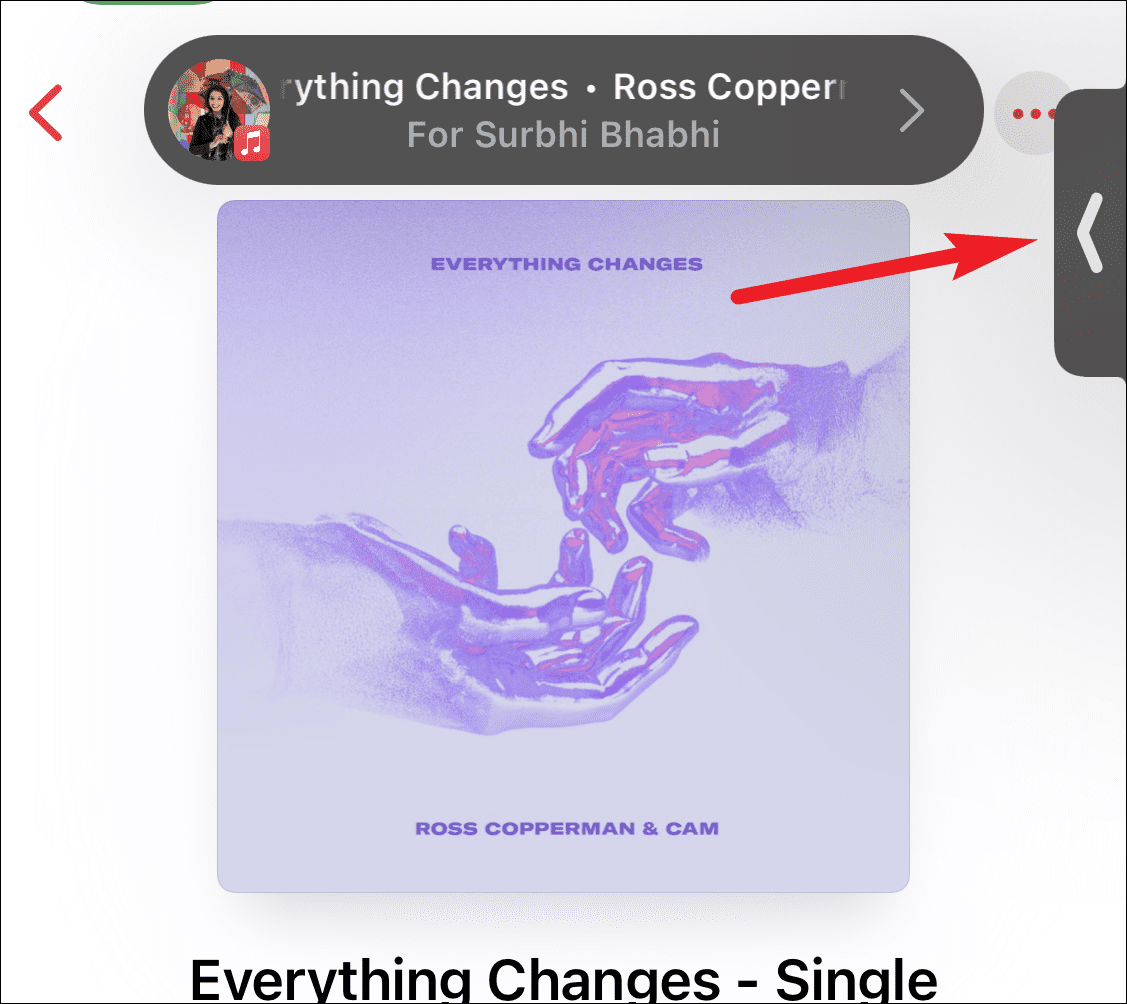 To end the SharePlay session, tap the green pill in the left notch of the screen.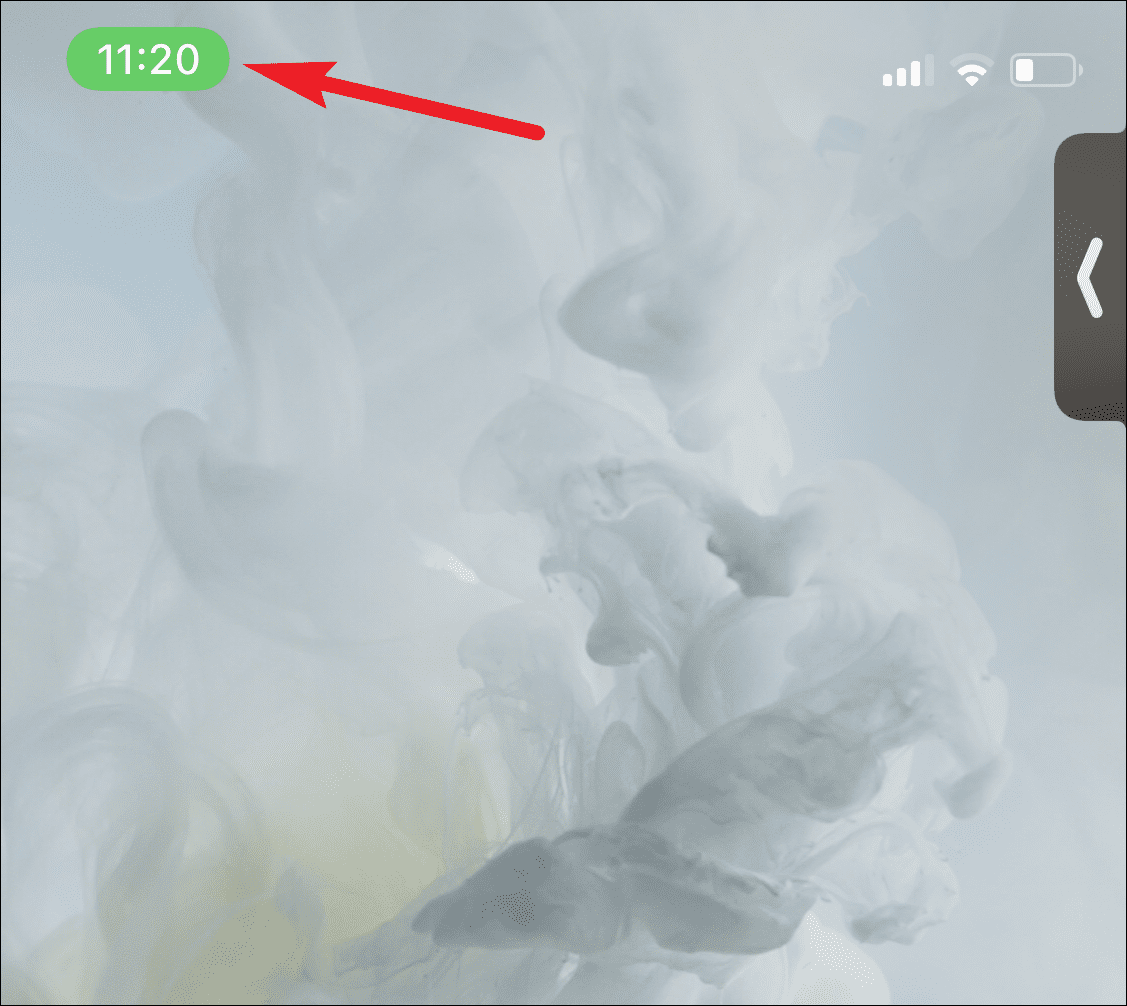 The controls toolbar for FaceTime will appear on your screen. Tap the SharePlay icon (person in front of semi-circles) on the right end of the toolbar.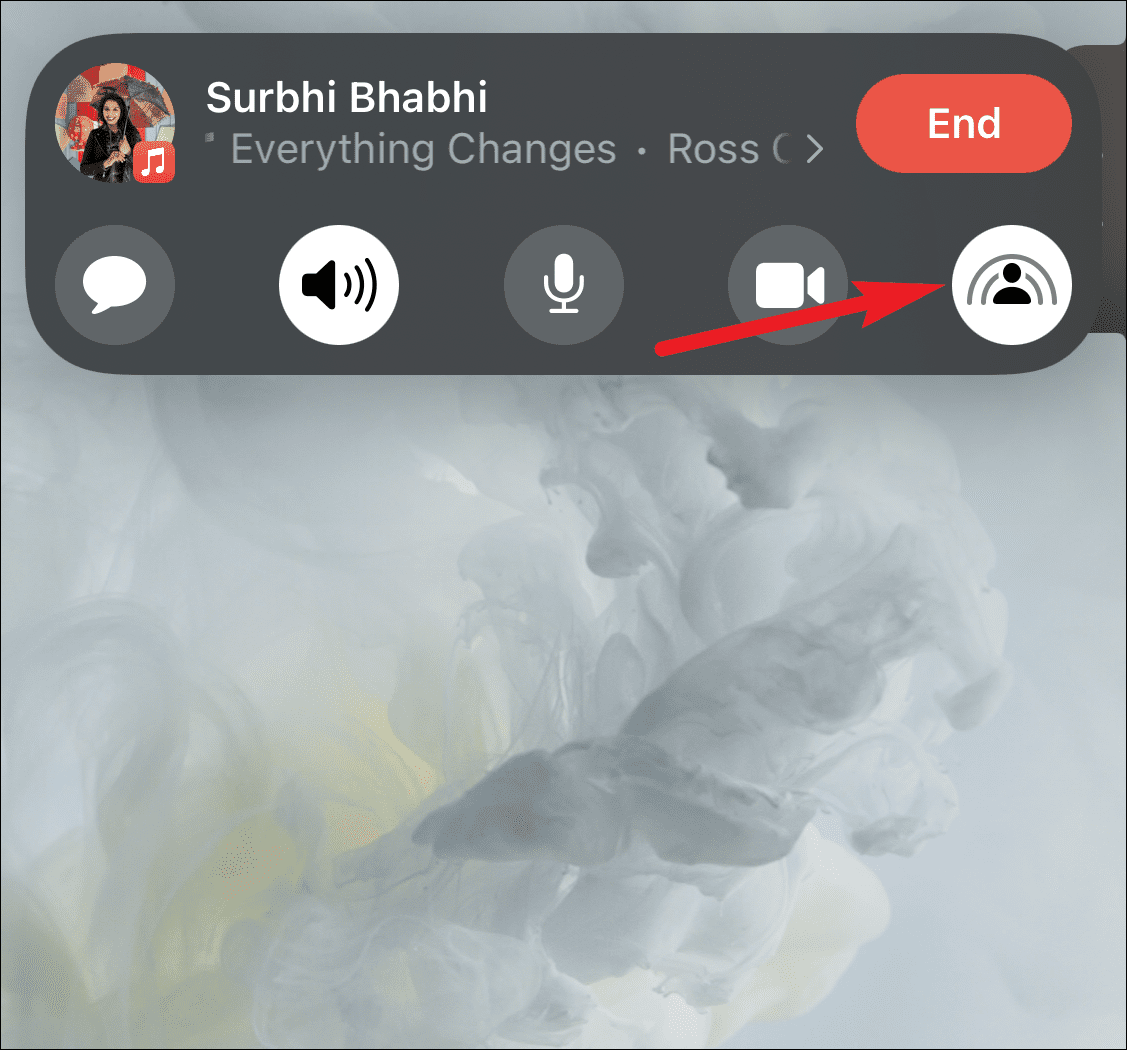 A couple of options will appear. You can also switch to sharing your screen which will automatically end the current SharePlay session. Tap the 'End SharePlay' option.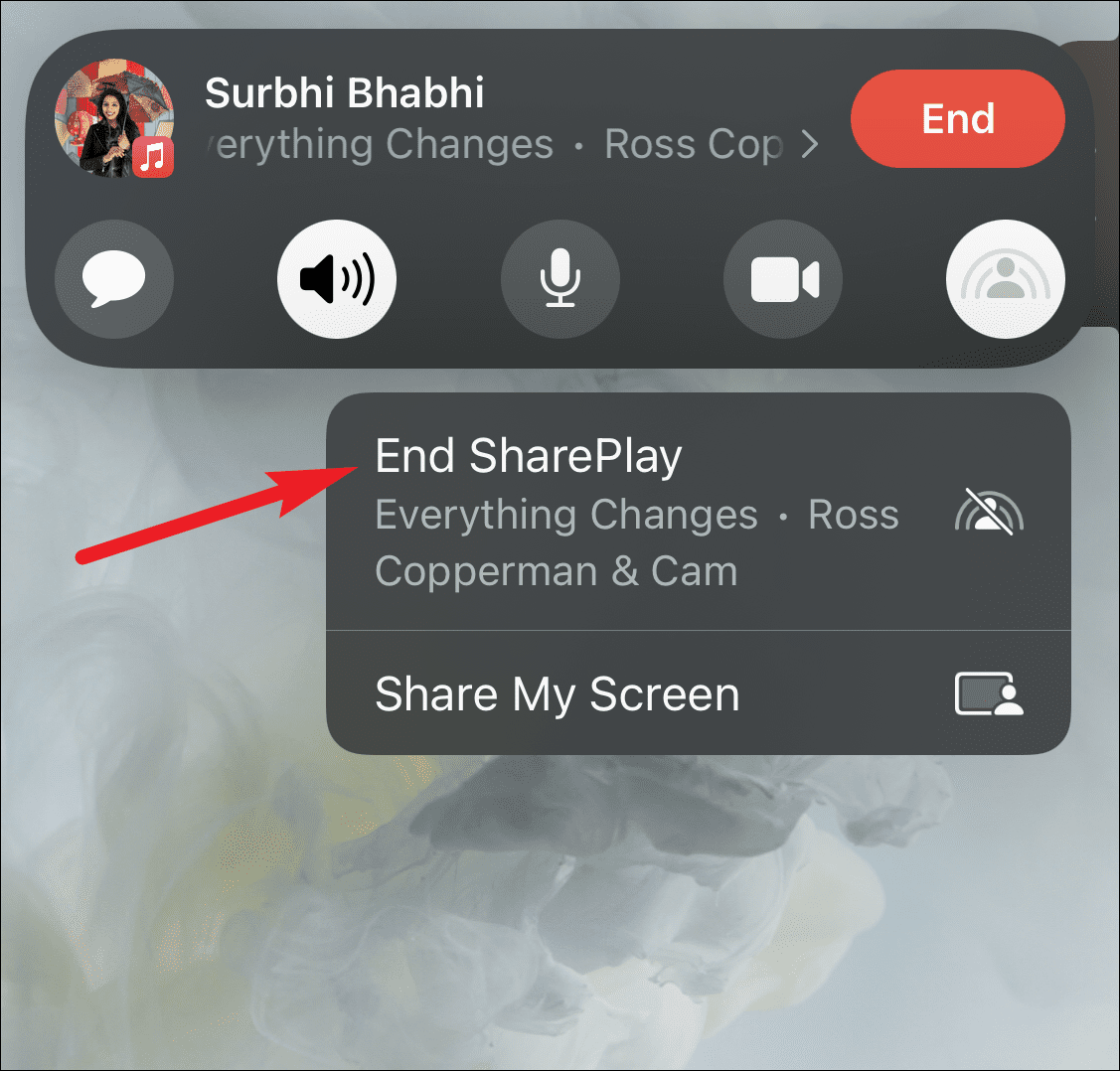 You'll get a prompt asking whether you want to end it for everyone or just you. Tap the option that suits you.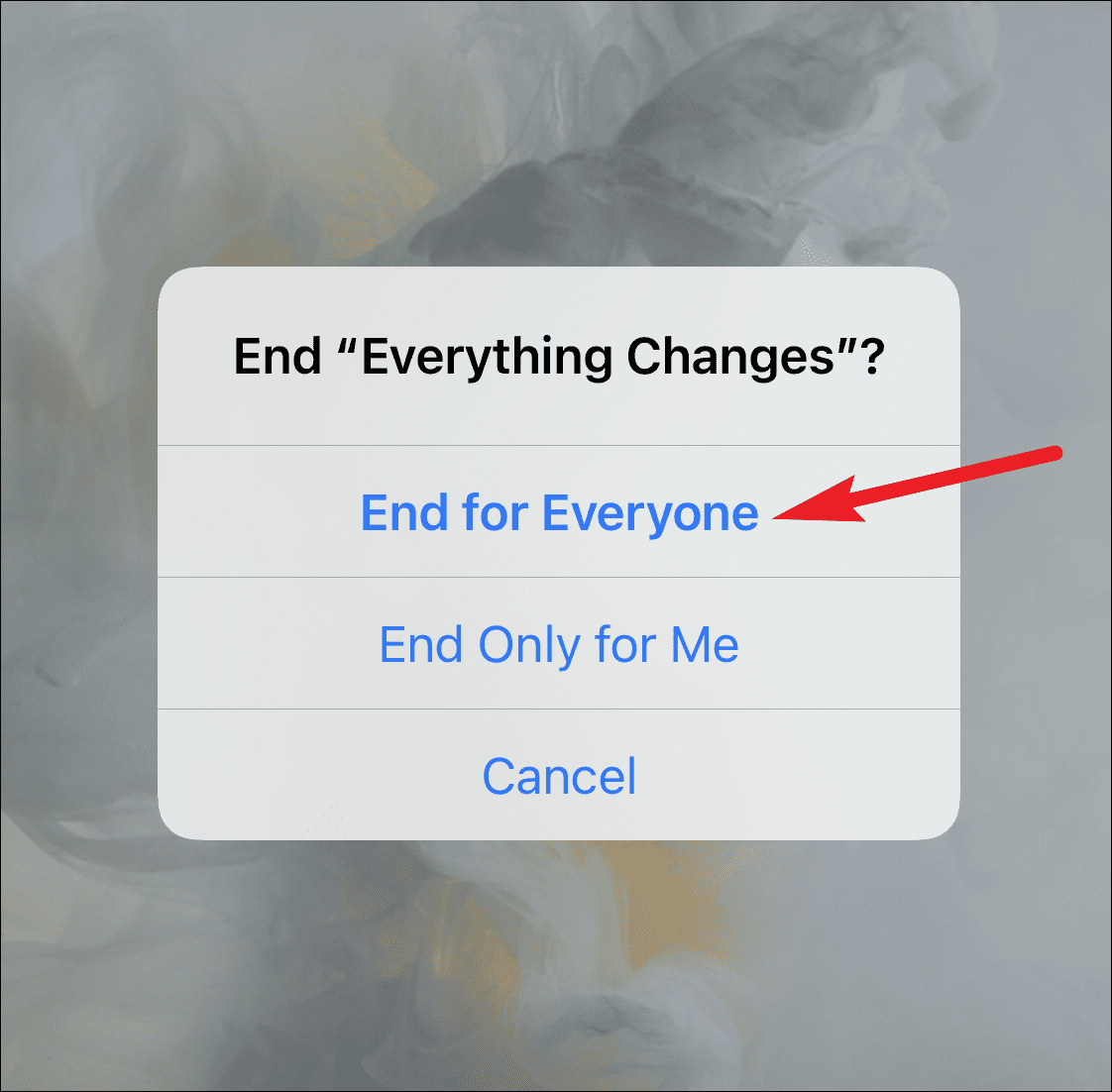 ---
How to Share Screen in a FaceTime call on iPhone
Another capability that SharePlay brings to FaceTime is the ability to share your screen in a call.
To share your screen, go to the FaceTime controls toolbar. Tap the button on the right (looks like a person in front of a screen).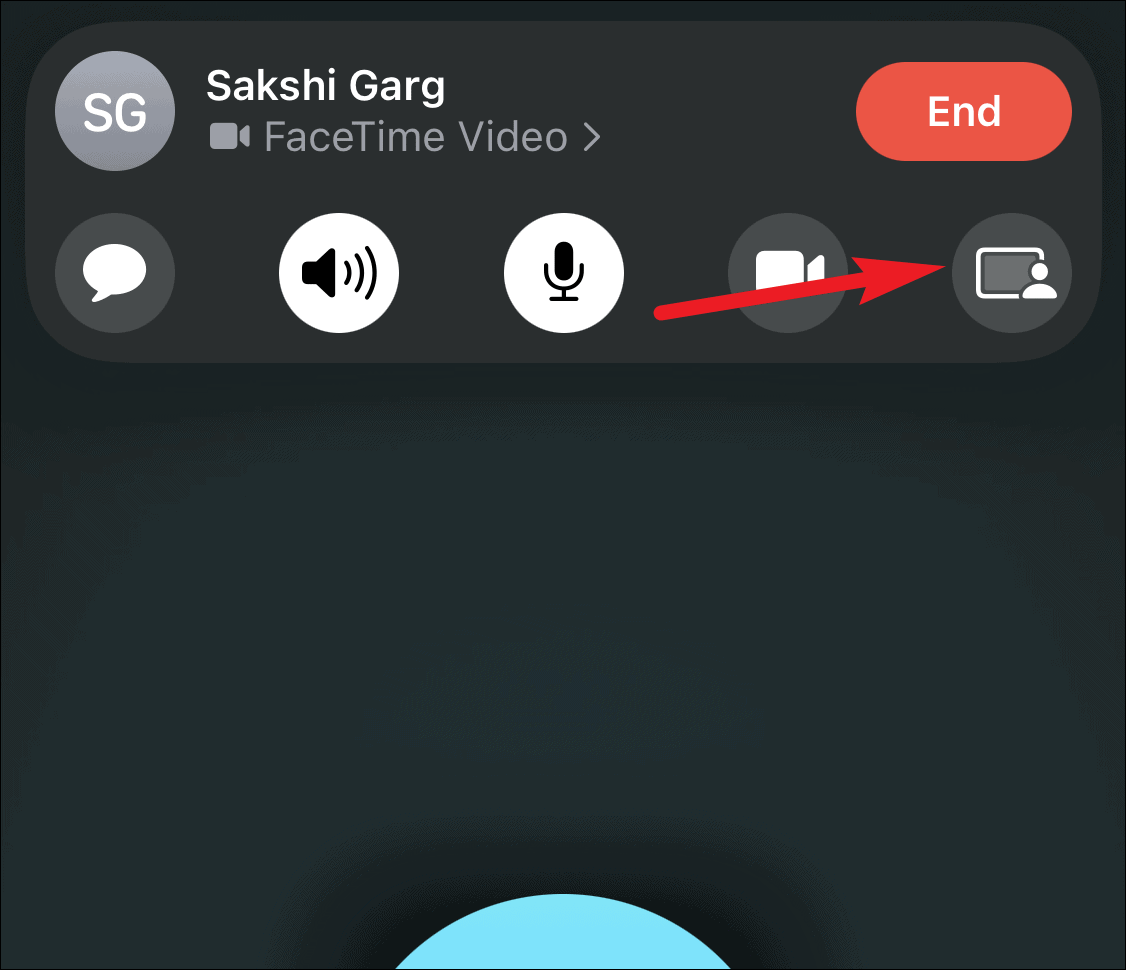 An option for 'Share My Screen' will appear underneath it; tap on it.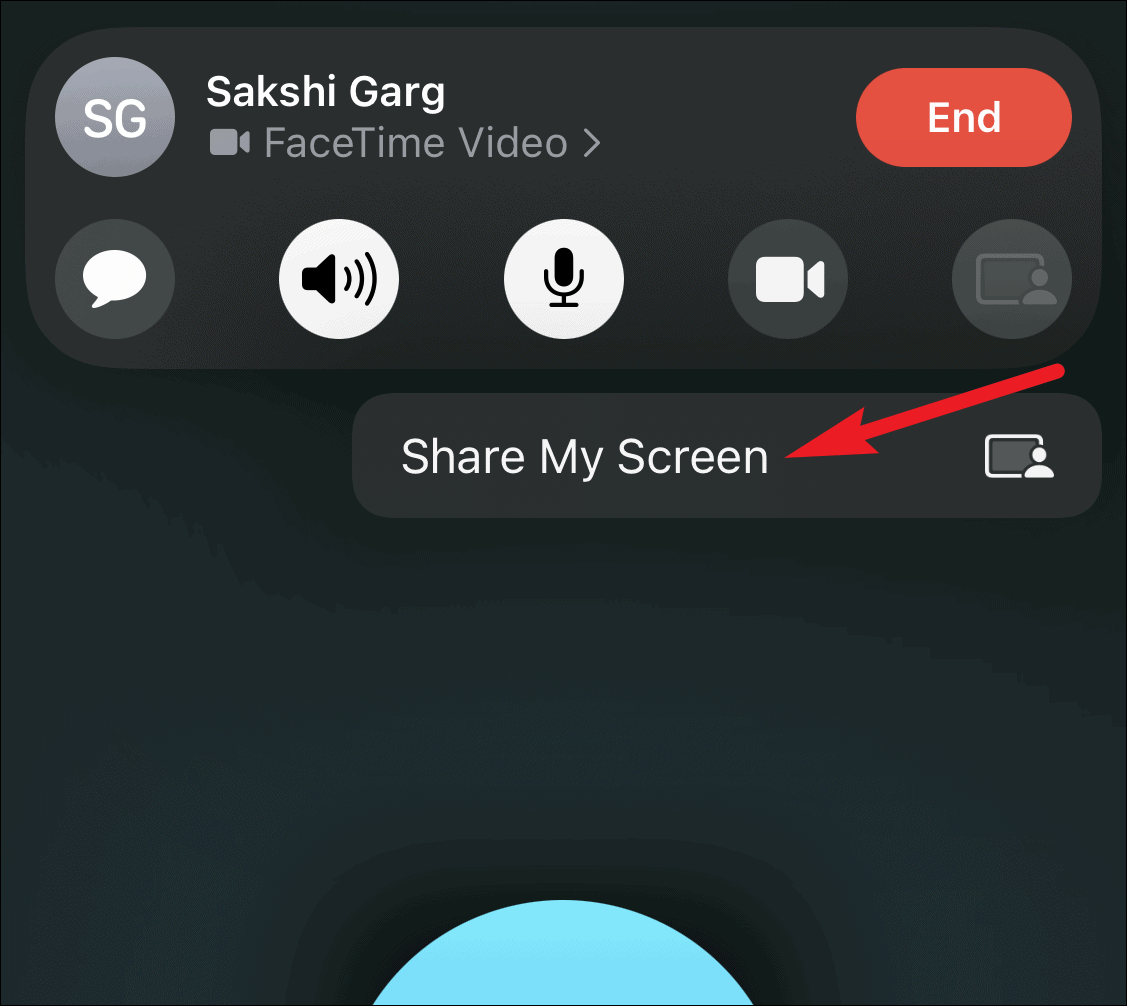 A countdown will begin from 3 and screen sharing will start after that. You can take this time to go to the app you want to share.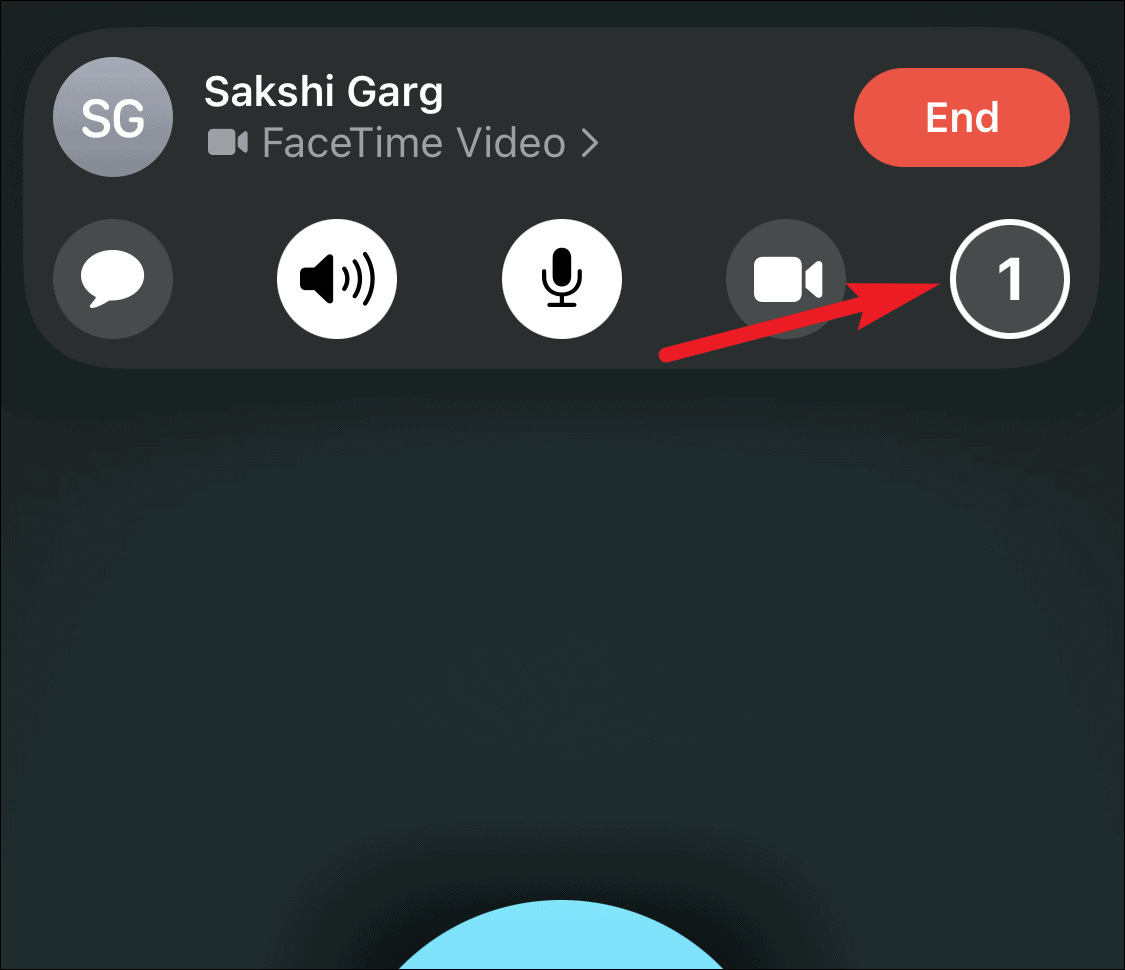 If you still have Facetime open, close it. As soon as you go to your Home screen, the participants in the call will be able to see your screen. While the FaceTime app is open, the participants will only see a blur screen on their end.
When someone is sharing their screen in a FaceTime video call, it will appear as a tile along with the video feeds (somewhat larger than the other video tiles, though) to the other participants. The viewers can zoom in and zoom out on the shared screen or tap it to view only the screen without the videos.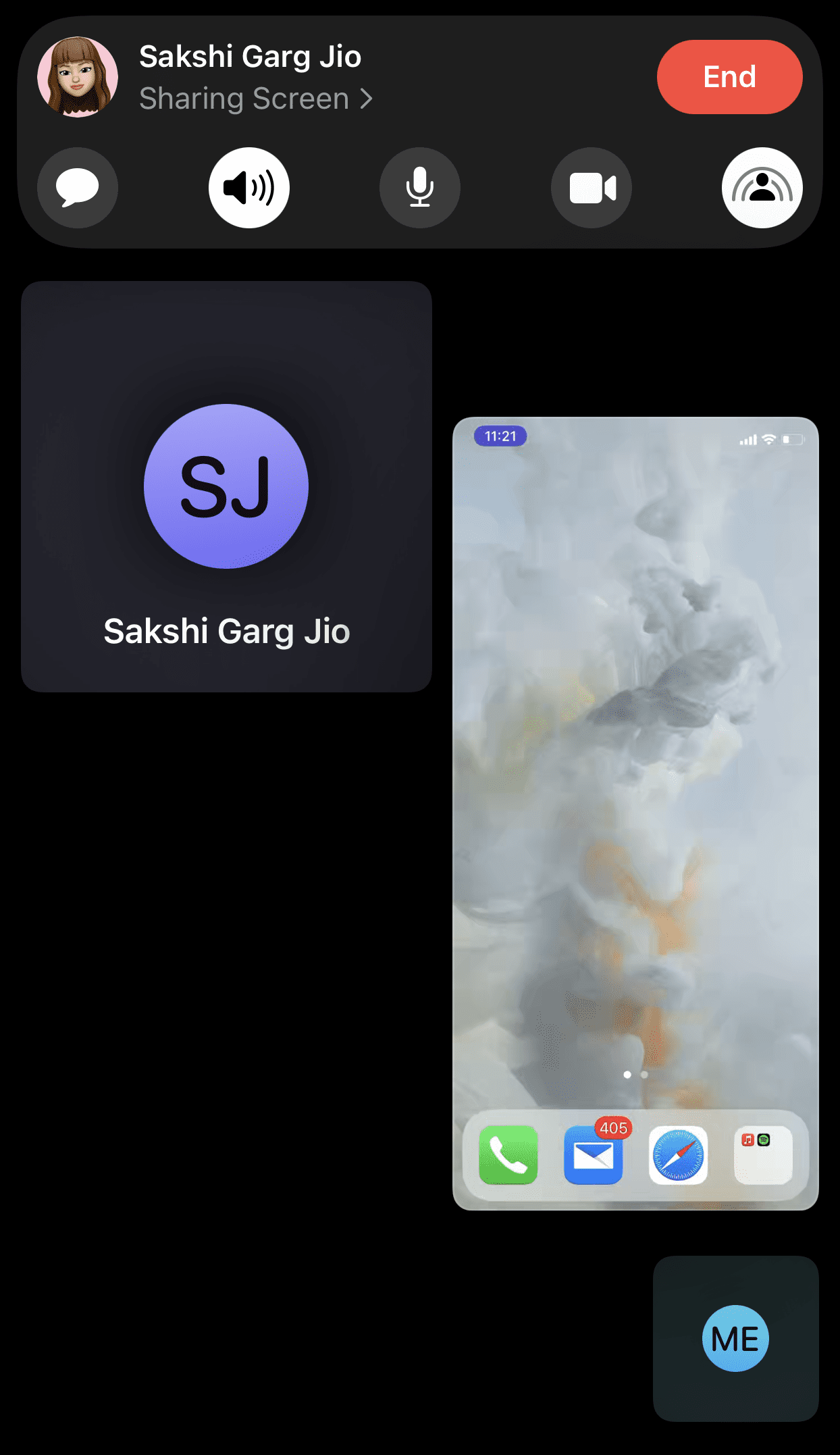 Open any apps and show the content via screen sharing. As the participants are only going to be seeing your screen, they won't need the app subscription. But you can't use this as a workaround in apps that offer SharePlay integration. When you open any such app, you'll receive a prompt on your screen asking if you want to end the current screen sharing session and start another SharePlay session. Until you do that, you won't be able to play content in the app.
To end screen sharing, tap the purple pill in the left corner of the notch to bring the FaceTime controls toolbar.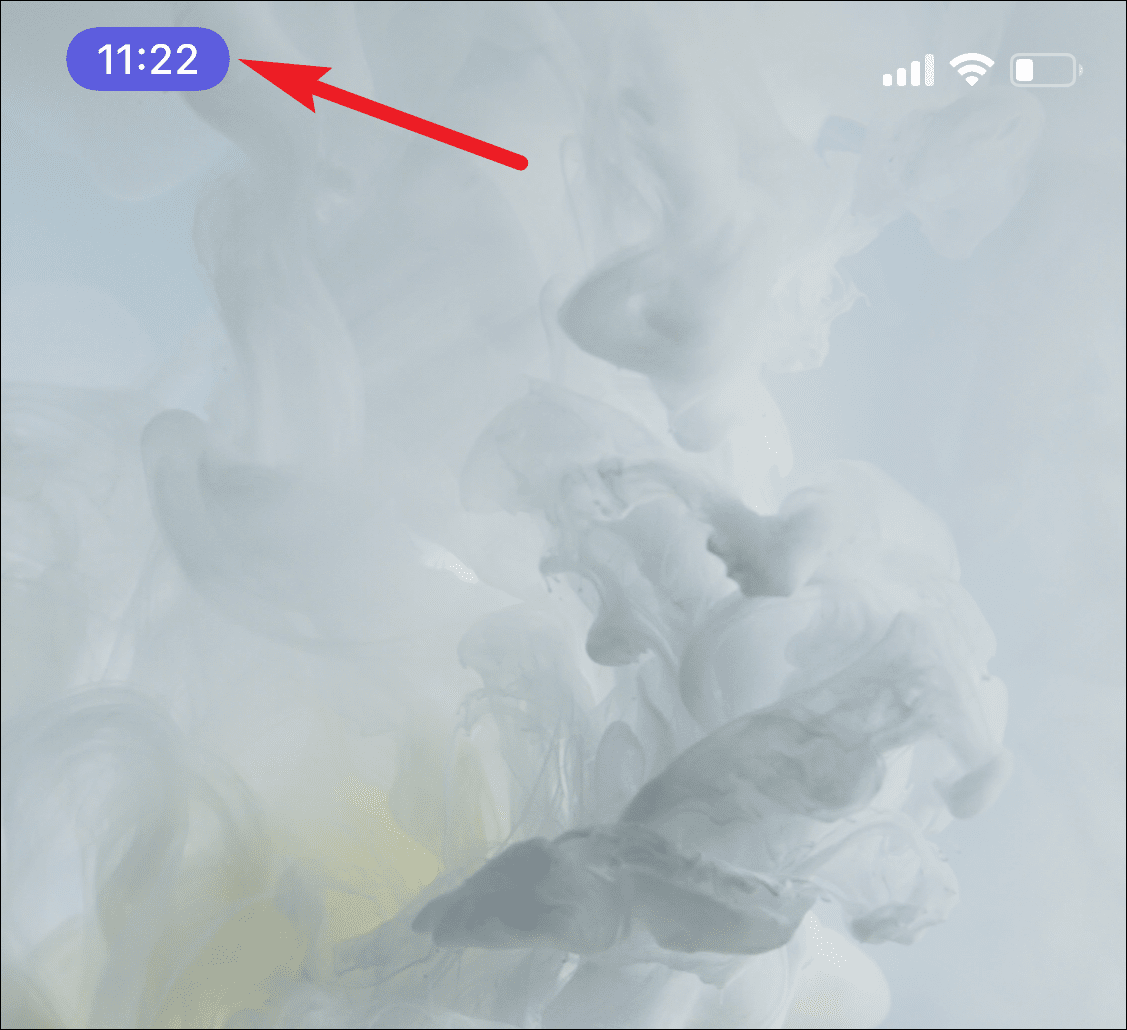 Then, tap the 'Screen sharing' icon and the session will end.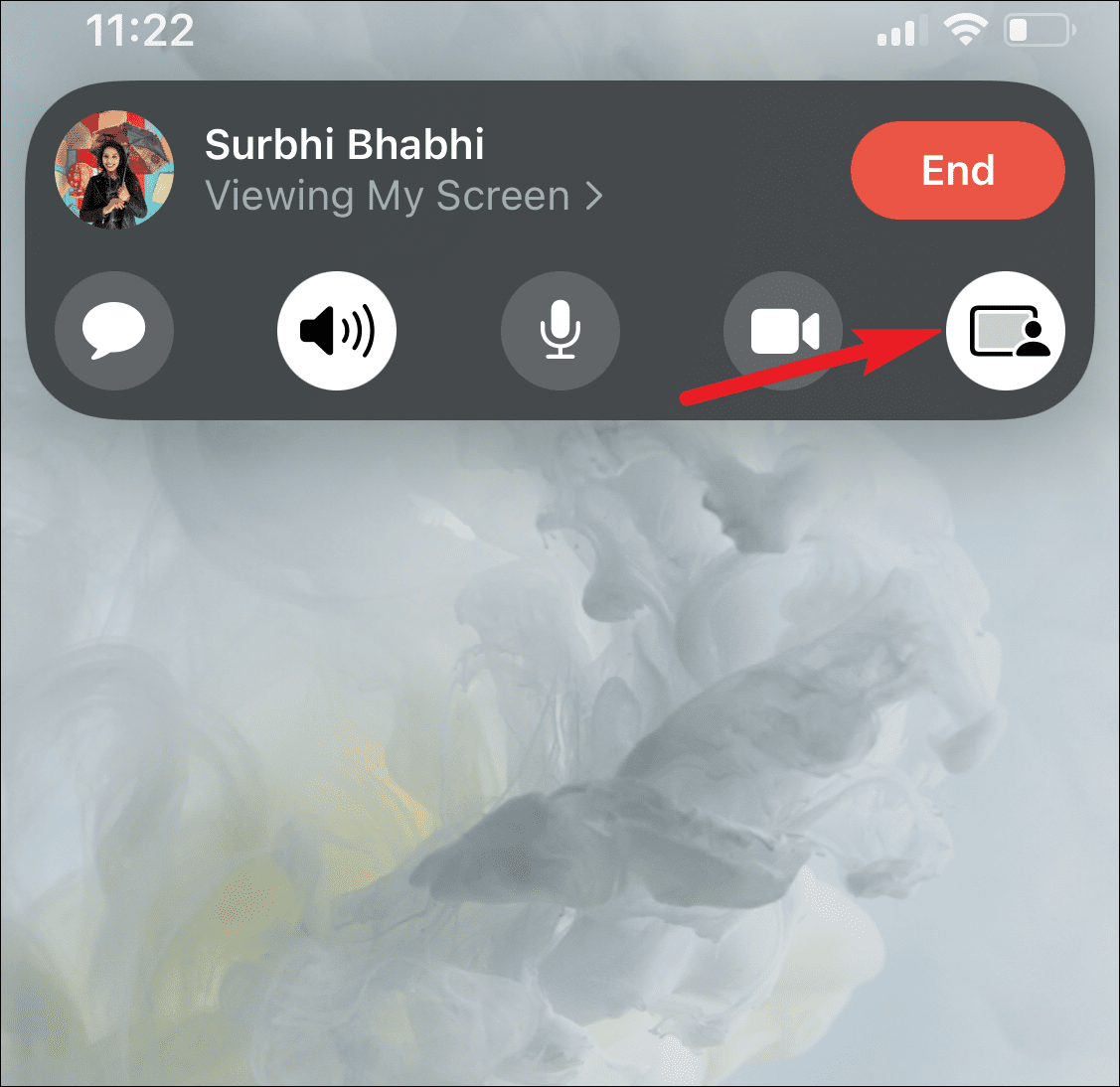 When you're sharing your screen, your camera will automatically turn off. You'll have to turn it on after you end the screen share, and you cannot enable it while you're sharing your screen.
---
SharePlay is a great way to enjoy content together even when you're not in the same place. With perfect syncing and controls for everyone, it makes it the perfect choice for a remote movie night session. SharePlay is currently available on iPhone and iPad and will be coming to macOS soon.
But you cannot use SharePlay, not even to share your screen, with users who are joining from Android, Windows, or even iOS 15 or older.