There's a reason why we look better than the pictures. Seeing someone in person always has a completely different visual perception to it. But, social distancing has brought us to our knees at the moment.
We are all staying home to stay safe from all the viral chaos outside. While we're at that, we're also hustling by working from home. And when you're working from home, you need to look like you're at work while at home. Although you've dressed up great for that meeting or office happy hour, you might still look granulated and dull due to terrible lighting. This is where vanity light rings could fly in to the rescue.
Vanity light rings help light up your entire 360-degree appearance irrespective of the natural light surrounding you. If you're a Zoom person and you're looking for ways to look better on camera, these vanity light rings could help.
Neewer Ring Light Kit – For Mobile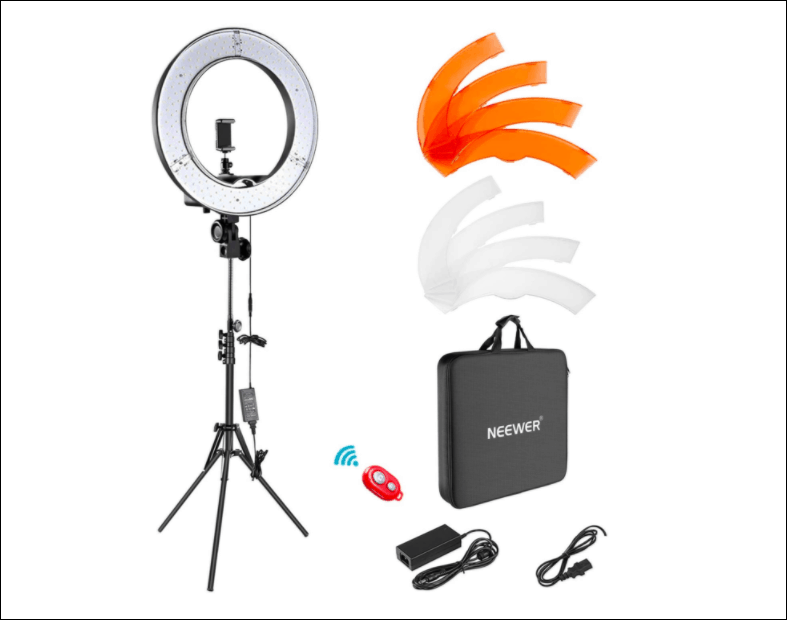 This ring light kit is one of the best options in the market. Although a little on the expensive side, Neewer Ring Light Kit is a wholesome vanity ring light package. You receive two filters; a white and an orange filter set, a camera/phone holder among other essentials in the kit. You not only can use this kit for your Zoom meetings but also for those warm selfies you're too afraid to snap outside.
---
UBeesize – For Mobile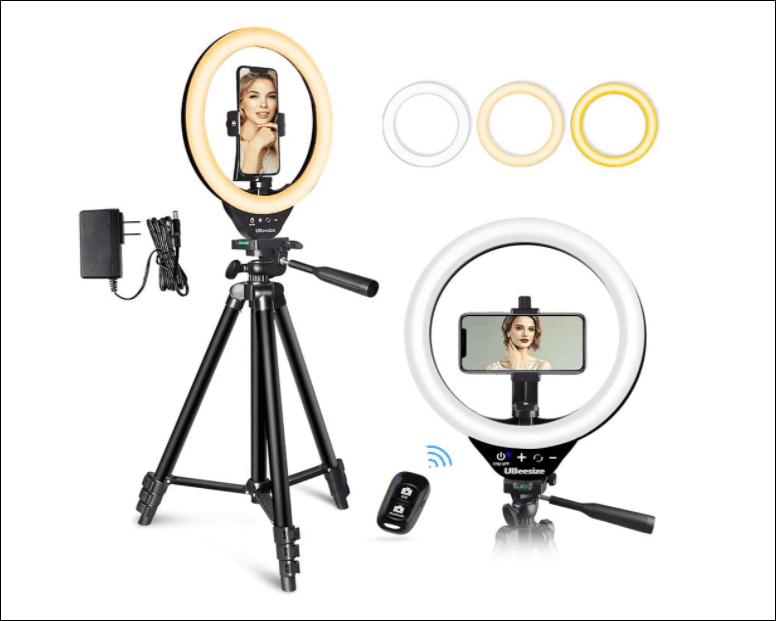 A little cheaper as compared to Neewer, UBeesize offers a vanity ring light also known as 'Halo light' on an adjustable tripod. Compatible with both phones and cameras (DSLR etc), this brand covers both Android and iOS phones. UBeesize comes with three options of color temperature filters; white, warm white, and warm yellow. The ring lights are rotatable too, thus covering almost all possible angles.
---
Gloue Selfie Light Ring – For Mobile, Laptop, Tablet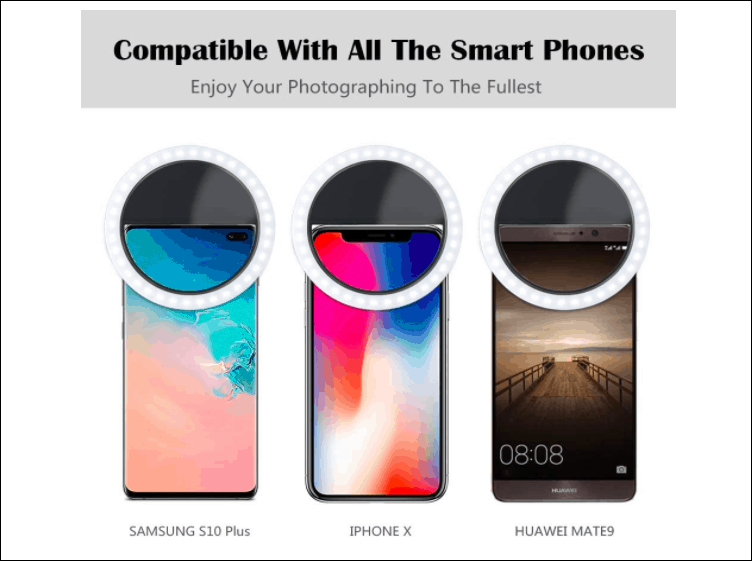 This is a clip-on vanity light ring, which means, it is portable and easy to use no matter where you are. Gloue works great on almost any device, be it your cellphones, laptops, or even tablets. There are three levels of light settings depending on the use. This instant glow up provider is so compact that you can even carry it around in your bag.
---
Auxiwa Selfie Ring – For Mobile, Laptop, Tablet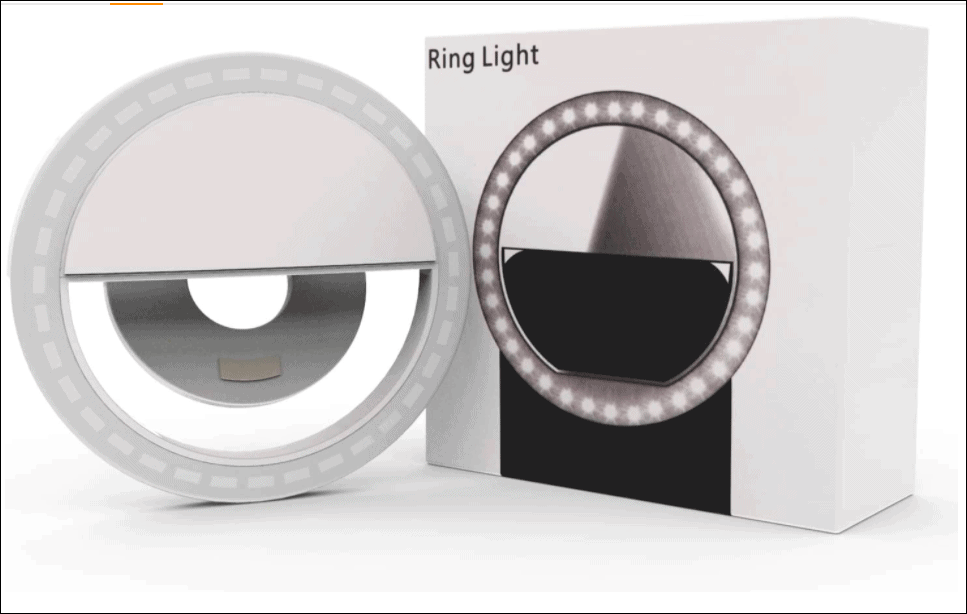 This is another easy-to-use vanity light ring clip on. The USP of this light ring is that it has rechargeable batteries, and you can recharge it either with its charger or even by connecting it to your laptop. You can easily clip this onto your phones, laptop, or even your tablets and you're good to go!
UBeesize's Mini LED Camera Ringlight – For Mobile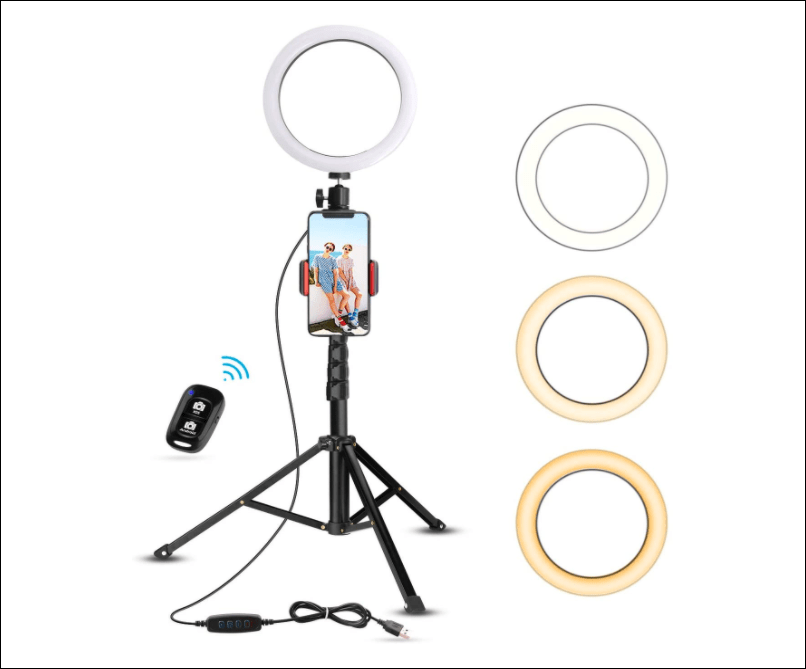 Another brilliant light ring from UBeesize. Packed together with an adjustable tripod, a rotatable phone holder, and a set of three lighting modes, this vanity light ring works great not just for your Zoom meetings, but also for making videos and taking pictures. This USB-powered light ring also provides 11 brightness controls for each of its lighting modes.
---
ViewWow's Ring Light – For Mobile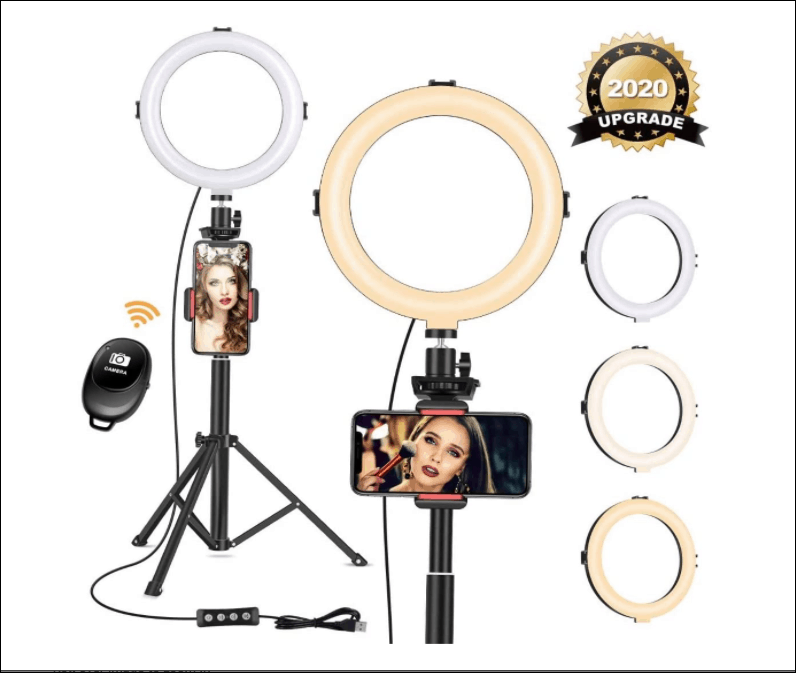 This is an 8-inch ring light equipped with a tripod and a rotatable phone holder. Although it works best exclusively for your phones, you could try it as an external light ring for your laptops and desktops. It works great for Zoom meetings, vlogging, making videos, etc. Besides being a USB-powered device, this light ring is also remote-controlled; you can control your phone via the remote while using this light ring.
---
Xinbaohong Selfie Light Ring – For Mobile, Laptop, Tablet, Desktop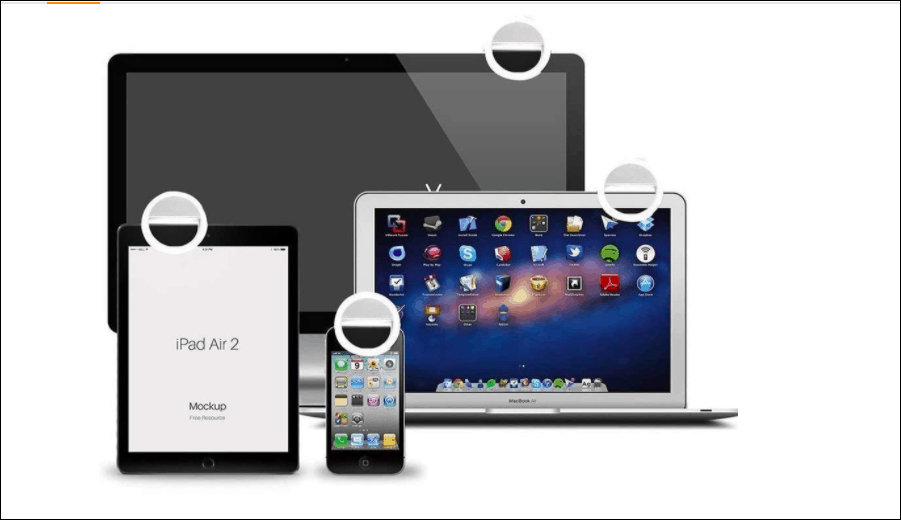 This selfie light ring is a USB-powered vanity light ring clip-on that can be used on your phone, laptop, tablet, and even desktop. It is supported by a rechargeable battery via the USB connection. Cushioned with silicone gel, this light ring comes in three lighting modes, which are three levels of white brightness. It is designed for both android and iPhones.
---
Whellen Selfie Ring Light – For Mobile, Laptop, Desktop, Tablet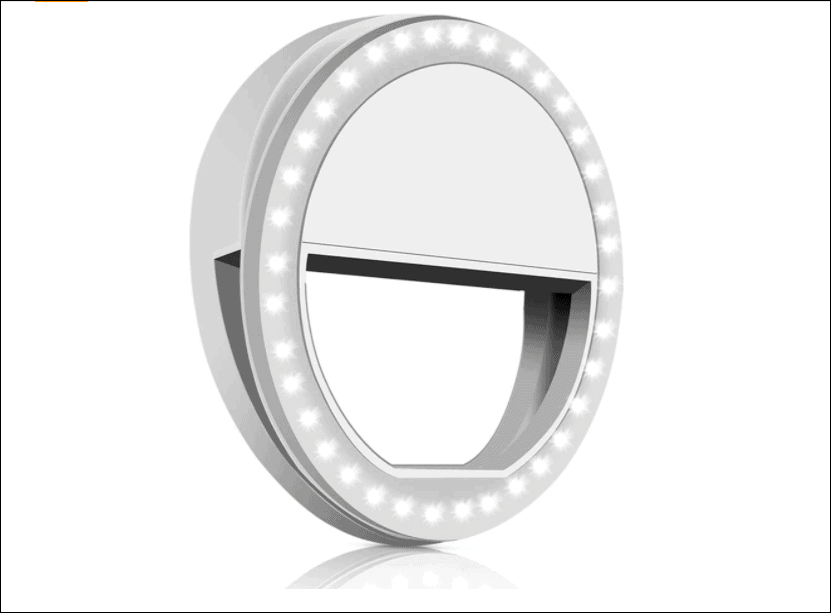 This light ring clip-on works great with almost every device. The Whellen selfie light ring is an easy-to-carry, battery-powered device that helps brighten your Zoom calls no matter how dark your surrounding is. Equipped with three brightness options, this light ring is designed with 36 LED lights.
---
AIXPI LED Light Ring – For Mobile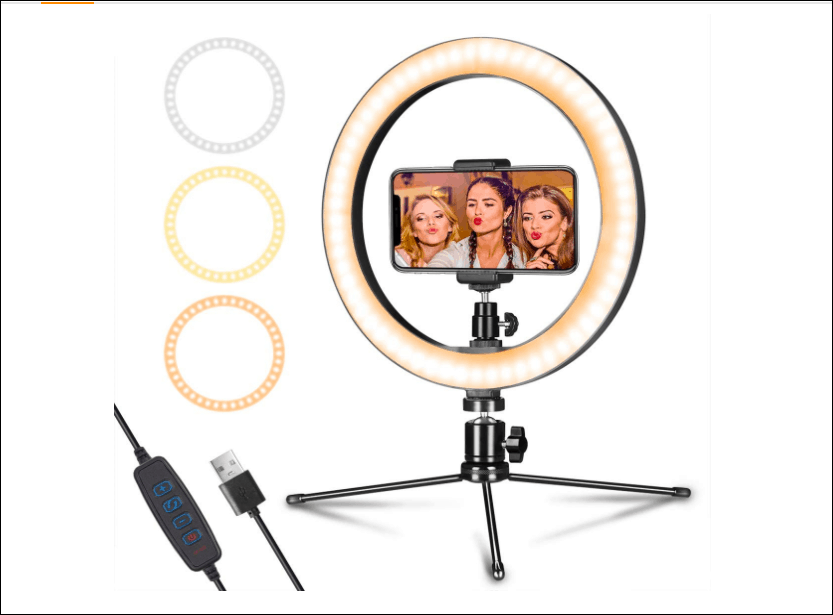 The AIXPI LED Light Ring set is inclusive of an adjustable tripod and a phone holder. Composing of three different lighting options; white, warm white, and warm yellow, the brightness of this LED light ring can also be adjusted between 10 levels. You can easily charge this device with its charger or even by connecting it with a USB to your laptop, computer, etc.
---
AceTaken Selfie Light Ring With Webcam Mount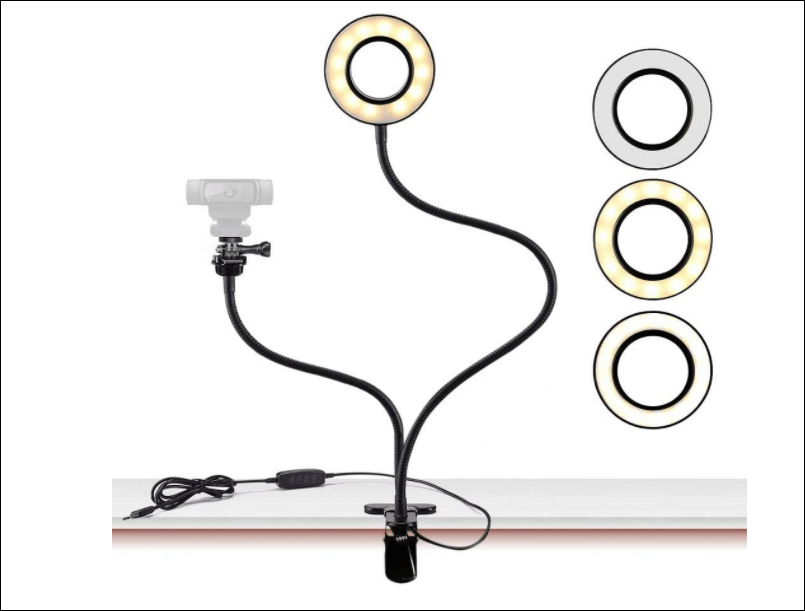 This is a super convenient light ring if you use an external webcam for your Zoom meetings. All you need to do is fix your webcam into the webcam holder in this stand and turn on the light ring and you're set. The stand is flexible too. Besides, the light ring is portable, so you can carry it with you for any immediate use anywhere! You can turn the webcam mount into a phone holder as well.
---
Erligpowht Selfie Ring Light – For Mobile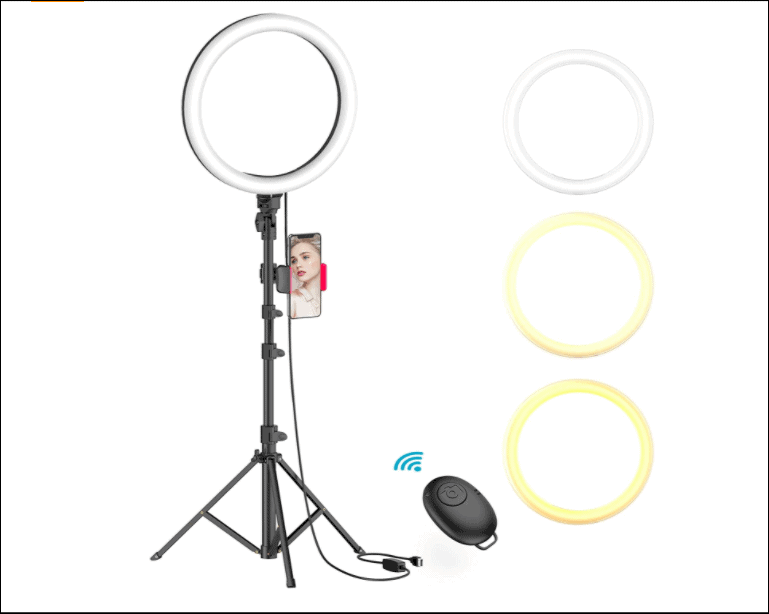 This is a dual-purpose product. You can use this as a light ring with its adjustable tripod set for your meetings and also as a selfie stick. There are three kinds of lighting modes with 10 levels of brightness levels each. You can change the brightness level according to the need. Erligpowht light ring comes with a phone holder, a phone clip, a tripod and an adapter among other essentials.
---
These vanity light rings help boost your look on your Zoom meetings. Most of these lights can be used across all devices; mobile, laptop, desktop, etc. Choose the one that best suits your needs!