How Does Microsoft Teams Work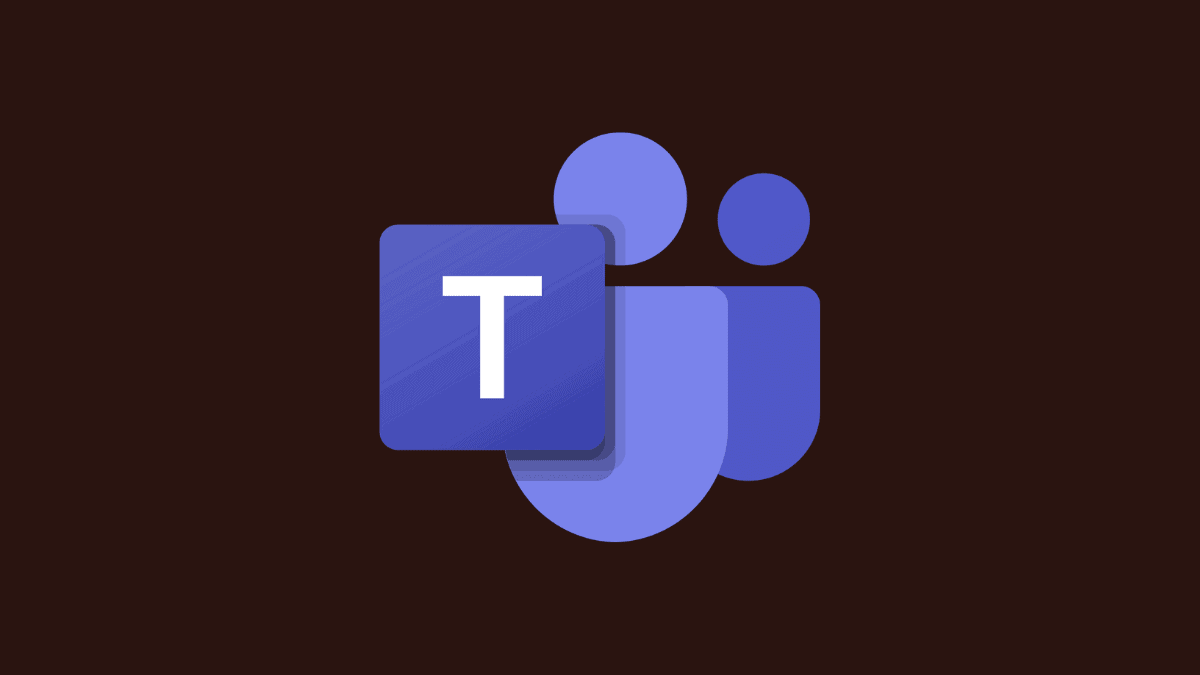 Microsoft Teams is one of the best Workstream Collaboration apps out there. It has tonnes of features with just one aim: to make collaboration among teams effortless, and remote working as seamless as it can be.
The most comprehensive guide to becoming a Microsoft Teams wizard
In fact, for a lot of people, working off-site has increased productivity and Microsoft Teams is a huge part of it. But if you're new to it, it can feel a bit overwhelming. Trust us, though. Once you get the hang of it, you're going to realize what everyone else is raving about.
Here's everything you need to know to not just get started on Microsoft Teams but become a Microsoft Teams wizard!
Teams and Channels – Hub for Teamwork
Teams and channels are the building blocks of Microsoft Teams. They are the literal physical embodiments of the whole concept of teamwork and collaboration behind Microsoft Teams.
If you're joining someone else's organization on Microsoft Teams, some teams and channels would already be existing. And they'll add you to the relevant teams. Teams are further made up of channels. Channels could be representative of anything, different departments, projects, events, etc. that a team handles.
So, if your team has a marketing and sales department, these could be two of the many channels in it. But if you only belong to one department, the team owner would only add you to that channel. Apart from the additional channels that you can create, every team has a General channel where all team members can communicate and collaborate. You can host meetings, share files, communicate with other team members, and do much more in channels.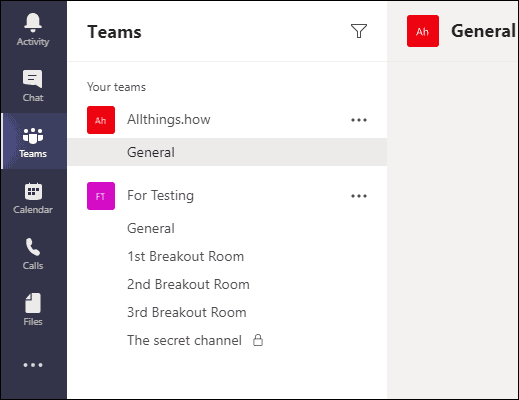 You can create a new team, a new channel, even a private channel even if you are not the owner of the team. Private channels are exactly what their name suggests, they are secret channels that are invite-only, and no other team members (except the owner) even knows that they exist.
👉 Check out our intricate guides on how to create and manage your own team and channels, and then, go one step further to learn about private channels.
But if you are not joining someone else's organization, but instead are creating your own, before anything else, you need to learn how to set up Microsoft Teams. Our guide on How to set up and use Microsoft Teams can help you on your quest.
---
Collaboration in Channels with Tabs
The hierarchy in Microsoft Teams follows like this: Teams consist of Channels, and Channels further have Tabs. So, what are these tabs anyway? Tabs are quick shortcuts in channels and one of the places where true collaboration can occur.
Every channel has three tabs by default: Posts, Files, and Wiki. The posts tab is where all the conversations happen. Files tab contains a quick route to all the files shared in the channel. But you can truly unlock their potential by adding files and integrated apps as tabs.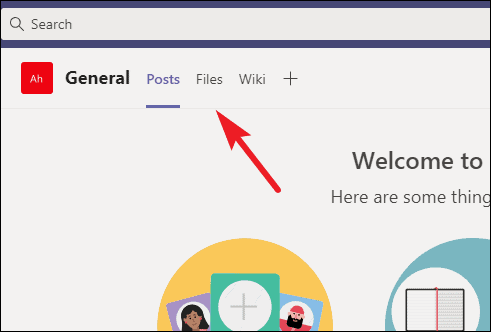 Integrated apps are one of the most powerful features of Microsoft Teams. Their existence in the ecosystem is what sted the app apart from others. And the ability to add them as tabs just adds the cherry on the top. As all tabs are accessible by team members, you can effortlessly and quickly collaborate with others on any files or apps after adding them as tabs. Come to think of it, tabs bring the "collab" into the collaboration in Microsoft Teams.
👉 Learn how to add files and apps as tabs in Microsoft Teams and get a-collaborating.
---
Meetings in Microsoft Teams
No Workstream Collaboration app is complete without meetings. And Microsoft Teams does it rather magnificently. Whether it's private meetings, channel meetings, 1:1 meetings, or scheduled meetings, Microsoft Teams lets you do it all.
You can have meetings with the members of your organizations, as well as people outside of the organization. In fact, you can even have meetings with people who are not Microsoft Teams users. These people are called guests in the world of Teams, and any meetings with them would just be like meetings with Microsoft Teams users; the app doesn't discriminate.
👉 Our guide to using Microsoft Teams for meetings will make an expert in all matters concerning the meetings, and you'll even pick up some extra tips along the way.
You can also schedule meetings in Microsoft Teams so everyone can have a heads-up about it and manage their schedule accordingly. Previously, only Microsoft 365 Business users had access to the feature. Now, Microsoft Teams has added the ability for Microsoft Teams Free users too. We have all the details in our guide for the same.
---
Making Meetings Better
Video meetings go a long way in connecting with your peers, especially under these current circumstances. But making video meetings as engaging as normal meetings can be a challenge. Fortunately, Microsoft Teams has some tools that take the "boring" out of these meetings, and help in increasing engagement.
In fact, one of these features is quite a feather in the cap for the app, and the folks over at Microsoft should pat themselves on the back for coming up with it. Wondering what we're so hyped about? The Together Mode in Microsoft Teams!
Together Mode is one of the best new additions to Microsoft Teams. It breaks the barriers of the virtual world and allows you to get an experience of being in the same room with other meeting participants. It is especially useful for teachers who have been finding it increasingly difficult to connect with their students in a remote environment. The feeling of practically being in the same room can do wonders to increase engagement.
🏃‍♀️ Hop over to our guide for using Together Mode to find out all about this gem of a feature.
Virtual background is another feature that can make your meetings infinitely better. From breaking the ice in an awkward meeting to saving you from the embarrassment of a messy background, this feature is a literal life-saver. And something you need to know how to use.
Our guide here covers everything you need to know about virtual backgrounds in Microsoft Teams. Check it out.
There's one more essential feature you need to make your meetings indefinitely better and engaging. Microsoft Teams now has a 7 x 7 grid view in meetings, i.e., you can see the video feed of up to 49 people in a single meeting. Known as Large Gallery View in the Microsoft Teams ecosystem, it's one of the vital features needed in meetings. Learn all about Large Gallery View and how to use it in our comprehensive guide here 👈.
---
Important Meeting Tools
Meetings in Microsoft Teams have great tools that make it easier to be present through the meeting and focus on what's important. Not only do these tools make virtual meetings the equivalent of their real-world counterpart, but they might even make them better.
One such tool is the feature to record meetings. Office meetings don't offer the luxury of recording meetings with a single button as you can with meetings held in Microsoft Teams. Recording the meetings also makes it ideal for producing training material for any new members of your teams. And you guessed it right; we have detailed guides on how to record the meeting, and view or delete the meeting recordings.
Another important thing required during meetings is the ability to take notes. Now, it's easier to take notes in physical meetings, but taking notes during a virtual meeting can be a challenge. It's a good thing Microsoft Teams has the feature to take notes that are collaborative and can be accessed by all meeting members. And you can even access them before, during, and after the meeting. Learn more about Meeting Notes in Microsoft Teams by clicking here.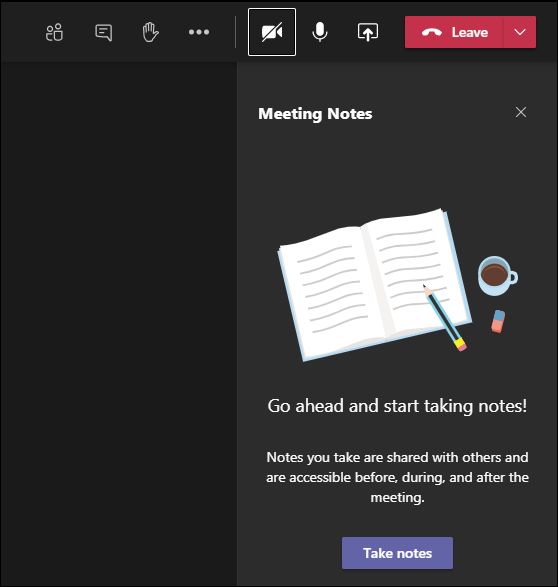 Now, one of the difficulties faced in remote meetings arises from the fact that you cannot just ask someone to come over to your workstation and look at your screen when you need to show them something. But Microsoft Teams does have a solution for it. You can share your screen with other meeting participants. And the whole process is a piece of cake.
What's more, is that you don't always have to be in a meeting to share your screen, unlike a lot of other apps. Suppose you're in a chat with someone, and suddenly you have to share your screen with them. You don't have to first start a meeting with them for that. You can simply share your screen in chat in Microsoft Teams.
---
Microsoft Teams for Teachers and Schools
Up until now, every feature we've been talking about in Microsoft Teams makes it seem more suitable for office meetings only. But that's not true. It's just a classic case of deceiving appearances. Microsoft Teams is just as much of a good fit for teachers looking for tools to remotely teach students, as it is for businesses.
Not only are all the features mentioned above incredibly helpful for teachers, but Microsoft Teams also has a lot of other features that make it an appropriate choice for teaching students.
Microsoft Teams makes it rather easy to track the meeting attendance. So, teachers don't have to manually keep a count of all the students in the meeting, or whether they're leaving in the middle, or joining late. Microsoft Teams does it for you with a single button. Learn how.👈
Another thing every teacher wants from a video conferencing app is Breakout Rooms. Group assignments are an important part of a child's education; it teaches them how to work with others, while also helping them form meaningful bonds. Now, Microsoft Teams does not have an official Breakout Rooms feature yet, though there will be soon as they are working on it. But it's still easier than most apps to use the Breakout Room functionality in Mircosoft Teams with this simple hack. You know you want to know more. Click the link to mosey to the guide.👆
Microsoft Teams also offers a collaborative Whiteboard that can be started, inked, or viewed by all organization members. In addition to you, the teacher, using the Whiteboard for instructional purposes, even your students can use it to brainstorm in the breakout sessions as it is a collaborative whiteboard. And there are quite a few Whiteboards to choose from in Microsoft Teams. Which one should you choose? Decisions, decisions. Maybe our guide can help you make an informed decision. Hop over.🏃‍♂️
There's another tool that Microsoft Teams adds to your arsenal to make remote teaching more fun and engaging. And although there is no direct feature to create polls in Microsoft Teams as such, you can do so with the integrated apps. And I mean, what else do these integrated apps exist for? And whether you use Microsoft Teams Free, or with a Microsoft 365 Business subscription, we have apps for both the scenarios that'll make it eerily easy to create polls. Now you can quiz your students with utter ease even while teaching remotely.
And although teachers will benefit the most from all these features, they are just as useful for office meetings as well.
---
What we've discussed here is barely the tip of the iceberg. Microsoft Teams has so much to offer to make collaboration easier. Once you dive in deep in the world of Microsoft Teams, you'll find there's always more to discover, even when you thought you had it all nailed down.
The plethora of features and versatility it offers is comparable to none other. Whether you are a "get things done on chat", or "let's have a meeting" type of a person, whether you're a teacher or a Project Manager, Microsoft Teams is the right choice for you.