The global crisis that we're facing right now forced everyone to work from home. While some people did not like this transition, others have found a sheer delight in it and are hoping to continue working from home even after everything is over.
A big part of the success of this shift has been the video conferencing apps like Zoom, Microsoft Teams, Google Meet, Webex, etc. Whether it was attending office meetings, school classes, or participating in online events, these apps have blithely carried the burden, from making the service free for users to endowing them with features that they need with regular updates.
One such feature that users found was more important than any other when working from home is Virtual Background. Using virtual backgrounds, you can replace your physical surroundings with any image you want. Virtual backgrounds have saved many users from huge embarrassments. It's precisely why all the apps are scrambling to bring it, i.e., those that don't have it – some already do.
But the truth is that virtual backgrounds have their limitations. If you need to record highly professional videos for a presentation or demonstration, or you are hosting a live event and can't afford to have any glitches in your background, a virtual background without a green screen will most probably let you down.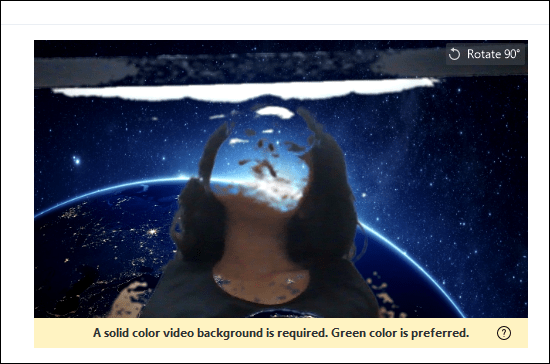 So, what's the solution? If a proper background is an absolute need of yours, then you need the Webaround Green screen. It is a small green screen that attaches to the back of your chair – perfect for a makeshift office at home, that doesn't have too much spare space for big equipment. And it is portable.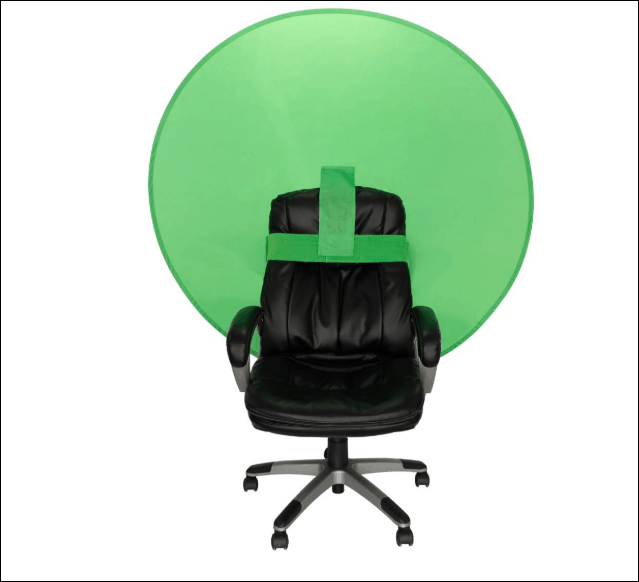 It works with all major chroma-key enabled programs and learning to use it is duck soup. There are different screen sizes available that range from $60 to $75.
But first, why is a Green Screen Important
You must be wondering, why a green screen? Why can't any other color do, say the color of my wall? Green screen, or chroma key composting, is actually quite popular in movies and you might have wondered it even then, why green! It's rather simple. A green screen is easy to edit out of the background as green is pretty much the farthest color you'd find on human skin.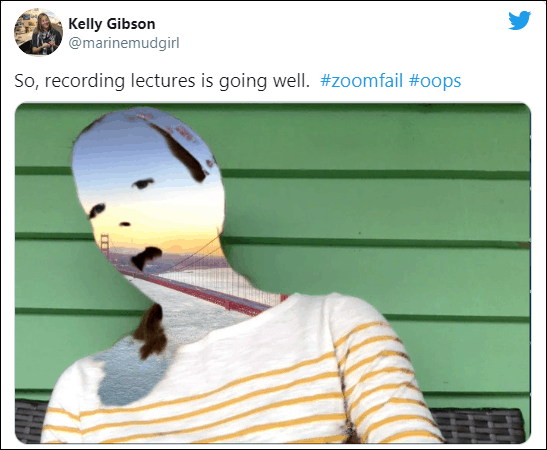 Blue screens are also quite popular, but green screens dominate the scene by a mile. Part of the reason why green is more popular than blue is the fact that digital cameras today have sensors that are more sensitive to green than any other color. It also requires less light to properly illuminate.
So, any editing software with chroma key support simply checks the colors in the video and if it matches the chroma key color, replaces it with an alternate background.
So, now you see why a green screen is important. And Webaround is the ideal choice for a home office that has nominal space.
---
Using Webaround with Zoom
Zoom was one of the first apps to support a virtual background. But Zoom's virtual background does not work with all systems; it has pretty high system requirements for smooth functioning. And for systems that do not meet the requirements, it asks for the use of a Green screen. Once you've invested in a green screen, using it with Zoom is rather easy.
In fact, Zoom is one of the only apps mentioned here that has the native chroma key composting availability for virtual backgrounds. So, all you need to do is configure the chroma key compositing for the Webaround green screen and you can use virtual backgrounds with splendid ease and accuracy in any meetings or presentations.
Open the Zoom meeting client and go to 'settings'.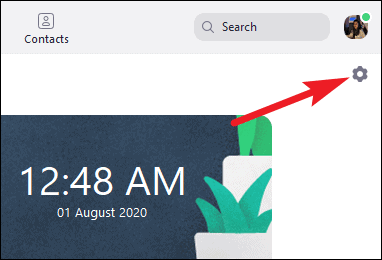 From the navigation menu on the left, click on the 'Virtual Background' option.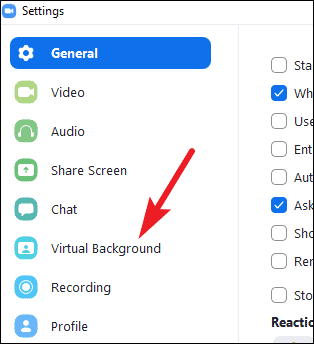 If you've already started the meeting, you can open the settings to configure chroma key composting during the meeting too. Go to the 'Camera' button on the meeting toolbar and click on the 'Arrow' next to it. Then, select 'Choose virtual background' from the menu that appears. You'll reach the same screen as mentioned above.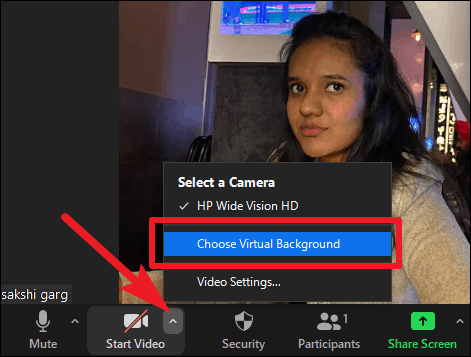 Now, select the image you'd like to use as your background. You can use one of the preset images from Zoom or upload one from your computer by clicking the 'Add image' button.
After selecting the background, click on the checkbox for 'I have a green screen' on the bottom of the settings window. Now, to make sure that the chroma is even, go to the little box under 'Manually pick the color if the detected color is not accurate' and click on it.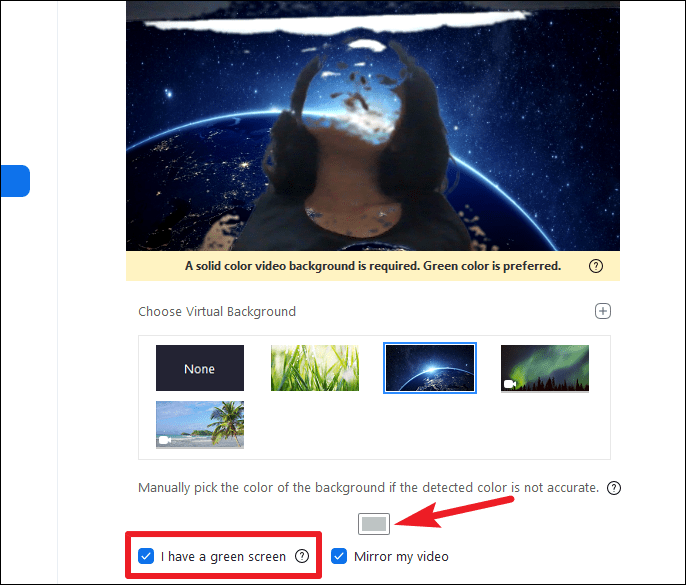 Then, pick the most consistent green color from your green screen using the mouse icon. You're all set to go!
---
Using Webaround with Microsoft Teams and Webex
Microsoft Teams and Webex, both recently got virtual backgrounds. Now, the chroma keying in both of them is a lot better even without a green screen, but it isn't perfect. Without a green screen, if anyone passes behind you, or an object catches the camera at a certain angle, it breaks the chroma key. Webex has slightly more problems with the chroma keying breaking or glitching than Microsoft Teams. With a green screen, the coverage of the virtual background is protected at all times in both apps.
But, Microsoft Teams and Webex don't have any provisions for adjusting the chroma key composting as you can in Zoom. However, they really don't need one. It will pick up the green color of the green screen without any additional help.
So, all you need to do is install the Webaround screen and use the virtual background in these apps as you would have without a green screen.
👉See detailed guides for using Virtual Backgrounds in Microsoft Teams and Cisco Webex.
---
Using Webaround with Google Meet
Google Meet does not have native chroma keying available in the apps yet, but it is working to bring the virtual background feature, and it should arrive fairly soon. But in the meantime, does it mean you cannot use your Webaround green screen with these apps? No, it absolutely does not mean that.
You can use a third-party app for chroma keying in Google Meet. A third-party app like ChromaCam uses a virtual camera that replaces your physical webcam in Google Meet.
To replace your physical webcam in Google Meet with any third-party camera, click on the 'More Options' icon (three dots) at the lower-right corner of the 'Meeting Ready' screen.
Select 'Settings' from the menu.
Go to 'Video' settings, and click on the drop-down menu under the camera option and select the virtual camera from the list.
👉 Complete Guide:
How to Use ChromaCam to change background in Google Meet
Although ChromaCam is a nice free alternative, it does not have an option for configuring the chroma key composting either. It will only pick your Webaround green screen better than any other background while replacing it like the virtual background feature of Microsoft Teams or Webex.
If you want a third-party app that offers more control over chroma-keying, Manycam is a good option. Webaround itself endorses it as a viable option. It lets you manually set the chroma key composting, but you will need to buy a subscription to use the feature.
---
So, now you know how to get that perfect virtual background in meetings, conferences, or presentations without any glitches, or turning into a galaxy head with a small investment in a Webaround green screen.