Hangouts Chat is now Google Chat. And with the new name, there has also been a makeover to Google's chatting service. A big difference in Google Chat is the introduction of Rooms and Group Chat.
Previously, Hangouts chat was more of an IM-ing and video chat service and left something to be desired for when it came to group conversations. It was precisely the reason why many companies, while using G Suite, now Google Workspace, preferred another service for communication.
What are Rooms and Group Chats in Google Chat
With Rooms and Group Chat in Google Chat, the face of communication has changed completely. Rooms are a lot like channels, offering conversations in form of threads that you can subscribe to. They make sure that you only get information that's relevant to you by organizing everything in threads. And you don't get unnecessary notifications for conversations/ threads you're not following.
Group chats are rooms with somewhat less functionality. The only difference is there are no threaded chats. Where rooms are generally for teams or project collaboration, group chats are useful for talking directly with 2 or more people.
Both rooms and group chats are a great way to keep track of your team's work or projects. One difference is that you can only group chat with people from within your organization, whereas rooms can have anyone.
What Happens When You Leave a Group Chat/ Room
Even with Google Chat's selective notifications for rooms with thread subscriptions, sometimes a chat or room can become too distracting with constant notifications. Leaving a room or group chat in Google Chat is easy.
To leave a room, go to the 'Rooms' section. Click 'More' (three-dots) and then click 'Leave' from the menu.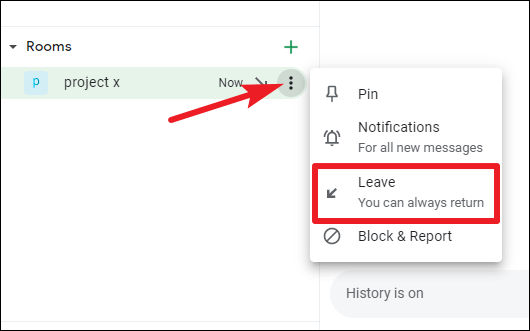 Similarly, for a group chat, go to the 'Chats' section. Click 'More', and select 'Leave' from the context menu.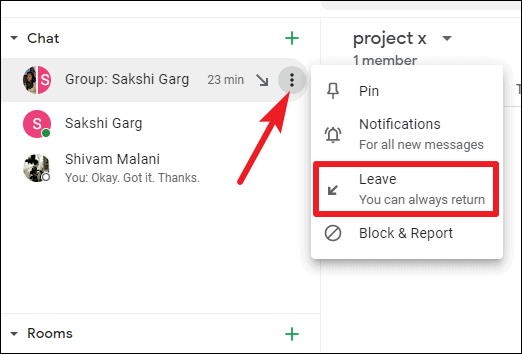 But what happens when you leave a room or a group chat? When you leave a room, you won't get any updates or notifications from the room. Nor will you be able to post any messages in the room or group chat until you rejoin it.
But the best part about rooms and group chats in Google Chat is the fact is that not only can you leave them easily, but you can also rejoin them with just as much ease.
Note: If someone else removed you from the room, you cannot rejoin the without being re-invited.
Whether it's a room or a group chat, you can rejoin it from Google Chat in a couple of steps. And all message history will be available, including messages you missed when you were not part of the group. If a group conversation, not room, was created before December 2020, you might not be able to leave it.
To re-join a room, go to the 'Rooms' section from Google Chat and click on 'Find a room to join'.
Then, either type the name of the room you want to join.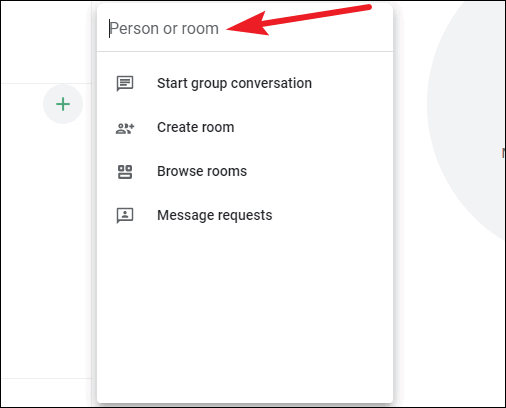 Or, click the 'Browse rooms' button.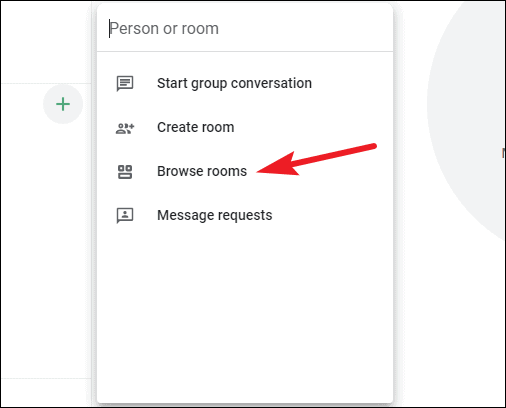 The rooms you were invited to join would appear there. Click the room you want to re-join.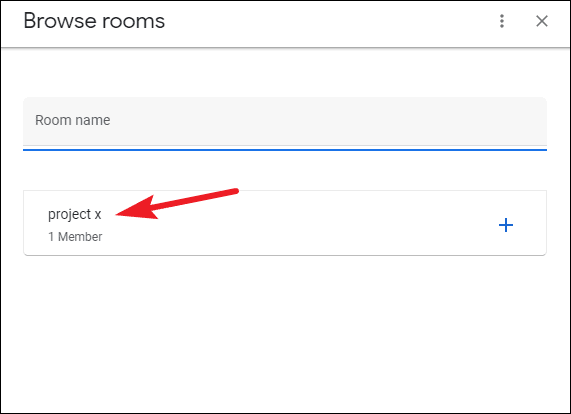 ---
Whether it's the incessant conversations in a group chat or room that have become the bane of your existence, or you have no business being in the room anymore, you can leave them without any worries as re-joining them when the timing's right for you is just as convenient.